This charming and characterful self-catering holiday apartment, complete with covered parking, is perfectly situated to meet the needs of those looking to be near it all and yet just the right distance away to enjoy a peaceful night's sleep. Situated only a stone's throw from the Westgate towers, with a choice of independent cafes, restaurants and shops all within a close proximity. In fact there is no need for a car; just a short stroll will take you to the main shopping areas of Canterbury, the Canterbury Cathedral and other historic sites for you to make the most of during your stay at this holiday apartment in Kent. The main line station of Canterbury West is a few minutes away from this self-catering apartment in Canterbury and offers the high speed rail service to London (less than 1 hour). For your vacation or indeed business accommodation this self-catering holiday apartment in Canterbury could not be more convenient. This loft apartment in Canterbury, Kent, has a striking, characterful sitting room and a more modern open plan kitchen, ample light from the original windows cast against some beautifully restored beams that grace the sitting room and also seen again to the high ceiling bedrooms. The apartment offers all the comforts with Flat screen TV, DVD and Wifi. The apartment offers cosy comforts, that lovely feel and a place to unwind and enjoy a glass of wine at the end of a busy day sightseeing. This Canterbury holiday cottage offers a good standard of accommodation and is a superb holiday home in Kent.
The historic city of Canterbury on your doorstep. Enjoy a short stroll into the city centre with a wide variety of restaurants and bars at your fingertips. Even take a trip to the award winning Marlowe Theatre.
Type de logement
Logement entier
---
Type de propriété
Loft
---
Capacité d'accueil
4
---
Chambres
Canterbury, Kent, Royaume-Uni
Niché au cœur des collines de North Downs et un jet de pierre de la ville historique de la cathédrale de Canterbury, de la côte Est du Kent, et le tunnel sous la Manche, le Den est un chêne encadrée magnifique, studio loft autonome. Les clients et les animaux de compagnie pourront profiter des promenades sans fin dans la localité immédiate, ainsi que dans les 10 acres de jardins environnants. Le Den est idéal pour les couples en quête de l'idéal pour une escapade, mais un autre canapé-lit gigogne pouvant accueillir les enfants.
Récemment achevé, le Den propose une toilette séparée, une cuisine ouverte avec plaques de cuisson, four et frigo, bar, baignoire sur pieds, de style campagnard confortable lit double et un canapé-lit gigogne. Tous les ustensiles fournis. TV intégré / lecteur DVD, lecteur CD BOSE.
Autre que nous, vos seuls voisins seront les fleurs sauvages, les vaches, les moutons et les oiseaux, y compris une famille de busards qui patrouillent les bois perchés. Il existe d'innombrables promenades spectaculaires autour d'ici qui comprennent jacinthes des bois, ainsi que de rares prairies d'orchidées sauvages. Nous sommes toujours heureux de vous orienter dans la bonne direction!
Had such a lovely stay, thank you so much! Wish we had booked for more than one night and will definitely be booking up again for a longer stay. You were extremely welcoming hosts, very happy with our whole entire stay. Gorgeous location and views.
Megan
2017-03-19T00:00:00Z
I passed 2 days there with my wife and 2 kids. We enjoyed really much the beautiful location and the friendly hosts. A great place to spend a few relaxing days in the country side !
Jorge
2016-12-30T00:00:00Z
We just returned from a 2 night stay and it was INCREDIBLE! Maitland is the coolest and loveliest host we've ever met and went out of his way to help us out in many ways. Unfortunately we only met Andrea briefly and I was half asleep but she was also super lovely and helpful with warning us about early closures of local restaurants and even making us a booking. Star. The place itself is GORGEOUS and much more spacious than the pictures suggest. The flat has EVERYTHING you could need contained above a lovely barn in an idyllic setting and there was NO NOISE AT ALL from surrounding fields. Such a perfect break. The nearest store is 7 miles away so bringing a few bits for the fridge is recommended (they even have an oven and hob for cooking), luckily and very kindly they supplied us with a few breakfast bits so we weren't left hungry. So nice of them. We loved the place and the hosts, who we now consider friends, and we can't wait to return.
Dion
2016-12-18T00:00:00Z
An absolutely beautiful getaway in the countryside! Maitland and Andrea were more than welcoming and were always there to lend a hand - advising us on the best routes to walk, best places to eat and lending us a few card and board games. The Den itself is stunning and the bath tub is particularly enticing. The perfect place to go to escape everyday life with your other half. We highly recommend staying here and will be returning - next time with our dogs!
Shanice
2017-03-08T00:00:00Z
This cosy, space was perfect for old friends to have a great catch up. We didn't want to do very much and it was warm, with a very comfortable bed, clean, stylish and easy to be in. We had a great walk, and were given the very generous offer of a lift to the pub so we didn't have to drive! ( even though it was nice and close). Our host was great, made us feel most welcome and was around if we needed anything. We left feeling, revived, relaxed and happy.
Louisa
2017-03-12T00:00:00Z
Just back from an amazing stay at Elham Valley. The second we arrived we knew we should have booked longer and already are planning a second visit in the summer. The barn and its location were perfect, offering absolutely everything we needed for a luxurious, relaxing couple of days in the countryside. The hosts were also great and recommended some brilliant walks and local quaint pubs to visit, which we did! Would definitely recommend to anyone wanting to get away from it all whilst staying somewhere special.
Jenny
2017-03-03T00:00:00Z
Just returned from a 3 night stay at the Den at Ivy Cottage. Our aim was to relax, and relax we certainly did. The view is amazing, the bed is irrisistably comfortable and the beautiful, deep roll top bath is the height of luxury. I spent so many hours in there, I'm amazed I didn't develop gills! The only down side for us was that we were so busy relaxing we didn't get the opportunity to try out any of Maitland and Andrea's local (URL HIDDEN) just means we'll need to return very soon.
Teressa
2017-04-04T00:00:00Z
We had such a wonderful time staying with Maitland & Andrea! They were both very warm and welcoming and gave fantastic recommendations for local pubs and food. We brought our dog with us and he was welcomed with lovely toys. The property is beautifully done up with all amenities to guarantee a relaxing rural retreat. I would highly recommend staying here!
Ying
2017-02-19T00:00:00Z
Type de logement
Logement entier
---
Type de propriété
Loft
---
Capacité d'accueil
4
---
Chambres
Kent, Angleterre, Royaume-Uni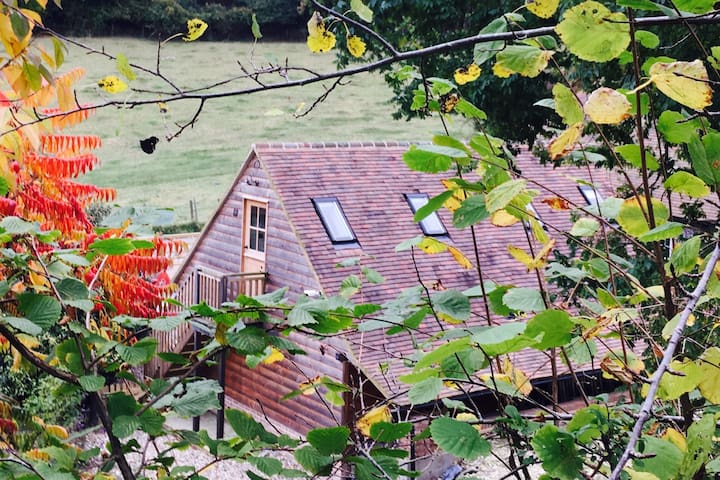 Our quirky self-contained loft apartment near Canterbury with its own private entrance has a relaxed 'arty' feel. On the 1st floor is a "kitchenette". On the 2nd floor is a double bedroom, large living room & ensuite bathroom. + Continental breakfast
The large loft apartment at Waterlock House is beautifully laid out over two floors comprising of a kitchenette with microwave and fridge, double bedroom, an opulent living room, ensuite bathroom with free standing slipper bath with hand shower, wash basin and W.C. With its own private entrance, it is furnished with quirky antiques (some available to buy)
Judith was so accommodating and very hospitable. The Loft was beautifully decorated and extremely comfortable.
Joseph
2016-05-09T00:00:00Z
Beautiful, spotless and unique property. This is a real gem of a place! Great location for exploring surrounding towns. We loved the fantastic views, the pretty garden, the fab furniture, the big comfy bath... And to top it all Judith was such a fab host. I couldn't recommend it enough!
Aileen
2015-05-04T00:00:00Z
Thank You Judith and Sophie for a wonderful stay. Staying at the Loft is a really special experience and felt like a real treat! We would wholeheartedly recommend staying here to anyone - Judith and Sophie were so helpful and friendly, they even gave us a lift to the wedding we were attending in the area. The Loft is stunning, unique and full of thoughtful touches.
kate
2014-08-04T00:00:00Z
What a lovely bnb. Spent my birthday there and was so pleased with my choice. What a beautiful and comfortable space. I particularly loved the breakfasts. My hosts were warm and welcoming. I wouldn't hesitate staying again. Many thanks!
Annabel
2015-12-30T00:00:00Z
Wow! What to say that has not yet been stated my others Aribnb guests below! The saying goes that there's never a second chance for a first impression and we've been impressed. As gorgeous as the pictures are on the Airbnb profile it is not capable of transmitting the genuinely laid-back feel of this loft and its green natural surroundings. I must also give credit to Judith & Sophie for being such great Hosts. They were accommodating (i.e., midnight check-in), happy and catering ladies (think visiting your spoiling Grandparents) and can serve up once deliciously mean breakfast/brunch! If I were to summarize my Airbnb experience at the Water House with Judith & Sophie in one would, it would SUBLIME. I look forward to having an extended stay in the future if they would have us! Thank you Judith & Sophie!
J.J.
2015-07-19T00:00:00Z
This is a fantastic place for a weekend retreat. Judith and Sophie (the perfect hosts) have created a wonderful haven for you to relax. Breakfast is delicious and thoughtfully put together, the bed is super comfy and the free standing bath is a delight to lounge in. I loved every minute of being there - thank you!
Ross
2016-07-25T00:00:00Z
Fantastic and unique loft space, beautifully furnished with a lot of original features in a nice village! Perfect base for a weekend sightseeing in Kent. We had a great time and would definitely return! Thank you!
Tatjana
2016-08-29T00:00:00Z
What an amazing weekend in Waterlow House! Judith made us feel welcome from the minute we arrived and the apartment itself was just as I'd hoped - as beautiful as the pictures and really peaceful and tranquil. Gorgeous sunsets, too, over the Kent countryside. We can recommend the Indian in Wingham village and also had a lovely sunny evening in the pretty garden of the Anchor Inn. From Wingham we explored Whitstable - only 20 mins in the car - and had a great night out in Canterbury, too. All in all, an amazing weekend!
Zoe
2015-08-23T00:00:00Z
Type de logement
Logement entier
---
Type de propriété
Loft
---
Capacité d'accueil
2
---
Chambres
Wingham, Kent, Royaume-Uni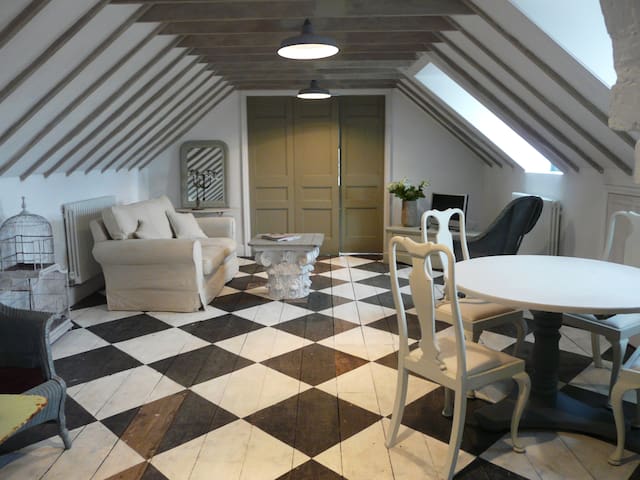 Studio single room at the top of the house. Residence next to the High Street in our lovely seaside town. Car park shops restaurants and pubs within a few yards. Room has own toilet and wash basin. Bathroom is shared down to the 1st floor.
Central location Seaside Town. 3 miles to Sandling main line railway station. Close to Channel tunnel terminal and Folkestone. Small room with toilet and wash basin.
Friendly and quite neighbourhood.
Type de logement
Chambre privée
---
Type de propriété
Loft
---
Capacité d'accueil
1
---
Chambres
Hythe, Royaume-Uni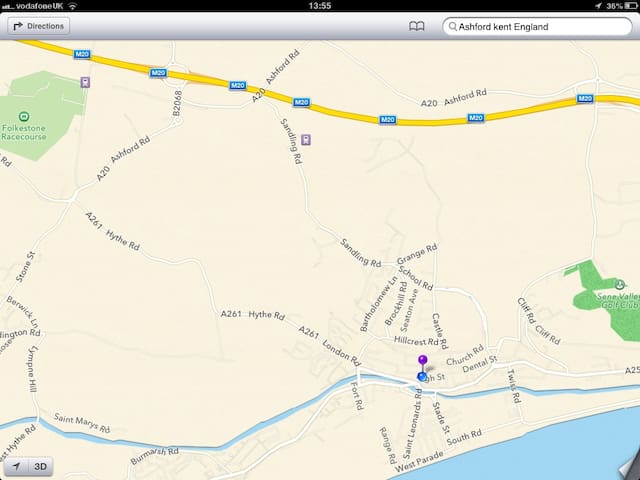 Filberts is a delightful self contained detached studio loft apartment, forming part of Church Cottage smallholding in Newenden, a historic Domesday Book village on the Kent/East Sussex border. We happily accept babies if you bring a travel cot!
The apartment consists of an open plan studio double bedroom and kitchen area, with flat screen Freesat HD TV, Blu Ray DVD player, free wi-fi, electric oven, induction hob, fridge, freezer and microwave; there is an en suite shower room with a heated towel rail and shaver socket. All bed linen, towels and tea towels are supplied and included in the price. Off road parking is provided immediately outside the apartment. Laundry service can be provided in the main house at extra cost. A welcome pack is provided for all guests on arrival. There is a small private and sheltered seating area immediately next to Filberts and guests are also welcome, by arrangement, to use the main garden area of the cottage.
Newenden, the smallest village in Kent, is very friendly and surrounded by many attractions and National Trust properties. Below is a list of just some of them! Places to visit: Great Dixter House and Garden (5 minutes) Bodiam Castle (10 minutes) Rye (where Mapp and Lucia was filmed in 2014) (15 minutes) Sissinghurst (15 minutes) Tenterden (10 minutes) Pashley Manor (25 minutes) Batemans (Rudyard Kipling's home) (25 minutes) Hastings & Jerwood Gallery (20 minutes) Tunbridge Wells (30 minutes) Battle (30 minutes) Other attractions: Smallholding Bodiam Boating Station (5 minutes walk) - hire rowing boats, take a ferry to Bodiam Castle + cafe Country/riverside Walks White Hart pub in village for food and drink (2 minute walk) Kent and East Sussex Railway steam trains (5 minutes) Morgan Motor Museum (Rolvenden) (5 minutes) Watch cricket on the village cricket ground (30 seconds walk)
We really enjoyed our stay at Filberts, Brian and Jane made us feel most welcome from the moment we arrived. The apartment is larger than it seems from the photos and is very clean, well equipped and cosy. We really enjoyed having the dogs around to play with, and visiting the smallholding - Brian even let us hold the 1 day old quail chicks! There is so much to do in the area, the boat station is a 5 minute walk and 10 minutes to the steam railway - but the rural location is really pretty and relaxing. We liked it so much we intend to return in October.
Lauren
2015-08-05T00:00:00Z
Brian and Jane were so absolutely lovely and welcoming, made us feel right at home. The description for the apartment is accurate, so what you see is what you get. B & J added a cute little hamper which included a tray of their (super) delicious eggs, Jane's amazing home made pear jam and fruit loaf along with bread, milk and a bottle of wine. Brian was kind enough to invite us to feed his animals with him, which was really thoughtful and a wonderful experience. In terms of location it's so beautiful and picturesque, Brian and Jane advised us on where to go, and we ended up having a really nice time at Rye harbour and even the beach beside it! So, a truly lovely experience made even better with these two wonderful and welcoming hosts. Thanks and hope to see you soon :)
M
2015-04-11T00:00:00Z
Filberts is a little gem of a place. It is a superbly appointed, detached studio flat, in an attractive setting - and with a sunny aspect. We enjoyed great hospitality from Brian and Jane throughout our 3 night stay and they could not have been more helpful and friendly. There were lots of lovely little touches - personalised local info pack, fresh flowers and a welcome basket of goodies – which made us feel like special guests. We were invited to wander at leisure around their well kept small holding, and were sometimes accompanied by 'Sydney' – one of their trio of friendly dogs! The White Hart pub, just across the road, serves good beer (eg 'Level Best' from a local brewery) and tasty food. There is plenty to do and see in the area. Parking is on site. What more could you ask?
Debby
2015-07-04T00:00:00Z
Our hosts Brian and Jane were there within seconds of phoning them to say we'd arrived. The accommodation was as described and was very comfortable. We were left a basket of goodies and were brewing tea within minutes of our arrival. Brian booked us into the local pub were we ate later in the evening. It was only a few minutes away. We thoroughly enjoyed our stay and would recommend the accommodation to anyone.
Pauline
2016-04-01T00:00:00Z
Beautiful flat in the perfect area. Jane & Brian both welcomed us and gave us a tour of the apartment. There was a delicious welcome basket full of fresh eggs, a homegrown cucumber, red wine, fresh loaf of bread and home baked fruitcake! The area is beautiful and the perfect location for any cycling, walking holiday. Couldnt recommend this place enough!
Michaela
2015-08-25T00:00:00Z
Brian and Jane were wonderful hosts, and we absolutely loved our stay at Filberts. We both felt that they had gone above and beyond to cater for everything you could possibly need, and it is very clear that it is place that is well loved and cared for. Everything shown in the photos is entirely accurate, if anything it is better when you get there!
Esther
2016-07-12T00:00:00Z
Jane and Brian were exceptional at welcoming us to their apartment, the best experience I have had yet on AirBnb, including a small basket with a bottle of wine to get us started, and an itinerary suggestion setup up just for us! I would definitely recommend this and stay here again, the local area is lovely for a small country village and the pub does good food with friendly locals
Philip
2016-05-03T00:00:00Z
A wonderful place to stay! We had a really relaxing weekend at Brian and Jane's. The apartment is both cosy and light, lovely and quiet. The welcome pack was delicious, as were the sausages. It is a reasonable distance from the mainline train but very easy by cab from there nevertheless. Many thanks to our hosts, it was a pleasure to meet you!
Lizzie
2016-06-20T00:00:00Z
Type de logement
Logement entier
---
Type de propriété
Loft
---
Capacité d'accueil
2
---
Chambres
Kent, Royaume-Uni
An oak sussex barn set at tree top height with beautiful views across the English countryside. A perfect place to relax and enjoy watching nature! Our open plan studio features a fully glazed gable end with access onto a large balcony suitable for al fresco eating and relaxation. There is a kitchenette with kettle, toaster, fridge, crockery and cutlery allowing you to prepare simple snacks and meals. The shower room is spacious.
This is a contemporary space with traditional oak features bathed in natural light. There is plenty of space to relax with two sofas, a small dining table and chairs and a king-size bed. The shower room is spacious. High quality bed linen and towels provided. Tea, coffee and milk too. Use of large balcony.
We are located in an area of outstanding natural beauty and have numerous lovely walks from the barn (maps provided). Cycling is good too. Wadhurst has a good selection of independent shops, cafes and pubs. Easy access to Scotney Castle, Sissinghurst, Batemans, Penshurst Place, Charleston, Glyndebourne, Bewl Water and Bedgebury Pinetum and Forest. Tunbridge Wells is 8 miles away and the South Coast only 18 miles.
The barn was beautiful and the view incredible. It felt like we were in a treehouse but with all the modern amenities. The barn has been done up to a great standard and is a very spacious studio. The shower is luxurious, the bed comfortable and it is very well insulated space, so warm throughout the night and airy on a very sunny day. The fairy lights are beautiful giving it a cute romantic feel and we had a great breakfast overlooking the countryside. Rachel and Rob were great hosts, respecting our privacy whilst also offering help and advice. There were some really nice added touches in the fridge and kitchen. They have two goats, which are great fun to watch and a very respectful dog who was adorable. It's a nice slice of countryside where all you can hear is wildlife. Incredibly relaxing. We'd stay again in an instant. Thanks!
Charlie
2017-04-02T00:00:00Z
Type de logement
Logement entier
---
Type de propriété
Loft
---
Capacité d'accueil
2
---
Chambres
Wadhurst, Angleterre, Royaume-Uni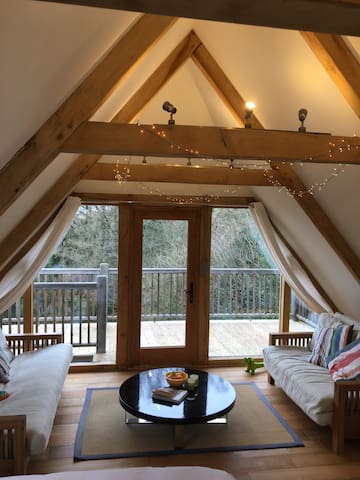 Rough Common - Airbnb
:
Moyenne de

5

sur

5

étoiles sur les

82

commentaires des voyageurs
Saisissez les dates souhaitées pour connaître le prix total. Des frais supplémentaires s'appliquent et des taxes peuvent être ajoutées.