Saisissez les dates souhaitées pour connaître le prix total. Des frais supplémentaires s'appliquent et des taxes peuvent être ajoutées.
El espacio de Sergio y su señora es soñado. Las habitaciones son amplias, acogedoras y con una hermosa vista. Puedes utilizar todas las dependencias de la casa, eso si, el baño es compartido, pero nunca hay problema en usarlo. Sergio y su señora Marisol (más Dominga, su perrita) comparten su hogar con los huéspedes, pero son unos anfitriones de lujo, puedes tener gratas conversaciones en el living al lado de la salamandra, o almorzar en la hermosa terraza al aire libre (Marisol cocina delicioso y por un módico precio). Si prefieres descansar, puedes hacerlo en las reposeras del patio rodeado de árboles nativos. Puedes estacionar en su casa si vas en vehículo. Sin duda 100% recomendados.
Elda
January 2017
Sergio and Marisol were excellent hosts who made us feel really welcome despite our lack of Spanish and made us feel as if we were friends rather than clients. They picked us up from our bus and not only dropped us back to the bus stop but also waited with us to ensure we caught our bus. They have a lovely house any garden in a quiet location set in natural woodland. Would definitely recommend this one.
Tim
January 2017
The host canceled this reservation 2 days before arrival. This is an automated posting.
Francesc
Type de logement
Chambre privée
---
Type de propriété
---
Capacité d'accueil
4
---
Chambres
2
Isla Negra
Overall we really liked our stay here. Very nice quiet and remote with a beautiful view and not to far of a drive to Casablanca and many great wineries. The host was out of town but the neighbor greeted us and she was so nice. Great communication and even brought us a bottle of wine. Only downside was the wifi was (URL HIDDEN) didn't work in the house...we had to walk up the hill outside to use it... but they may fix that in the future (it was pretty remote so even if it was up the hill it was nice to still get wifi out there) also you may need 4 wheel drive if planning to park there..we almost got stuck in our little car . Great place and great people...recommend!
Jessica
December 2016
Absolutely the best experience, from the place, to the location, to Bárbara's help with setting up tours and transport, we had a great time! The place was clean and modern. Private and quiet, exactly what we were looking for! The area was fantastic to explore with many great wineries very close to the loft. Bárbara was a super host, very easy to communicate with and of course very helpful.
Sean
November 2016
Great stay at Barbara's loft! Communication was super easy, Francisca and Barbara we very nice! The loft is nice, everything is very well explained! We highly recommend you to go there :-)
Odile
January 2017
El loft no cuenta con cocina, ni refrigerador o frigobar, ni utensilios, por lo tanto, es difícil poder desayunar o realizar alguna comida en el interior. En Verano es muy seco y caluroso. El sistema de aire acondicionado que tiene es una máquina muy grande cuyo motor libera aire caliente, lo cual, anula el frío que libera el sistema. Otro punto a considerar es que no hay toallas para ducharse, ni secador de pelo y el sofa cama no tiene sábanas, sólo un par de mantas.
Lorena
January 2017
This place is very beautiful and the hosts were extremely friendly and helpful. Views are spectacular and it is very close to many of the wineries in the casablanca area. If you are coming for wine tasting or just the beautiful views I highly suggest this place.
Derek
January 2017
This place was simple, but was very remote and had an amazing view of the Valley! The host was very accommodating and helped us book transportation during our stay. The place was secure with an alarm and had everything we needed. Would highly recommend to anyone visiting the area.
Elise
November 2016
The view is gorgeous -- especially at dusk and then at night with the stars and the lights of the valley. Easy arrival communication with Francisca, Bárbara's friend who is currently taking care of the loft. There are not many restaurants in Casablanca open in the evening (after 7 pm), but Francisca recommended Cafe Santo Valle, which we enjoyed greatly. Like another guest (Jessica, below) we had some difficulty getting into the parking space with just our little car. We discovered it was much easier to get into the space when we turned into the road across from the loft, flipped around, and then came at the parking space from that angle rather than trying to come into it from down the hill. There were a few spots on the porch of the loft where we could get WiFi, but it was much better up the hill. We recommend future guests talk with Francisca more than we did about access to the common areas. (Because our Spanish isn't great, we were shy about asking for clarifications.) Also -- if you like your sleeping rooms dark, be sure to bring an eye mask or something similar. There aren't any curtains on the windows. All in all, a great place with great hosts.
Shannon
January 2017
Recomendable
catalina
January 2017
Type de logement
Logement entier
---
Type de propriété
---
Capacité d'accueil
3
---
Chambres
1
Casablanca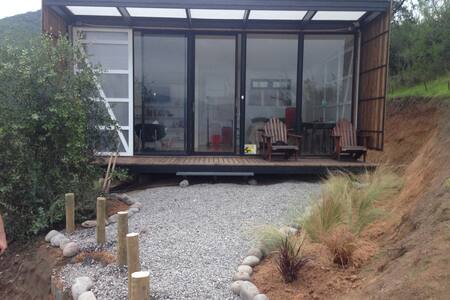 La verdad es que las fotos publicadas son poco para lo increíble del lugar. Vistas maravillosas. Jorge es muy preocupado y atento. Si bien sólo nos vimos el último día, estuvo muy preocupado de que nuestra estadía fuese lo mejor. Es un lugar 100% recomendable si lo que buscan es descansar y desconectarse.
Carlos Roberto
February 2017
Excelente todo, la atencion de Jorge y el lugar. Espero volver a ir
Jose Pedro
January 2017
Type de logement
Logement entier
---
Type de propriété
---
Capacité d'accueil
3
---
Chambres
0
Navidad