Santes Creus is a privleged space with the flavour of ancient times yet close to all cultural and touristic amenities that Catalonia has to offer. Our house used to be part of the ols cistercian monastery and today is a holiday home to spend a relaxed time within a peaceful atmosphere. It has the usual conforts for a nice holiday with or without children: the inner patio boasts a special freshness to have mediterranean breakfasts and special dinners, the studio provides plenty of games, books and music for entertainment and the living room has a vaulted ceiling common to the old cellars in the place. Moreover, Santes Creus has a big monastery which is now a must for culture and art seekers. Our huse shares the main courtyard with neighbours and tourists. At dawn, when only locals gather at the square, the place has a magical feeling. The village has several well known restaurants and a little shop, a chemists' and an art gallery. It is also close to the best beaches, in just 30 minutes, and Tarragona's roman ruins and Priorat's vineyards are also close. The main city, Barcelona, is just an hour by car and it makes the perfect day out for city breaks.
Die Lage und Atmosphäre des Hauses und der Umgebung sind traumhaft. Wir haben die Ruhe am Abend sehr genossen. Julia ist eine sehr hilfsbereite Gastgeberin.
Stephan
2016-07-23T00:00:00Z
Our stay in Julia's house was very pleasant. The house is very spacious and feels like a real home. The house has a real soul to it. The atmosphere inside of the monasteries' ground is something really special and relaxed. There are many different things to do nearby. Beach, culture and beautiful nature. Julia is a great hostess. We would strongly recommend staying in this house.
Stan
2012-08-05T00:00:00Z
Absolutely fantastic! The place was exactly what we were looking for: simple, but with everything we needed; quiet, but with plenty nearby to keep ourselves occupied; comfortable; and in a beautiful setting. My 1-year-old loved sitting on the balcony watching life go by -- or nothing but the birds -- in the square below. The apartment was very clean, comfortable, and thoughtfully appointed as the owners use it as their summer house. Júlia and Louis Albert were fabulous hosts -- very responsive and welcoming. They went out of their way to be sure we had everything we needed and to help us enjoy the region. I highly recommend a stay here!
Elizabeth
2016-06-25T00:00:00Z
We had a wonderful time in Santes Creus! The house is beautifully set in the square within a famous monastery, which gave our stay a great feeling of authenticity. Our kids could easily play in the square and in the house. We found the house very easy to live in, as everything worked and was nice and clean. Julia and her husband gave a very good introduction and she was also very helpful in providing information about what to do and see in the area. Her english is excellent. We are already considering returning at some point and can give our highest recommendations to the place.
Camilla
2012-07-18T00:00:00Z
Julia is a nice host, very hospitable and helpful. The house is really cosy and clean, in a monastery with quiet surrounding area and special atmosphere. The view from the balcony is breathtaking specially at night. Don.t forget to visit the Monastery. Highly recommended!!
Anna
2014-08-07T00:00:00Z
A really magical property in a wonderful location, great and helpful hosts. highly recommend
Rosa
2012-10-08T00:00:00Z
We had a fantastic holiday, Julia. Thank you so much for letting us stay in your beautiful home. We will never forget our time in Santes Creus xxx
Sarah
2014-09-28T00:00:00Z
Sehr schönes, außergewöhnliches Haus. Julia ist eine sehr freundliche und herzliche Gastgeberin. Für unseren Aufenthalt in Katalonien hat sie uns mit allen nützlichen und wissenswerten Informationen versorgt.
Anna
2015-04-07T00:00:00Z
Type de logement
Logement entier
---
Type de propriété
Maison
---
Capacité d'accueil
5
---
Chambres
Aiguamúrcia, Catalogne, Espagne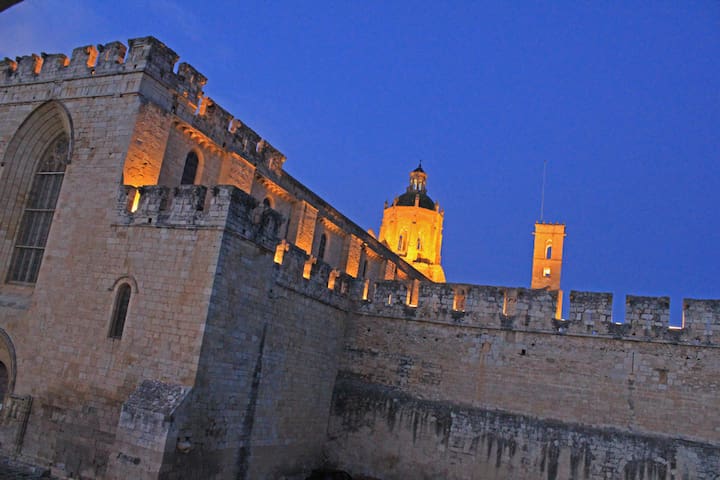 Une maison confortable dans la Costa Dorada Intérieur à seulement 15 minutes de la plage, Tarragone, Cambrils, Salou et 45 de Barcelone. Moins de 5 minutes du monastère de Santes Creus, sentiers de randonnée et de charmants villages à proximité.
Le logement est fixé, en été reste toujours frais grâce à sa construction de qualité et en hiver, les séjours de chaleur. Une maison qui offre une température idéale tout au long de l'année. Il dispose d'une salle à manger et cuisine, deux chambres et une salle de bains. Idéal pour les familles et les personnes qui veulent se détendre dans un endroit calme, entouré par la nature. L'accès à une grande forêt idéale pour la randonnée ou la marche pins.
Il est dans une zone 2 km lien très familier avec l'AP-2 (Madrid / Saragosse / Barcelone / Perpignan). A 2 km de la ville la plus proche avec tous les services et à 6 km de Santes Creus départ de la Route cistercienne. A seulement 15 minutes des plages de la Costa Dorada.
Maria a pris le temps de nous accueillir de nous faire découvrir les environs et les commerces et de nous conseiller pou rprofiter pleinement de notre séjour. La maison est très originale un peu loin du bord de mer mais paisible pour le repos.
valerie
2015-08-09T00:00:00Z
Logement conforme à la description. Effectivement la construction est dans l'esprit Gaudi. Nous nous sentons donc toute de suite dans l'atmosphère barcelonaise ! Personnes très accueillantes. Nous recommandons ce lieu.
KARINE
2015-08-01T00:00:00Z
Logement très décevant même si le prix est attractif. Aucune vraie fenêtre car il s'agit d'un sous-sol d'une maison. Equipements très rudimentaires et vieillots. Vaisselle très insuffisante pour 4. Nous sommes partis dès le premier soir. Notre hôte ne parle qu'Espagnol même si le contact est sympathiques. un petit souci selon nous, les conditions d'annulation sont strictes donc nous avons perdu le montant complet de la semaine et pas de négociation possible avec notre hôte. Un conseil à tous : ne prenez jamais de location avec des conditions d'annulation stricte car Airbnb ne peut rien faire non plus pour vous.
javault
2015-08-16T00:00:00Z
Tres bien recu par Maria, l'appartement correspond bien à la description. Suprise en arrivant et de voir la decoration exterieur de la maison "un style Gaudy" dommage que sur le site il n'y a pas de photos. Une précision, la maison n'est pas à Cabra del Camp, mais pas trés loin non plus. La piscine est trés bien venu car on est quand meme loin des plages "30 mn en voiture".
Kader
2015-07-10T00:00:00Z
The place is very nice, close enough to Taragona, but with easy access to the Monasterio de Poblet and the villages around Concha de Barbera. The host provided a complimentary bottle of Cava (thank you!) and responded quickly when the washing machine broke during our stay. The place is the lower level of a private residence, with a separate private entrance, private kitchen and bath. Some of the outside area is shared, though only with the couple living upstairs, and occasionally their grand kids who visit. The house exhibits the loving style that the owner has put into what seems like an homage to Gaudí. It is covered with beautiful mosaics, and no architectural detail seems to have been forgotten. The basement level has everything one could consider to be essential. Thank you for the very pleasant stay!
David
2015-09-06T00:00:00Z
Sehr nette und hilfsbereite Leute, Haus und Hof waren ein Spielparadies für meine Kinder, vor allem der kleine Pool; insgesamt sehr abgelegen; wer nicht jeden Abend in den Ausgang will, wird es mögen. Die Wohnung ist eher dunkel aber angenehm kühl.
Mike
2016-08-01T00:00:00Z
Type de logement
Logement entier
---
Type de propriété
Maison
---
Capacité d'accueil
5
---
Chambres
Cabra del Camp, Catalunya, Espagne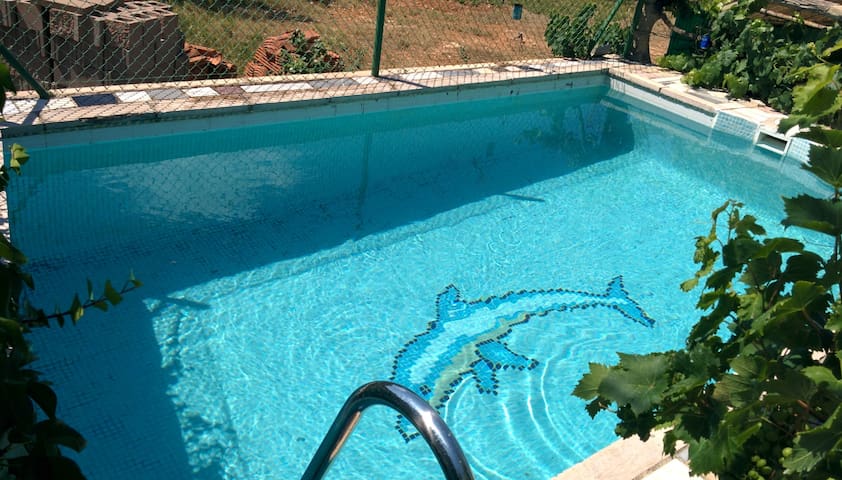 Mas Ferran is a parental, isolated farmhouse at 3 km from the nearer village, placed in the buttresses of the Massif of Montagut, 960mts. of altitude. Landscape of vineyards and almond trees, margins and huts of dry stone, well of ice, swimming pool, pines and holm oaks... and calm. Irrigated region and poultry, home cooking, workshop of paper role and of pottery, beside paths of big itinerary (GR-172), horses near, Monasteries of the Cister, Modernist Cellars, Gaià river (feral), almonds, wine,
The homestead has a capacity for 7-17 guests, warm rooms, individual, double or three and four persons, with heating. The baths (3) and a toilet, shared. There is various living rooms, for reading, TV, wifi, ping-pong, football table.... siestas... The canteen with fireplace. Interior courtyard with turns (the old farmyard of the rowed one) with grills, oven of wood for embers and cakes with provision for meals of evening and songs near the fire. The food, based on the irrigated region of home and four things bought of confidence to neighbours who make it good.
Free parking. Medical service, newspapers and others, to village at 3km.
Un accueil très sympa, dans un endroit charmant avec beaucoup d'espace. Equipements assez précaire, mais ça fait partie du charme. Agréable piscine (immense) d'eau de source.
Paul-Emile
2016-08-13T00:00:00Z
Séjour agréable Tres typique. Le linge de maison est Tres propre. la piscine est un peu loin de la maison et c'est une piscine naturel. L'accueil est très chaleureux on se sent vite chez soi. A savoir le logement est partagé mais comme la maison est très grande on ne s'en aperçoit pas. Ceux qui cherchent le 5 etoiles ne venez pas car c'est pour les amoureux de l'Espagne pure et simple avec un grand coeur. À refaire pour ma part avec plaisir.
aline
2016-08-18T00:00:00Z
La maison de Brisa est en réalité un logement partagé . Nous ne sommes restés qu'une nuit car nous n'avons pas pu dormir à cause de divers problèmes . Il est à noter que la piscine est en réalité une piscine naturelle type étang qui est loin de la maison et cela n'était pas précisé .Cette maison ne convient pas aux groupes voulant car elle est partagée . Brisa est cependant gentille et serviable et parle bien le français .
Jean
2016-07-27T00:00:00Z
Tot ha estat genial. La Brisa, en Domenico i en Joan, ens han atés molt bé. Hem estat molt a gust i hem pogut fer la nostra dintre i fora de la casa. Gràcies a tots.
Jaume
2016-07-31T00:00:00Z
La experiencia ha sido fantastica, en medio de la naturaleza y con una tranquilidad absoluta. Sin embargo, creo que el precio esta desfasado por las prestaciones que se dan.
Albert
2016-07-25T00:00:00Z
Brisa consiguio que nos sintieramos como en (URL HIDDEN) comida del huerto, la vajilla cerámica hecha por su padre, la piscina de agua del pozo, cada rincon de la masia tenía algo especial... Nosotros volveremos seguro ;)
Marta
2016-07-10T00:00:00Z
El trato que recibimos fue muy familiar y atento.Nos gusto mucho la tranquilidad del lugar.
Nuria
2016-08-22T00:00:00Z
Un lugar donde desconectar! perfecto para ir con niños, pareja, grupos. Los anfitriones son atentos y todo momento hacen de la estancia un lugar como estar en casa. Muy recomendado
Pat & Eloi
2017-04-02T00:00:00Z
Type de logement
Logement entier
---
Type de propriété
Maison
---
Capacité d'accueil
16
---
Chambres
Aiguamúrcia, Catalunya, Espagne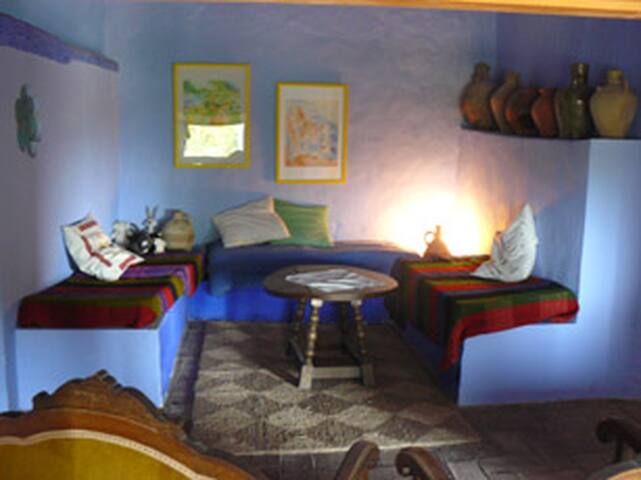 Zona muy tranquila, ideal para relajarse admirando la naturaleza, a poco minutos de las playas, en las cercanías, dispone de hípica, rutas de trekking,
a 30 km de porta aventura, a 15 km de playas, habitación con sabanas y toallas incluidas, 2 baño compartidos con la familia, desayuno incluido, tambien se puede incluir la cena, las cuales serian servidas en el comedor familiar, previa solicitud del servicio, hay la posibilidad de añadir un huésped mas que dormiría en futon o cama supletoria , disponibilidad de cuna para bebe, hay patio exterior a su disposición, así como barbacoa y mesas al aire libre
Type de logement
Chambre privée
---
Type de propriété
Maison
---
Capacité d'accueil
2
---
Chambres
Villarrodona, Catalogne, Espagne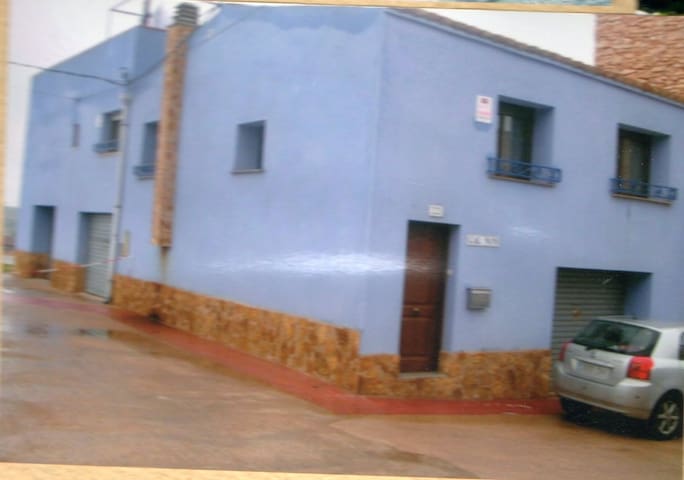 Aiguamúrcia-Santes Creus - Airbnb
:
Moyenne de

4.35

sur

5

étoiles sur les

26

commentaires des voyageurs
1

–

4

sur

4 locations de maisons
Saisissez les dates souhaitées pour connaître le prix total. Des frais supplémentaires s'appliquent et des taxes peuvent être ajoutées.