Type de logement
Logement entier
---
Type de propriété
Villa
---
Capacité d'accueil
7
---
Chambres
Cornouailles, Connecticut, États-Unis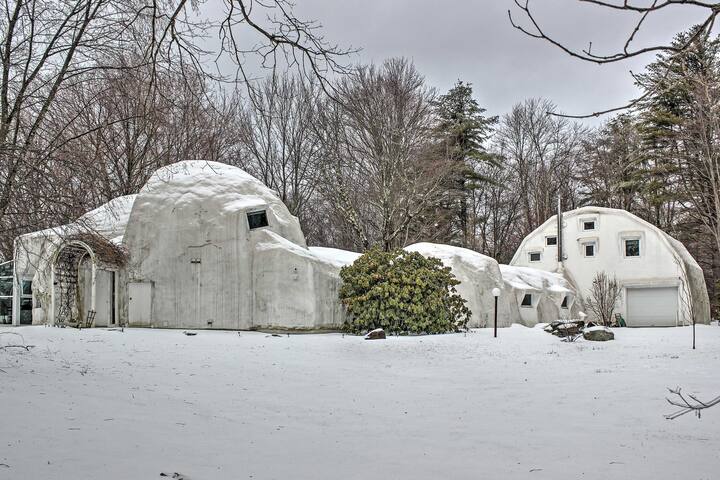 Breathtaking glass, wood & stone modern villa on 12 acres. Cantilevered on a 200' granite cliff over the Hudson. Gourmet kitchen. 10' screen media room. Huge deck, Jacuzzis, steam showers, sauna, hot tub, pool, tennis. 70 mile views. Total privacy.
An architectural masterpiece set in nature's most stunning creation. As magnificent as any European locale yet only 1.5 hours from NYC. One of the greatest estates built in the Hudson Valley in modern times. A private oasis constructed of the finest materials: Limestone, beechwood, electronic lighting controls & more. Its vistas are brought inside through floor-to-ceiling 10' operable glass throughout. Whether staring at the river with its leisurely ships floating by from every bedroom, the hot tub, the salt-water pool (seasonal) or the great room with its huge fireplace, you will enter a state of meditative relaxation never thought possible so close to Manhattan. The only house visible from the villa is FDR's Birthplace & Summer White House, now a national park and Presidential Library. Dine (or take mini-courses) at the Culinary Institute of America, also visible across the river from the villa or any of the superb locally-sourced restaurants in the area or cook your own meal from ingredients bought at the world renown local farmer's markets. Explore the Hudson Valley, with every imaginable site less than 45 minutes away - from antiquing to apple picking to Robber Baron mansions to skiing. Or stay at home and play tennis on the lighted court (seasonal), swim (seasonal), hike the grounds, entertain on the expansive deck, relax in the hot tub or one of the 3 Jacuzzis, 2 steam showers or 2-person real lava-rock sauna. Play ping pong, air hockey, play music, play video games, watch movies on a 10' high-definition screen. Stroll or sit in the private sculpture garden or do nothing at all & still feel like you've got it all.
This is a property for elite guests who require privacy similar to that provided by an island retreat. It sits on a secluded point accessible by one road and is bounded by private homes on either side and 1,000' of riverfront.
My wife and I decided to get out of the City for the long Valentine's Day weekend and settled upon this "Hudson Valley Masterpiece." And "masterpiece" might not do this place justice. Wildly luxurious, sexy, modern, elegantly decorated, spacious, and with gorgeous views of the Valley. We absolutely loved the vibe and couldn't stop commenting on how the entire ambiance just seemed to scream "relaxation." Unfortunately it was the winter and we didn't have the opportunity to partake in some of the warmer weather activities (tennis court, pool, etc), but we can only imagine how lovely this place would be during a sweltering summer day or a crisp autumn evening. And then there's the owner, Bud, who went out of his way to make us feel at home, providing detailed instructions for all the appliances in the house and a comprehensive list of restaurants and other nearby attractions. It was clear he genuinely cared about our having the most outstanding experience, which we most assuredly did. Outstanding stay. 10/10. Highly recommended.
Ann
2016-02-15T00:00:00Z
The house looks exactly like in the pictures. The view is breathtaking; the design of the house, outside and inside, is really well-thought. Bud is a great host and very reactive in case you have a question. I strongly recommend to spend a few days there.
jean-marie
2016-03-31T00:00:00Z
The home is a fantastic spot - it worked incredibly well for our large family - swimming, tennis, bbq, drinks over the Hudson - all added up to great days back to back to back - Bud is a wonderful host - attentive , responsive , passionate about the home and the area - couldn't recommend the whole experience more highly...
Tim
2016-08-01T00:00:00Z
Type de logement
Logement entier
---
Type de propriété
Villa
---
Capacité d'accueil
8
---
Chambres
Highland, New York, États-Unis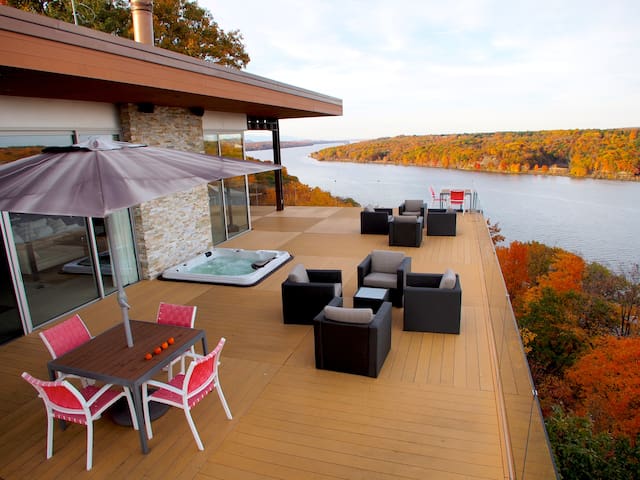 Very impressed with the house and the host. The house is amazing, especially the outside. Expansive amounts of yard space for activities, and a great patio area for grilling, hanging out, ping pong etc. Inside is great - stairs are a bit creaky but that's part of the charm. We had twelve people and almost everyone had their own room, plus there was ample common space and a dining room. The house is an easy drive from Manhattan, and in a great location – when we weren't at the house, we did a hike nearby (there are several) and explored downtown Beacon. Douglas, the host, was very accommodating, and even left a couple of goodies for us to make sure our stay went smoothly. Even better, the kitchen was stocked very well, and there were plenty of baking/cooking/silverware materials – you don't always get that when you visit a house. House rules were very clear and not constraining at all. He was also responsive over email and checked in that things were going ok throughout our weekend. Thanks to Douglas for letting us use your home for the weekend!
Alex
2016-07-18T00:00:00Z
The host for the villa was wonderful. The villa was lovely, even on a cold February weekend (it was around zero degrees outside!). The guests all enjoyed themselves and one of the best memories was a photo of all of the guests on the grand staircase. I would highly recommend staying here.
Claire
2016-02-16T00:00:00Z
We spent 2 nights over New Years eve at Douglas's property with 12 good friends. We had a wonderful time in this amazing house. The house itself was huge and even with a large group like ours, there was plenty of space to relax and spread out. The photos of the house do not do it justice, it was much grander than we anticipated. The bedrooms are all unique and well decorated and the beds were very comfortable. The kitchen was very well equipped with everything you need to cook up a big feast (which we did several times over). The dining room is grand with a huge table and plenty of chairs. We spent evenings in front of the fire relaxing and listening to music. During the day, even though it was a bit chilly, we played ping pong and hung out on the big back porch. This property would be great in summer, the back garden is perfect for barbecuing. The house was very clean and Douglas was very responsive to our questions and provided great information about the surrounding area and the house itself. The location is very convenient, close to the Beacon train station and an easy drive from NYC. We would highly recommend this house, particularly if you have a big group of friends or a large family. Thanks Douglas!
Jen
2016-01-03T00:00:00Z
Beautiful historic home with a well-equipped kitchen and cozy library. Great location for exploring the Hudson River Valley with a large group.
Chris
2016-12-11T00:00:00Z
We were looking for a house where we could host our large family while visiting West Point. Everything about Stonegate was great. The house and property were immaculate and the communication with Doug always timely. Everyone was very pleased. I definitely recommend Stonegate to any interested party.
Donald
2016-08-21T00:00:00Z
Type de logement
Logement entier
---
Type de propriété
Villa
---
Capacité d'accueil
15
---
Chambres
Balmville, New York, États-Unis
Unique luxury getaway in the beautiful Litchfield Hills of Connecticut, and Southern Berkshires. Elegant 23-acre estate and year-round getaway. Room includes gourmet breakfast, wi-fi, free parking, TV. Onsite Amenities: spa services, fitness room, billiard room, library, media room; seasonal pool, jacuzzi & tennis court; bicycles, hiking path. Located just 3 miles from historic Norfolk, CT town center, Infinity Hall Norfolk Chamber Music Festival and Yale Summer School of Music; just 30 miles from Tanglewood, Jacob's Pillow and Hartford, CT. Area has great vineyards, art, dance, music, theater and shopping. The estate has gardens, large collection of specimen trees, apple orchard & berry patch where you you are welcome to pick from. Our breakfast features fresh fruits, juices, Greek yogurt, local granola, artisan breads & cheeses, house-cured gravlax, and a vegetarian friendly frittata. Spa, massage and wellness services are available with prior reservations, including Swedish massage, couple's massage and reflexology. We are located in the heart of New England country villages with nearby State Parks, hiking, biking, skiing, ropes course / zip line, antiquing, fall foliage, and Mark Twain House. A great destination year-round!
Type de logement
Chambre privée
---
Type de propriété
Villa
---
Capacité d'accueil
2
---
Chambres
Colebrook, Connecticut, États-Unis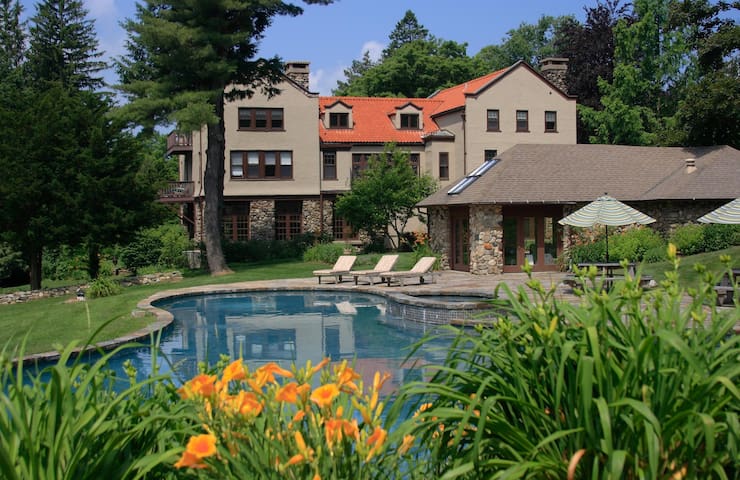 Paradise à seulement 107 km de New York (1: 20min) Entièrement rénové, accès direct privé maison de plage! Vous voulez faire du sport, nager? Profitez de vos enfants (équitation, parcs aquatiques, réserves fauniques, des camps d'été)? Aller faire les courses? 10 mn de toutes les marques de créateurs (Tanger Outlets) Je veux juste vous détendre, visiter les fermes biologiques et les établissements vinicoles, cuisiner, déguster un bon vin et regarder l'océan et les couchers de soleil à couper le souffle ... CECI EST VOTRE PLACE !! Peu importe ce que vous choisissez de le faire, ce sera le meilleur été de votre vie !!!
Votre plage privée et la meilleure vue juste en face de vous! Construction neuve, de nouveaux appareils et parfait état. Profitez de 4 chambres, maison de 3 étages avec cheminée, barbecue, salon de toit et des couchers de soleil sans fin et amusant si près de Manhattan!
Organic Farms, vineries Northfork, plusieurs terrains de golf, les réserves fauniques, Willwood State Park, Tanger Outlets, d'excellents restaurants et des villes. Si vous voulez vous détendre, c'est votre place! Si vous voulez faire du sport (golf, tennis, paddleboard) et d'être actif, c'est votre place. Si vous voulez profiter de vos enfants et les emmener à cheval, aller à des parcs aquatiques, les réserves fauniques, leur apprendre sur la conservation de l'océan, ont de grands camps d'été, c'est votre place! Si vous voulez faire du shopping, vous êtes à 10 mn de chaque marque possible magasin de concepteur (à un prix!), Les grands points de vente, ceci est votre place! Si vous voulez juste vous détendre, cuisiner, déguster un bon vin et regarder l'océan et les couchers de soleil à couper le souffle, c'est votre place !!! Peu importe ce que vous choisissez de le faire, ce sera le meilleur été de votre vie!
Type de logement
Logement entier
---
Type de propriété
Villa
---
Capacité d'accueil
8
---
Chambres
Calverton, New York, États-Unis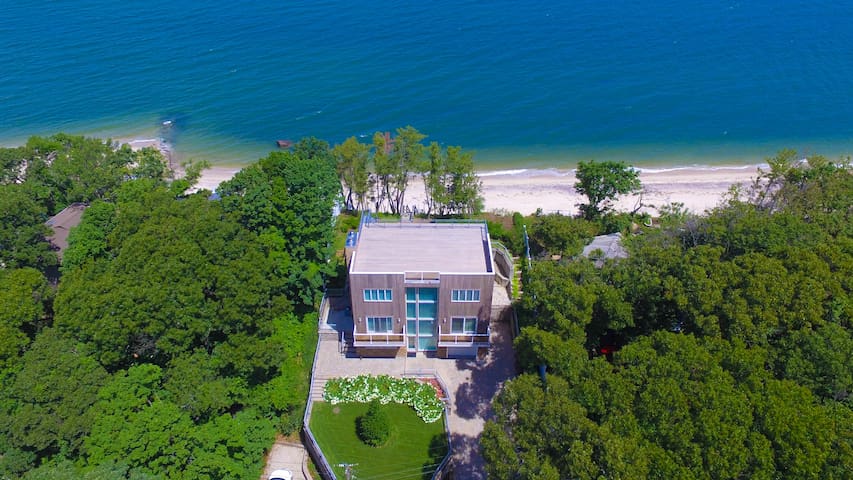 Saisissez les dates souhaitées pour connaître le prix total. Des frais supplémentaires s'appliquent et des taxes peuvent être ajoutées.