Otherwise know as Blackburn Manor, this property is entirely devoted to fans of the wizarding community. It is close to Brigham Young University, the Provo City Center Temple, and Springville Museum of Fine Art. It is loved for its cozy, detailed ambiance, and has a huge comfy bed. It serves as a boarding house, party venue, magic school, and old timey mercantile. There are variable options for events and gatherings; message me for details.
Every room is meticulously designed and furnished. The bedroom is inspired by a particularly familiar gold & burgundy house common room and a special young wizard's dorm room. There's also a large saltwater fish tank on display in the kitchen.
I live in the oldest part of Springville, built in the 19th century, and it has been officially designated as historic by the local government. For the record, my home was built in 1888.
Needed a place to stay for 1 night that would be close to an event. The location was perfect for my needs being less than 10 min drive. The house is historic, and decorated with a harry potter theme. The host, Benji, was wonderful. Super friendly guy. Would have liked to chat with him more, but I was on a tight work / travel schedule.
Jeff
2017-01-01T00:00:00Z
We had a really great time here! We took a few of Benjamin's classes, which was really cool. Also, that might be the comfiest bed I ever slept on :)
Sarah
2017-03-19T00:00:00Z
Benjamin's place is perfect for anyone who appreciates creativity and definitely Harry Potter! We had a great feast and took classes, got to chill with his cool plants and animals and met lots of great people. The bed is very comfortable and overall we had a great time!
Luca
2017-03-26T00:00:00Z
Type de logement
Chambre privée
---
Type de propriété
Maison
---
Capacité d'accueil
2
---
Chambres
Springville, Utah, États-Unis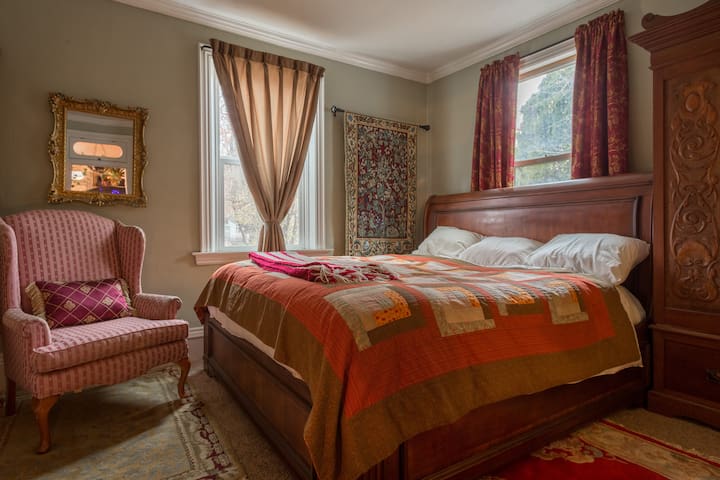 We are within 30 minutes of Sundance Ski Resort and 12 minutes to BYU! The Sundance Mountain Resort offers a variety of mountain activities all times of year. We can make your vacation worthwhile! The property boasts of a cozy fireplace made of petrified wood! The apartment has a dining room, huge living room, a fully equipped kitchen, and a theater room! Four total beds with a sofa bed for sleep total of 10 guests: Three Queen size beds, bunk bed that is a full size and twin, sofa bed twin
The indoor community pool is just a 4 minute walk. 13 minute drive from BYU Art and Science Museum. 18 minutes from Bridal Veil Falls. 15 minutes from BYU Museum of Paleontology and only 13 minutes from Provo Temple. This home sits at the base of the Maple mountain.
Paul was a great host! We loved the place and especially loved the home Theater. Will be back again.
Lev
2017-03-21T00:00:00Z
Very nice place and Paul is a very nice guy, i recomend, everything was perfect, thabks for all Paul.
Sylvio
2017-03-25T00:00:00Z
Paul is a great host and ensured that we have everything we needed. The place is very spacious and conviniently located near hot springs and beautiful mountains
Shantanu
2017-03-26T00:00:00Z
Spacious apartment in quiet neighborhood. Not a lot of amenities, but fairly priced. We may have been the first guests at the property as the kitchen utensils were freshly purchased. Paul was a very accommodating host, and graciously helped us get to our day's destination, then transported our car after a tree, overloaded from the previous night's snowfall, fell behind it blocking our exit from the driveway.
Patti
2017-02-26T00:00:00Z
Type de logement
Logement entier
---
Type de propriété
Appartement
---
Capacité d'accueil
10
---
Chambres
Springville, Utah, États-Unis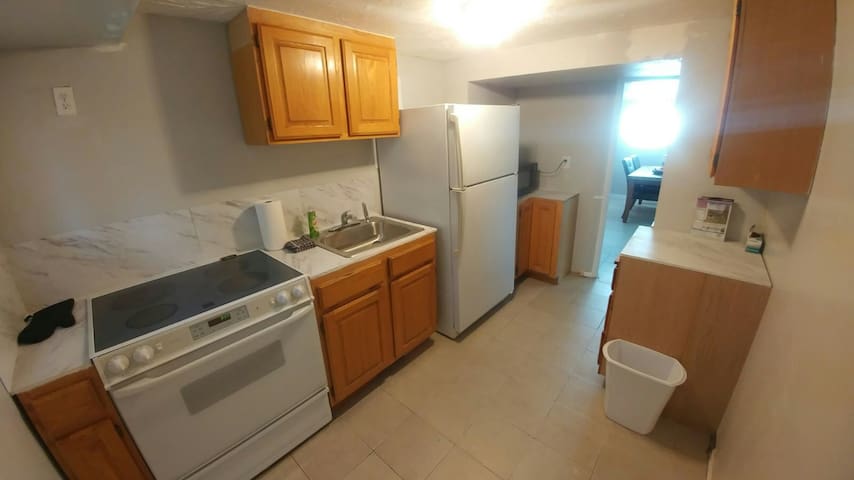 Quiet comfortable upstairs master suite with two queen size beds. Private bathroom and office area . Your own private entrance . In our Quiet Springville home. Can sleep up to 4 people comfortably. We can accommodate more upon request.
Upstairs Master Suite which includes two beds in the room one is an oversized queen bed and the other is a standard queen size bed. a TV and free Dish Network . A DVR and a small selection of DVDs . You have your own private bathroom. This room comes with a small office loft.
We live in a regular neighborhood 5 minutes from the I15 freeway. Buy automobile 5 minutes from Spanish Fork. Only 15 minutes from Payson and the Payson Temple. Just 15 minutes from Provo and the new Provo Temple. Center Street in Provo is a modern old fashioned town. You can walk the sidewalks and find some great buys or just dl some old fashioned window shopping. There are lots of restaurants tl choose from. It's also where you will find the Missionary Training Center. Close-by the house just for relaxation if you like to golf there is Hobble Creek Golf course about a 10 minute drive up Hobble Creek Canyon. There you also find paved trails for walking, running, hiking, biking or even horseback riding (you would have to bring your own horses). There's a photo op around every corner. Our neighborhood is kind of farm like even though we actually live in the city. Our lovely neighbor and former mayor has sheep and her pastor right next door. Occasionally you can find them eating grass in our back lot. Enjoying the country life includes a dairy farm which is about a football field away. And you can hear the occasional train pass at night... twice a day the passenger train Amtrak passes by on its way to the Provo Whistle Stop. We have always found the sound of the train to be very relaxing. We hope you would choose us for your business trips or vacations, weddings or funerals. Contact us directly with any questions.
Type de logement
Chambre privée
---
Type de propriété
Maison
---
Capacité d'accueil
2
---
Chambres
Springville, Utah, États-Unis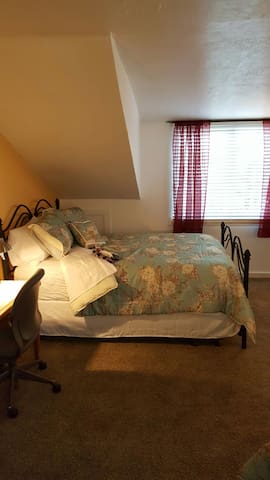 We offer a bedroom with a full bath just down the hall. At your disposal are kitchen facilities with stove ,oven and microwave and downstairs is your own large screen TV , with a fireplace, beanbag chair and hundreds of DVD's at your fingertips.
It is a bedroom with a double bed.
The neighborhood is very quiet. Our town has a few places to eat that are more family friendly. Only 5 miles from Provo which has more extensive and fancier restaurants. Due to the fact we are located on a green belt with a river behind us, the wild life are abundant and very active, get your cameras out.
Neil and Karen are very welcoming and personable people. The room and accommodations where very nice. The room was exactly the way it was described if not better. I would recommended them to anyone I know. The area is such a beautiful place with the mountains and the beautiful weather that I would recommend everyone to come and visit.
Jonathan
2016-06-08T00:00:00Z
This was my first time using Airbnb for a visit to Utah. They were very hospitable and welcoming. This was also their first time hosting for Airbnb. I thought it was a good opportunity to have an unbiased opinion on the program/app. In my opinion, this listing would be ideal for people who are traveling for work. The house rules were extremely manageable--mostly be respectful of the home and those that live there also. I would recommend the listing and encourage those that stay to provide constructive feedback to help make a better/more efficient experience for both host and guest.
Tanner
2016-05-29T00:00:00Z
The host canceled this reservation 27 days before arrival. This is an automated posting.
Kevin
2016-05-23T00:00:00Z
Type de logement
Chambre privée
---
Type de propriété
Maison
---
Capacité d'accueil
2
---
Chambres
Springville, Utah, États-Unis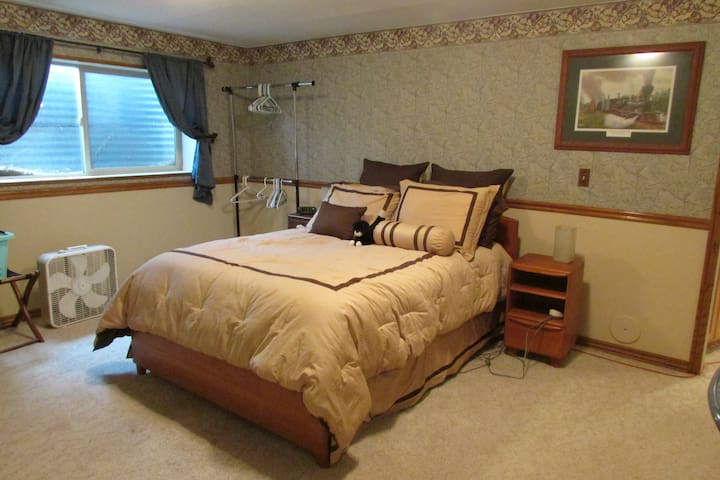 These Cozy Cabins are the perfect option for your traveling needs, camping at its best. Cabins sleep up to 4, 1 queen bed and up to 2 twin rollaway cots(upon request). They have heat/air conditioning, full restroom, full kitchen, streamable wifi,tv.
Great cabin. Very well priced. Great location.
a.sandstrom
2016-08-03T00:00:00Z
Type de logement
Logement entier
---
Type de propriété
Cabane
---
Capacité d'accueil
4
---
Chambres
Springville, Utah, États-Unis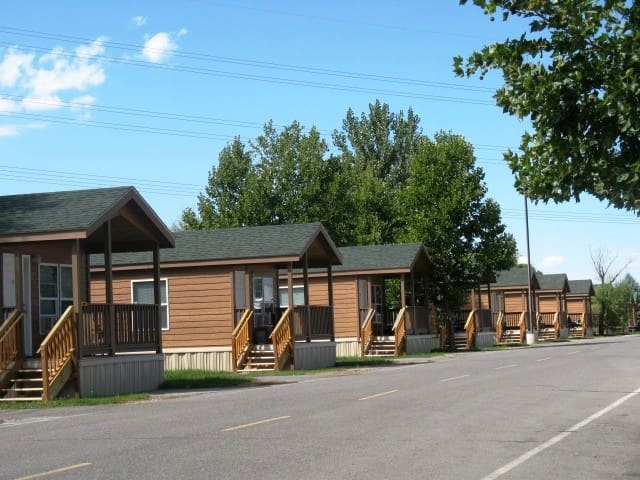 This is a great home for family gatherings and family reunions. It is nestled in the Utah mountains south of Provo and located up Hobble Creek Canyon in Springville. There are two large gathering rooms and 7 bedrooms with 5 bathrooms. There is a beautiful golf course up the canyon with great walking and biking trails. At the base of the canyon, there is a new man made beach that is free to the public. There are also several parks up the canyon. It is about 25 miles south of BYU.
Beautiful setting, accessible and cozy. The floor plan is very family friendly and functionable. Everything was clean and ready for our arrival. The bedrooms were lovely and comfortable with enough bathrooms for a comfortable stay. We very much enjoyed our stay !
ann
2017-04-03T00:00:00Z
Type de logement
Logement entier
---
Type de propriété
Maison
---
Capacité d'accueil
16
---
Chambres
Springville, Utah, États-Unis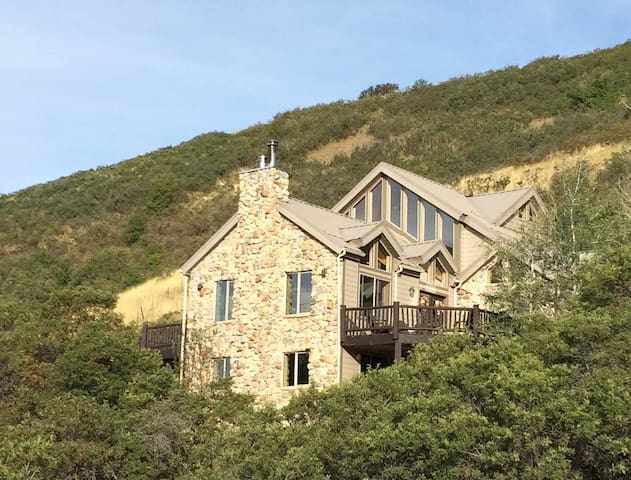 Close to everything you need in Utah and Salt Lake City.
Clean private safe location
Whatever you (URL HIDDEN) and/or guidance wise we'll provide.
Type de logement
Chambre privée
---
Type de propriété
Bed & Breakfast
---
Capacité d'accueil
2
---
Chambres
Springville, Utah, États-Unis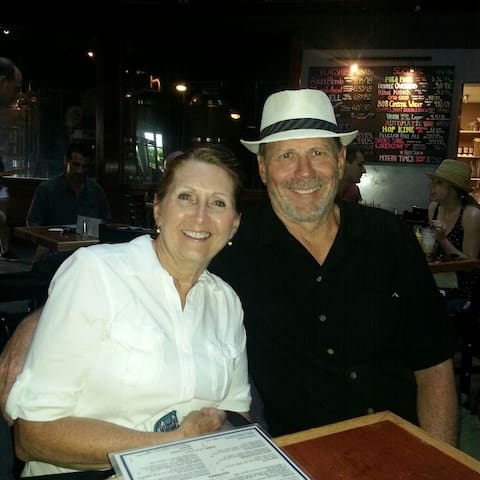 Access to 2000 Sq. Ft. of finished Bottom Floor. Gorgeous neighborhood at foot of Wasatch Mountains in cozy Springville. Stretch out across two private bedrooms, private bathroom, hallway and stairs. Shared kitchen on main floor. Walking distance to Canyon, Reservoir, Park, River, Hobble Creek Golf course is about 3-4 miles away.
Half of the basement floor is all yours. There are three rooms (office, storage, theater) that we use occasionally, but other than that, you'll have the basement floor (2,000 sq. ft.) to yourselves.
Beautiful area, nestled at the mouth of the canyon, surrounded by mountains, near creek, reservoir/beach and park and a couple miles from Hobble Creek Golf Course.
Type de logement
Logement entier
---
Type de propriété
Maison
---
Capacité d'accueil
4
---
Chambres
Springville, Utah, États-Unis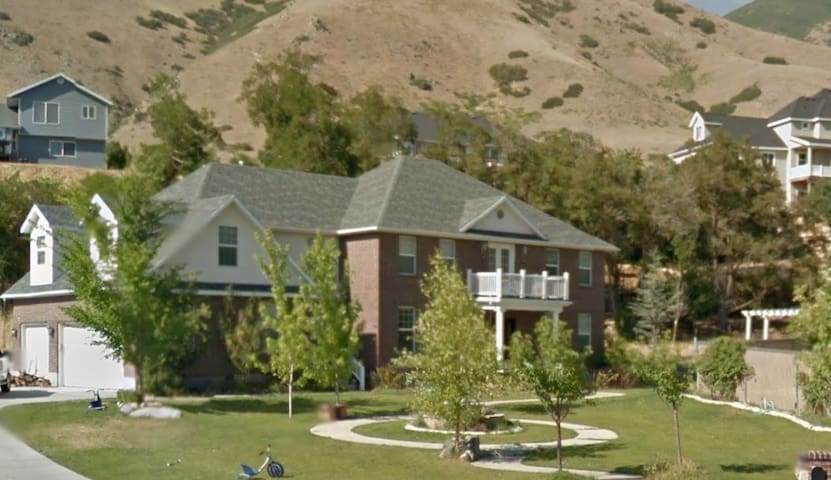 This Beautiful Home sits at the top of a mountain in Springville, Utah with breathtaking mountain, valley, and lake views. This home is perfect for a winter retreat to share with family and friends. Sleeps up to 10.
This home is perfect for affordable Family and Group gatherings during the holidays or ski season. Equipped with a Large Living area, Kitchen and Private Dining Room for family and group gatherings & meals. The large, open and spacious floor plan will give guests the opportunity to spread out and enjoy. Large windows with mountain, valley and lake views from all areas of the home give this home an airy, nature like feel. Easy access to grocery stores, pharmacies, movie theaters, local attractions and local restaurants. Also a hop skip and jump to Provo Canyon for safe travel to nearby and popular ski resorts. Amenities are as follows: dishwasher, flat screen tv's and closet space in each room for your enjoyment, 2 fireplaces, cable, wifi and all the amenities making this a home away from home.
The home is located on a private street that sits at the top of the road. Deer, squirrels, chipmunks and beautiful birds roam freely as this is their country and territory. The views are breathtaking and the environment is beautiful and serene.
Type de logement
Logement entier
---
Type de propriété
Maison
---
Capacité d'accueil
15
---
Chambres
Springville, Utah, États-Unis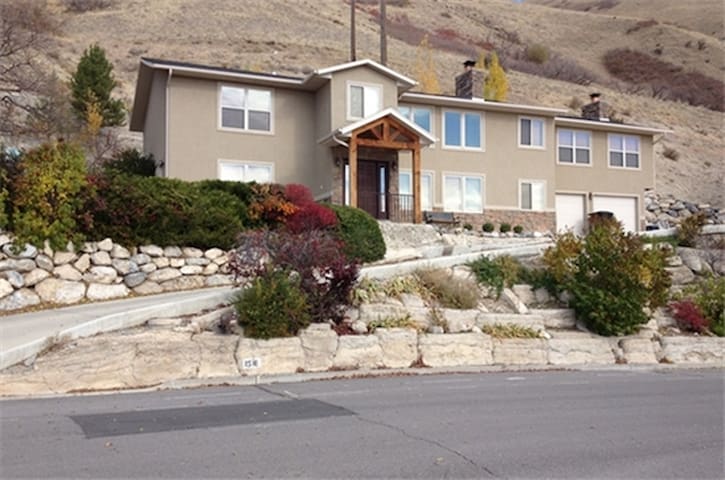 Hello! My home is close to BYU Campus, Spanish Fork Canyon, and Sundance. It is an excellent place for couples, solo adventurers, families, and furry friends. We have a large room with a queen sized bed and large closet. Private bathroom with full amenities. Clean kitchen and living room.
I do have two dogs and two small cats. If either of these are an issue you may want to search elsewhere!
Our neighborhood is very quiet, clean, and safe.
Ali, her husband, and all of their animals were wonderful hosts. They were especially flexible with our unexpectedly late arrival, which was very much appreciated. They made a cautious effort to keep their animals away from us before we made it clear that we didn't mind, so if that isn't your thing, you could definitely manage. The space was clean and they considerately left a space heater for us, in-case the February Provo weather made the room a little chilly. My girlfriend and I would definitely stay there again if we were in the area.
Matthew
2017-02-26T00:00:00Z
Ali's place was a great location for us to get over to Sundance Mountain! Ali was a great host; her dogs were wonderful with our dog and it was a great place for us to spend the night. Thank you so much for your hospitality!
Erika & Steve
2017-01-26T00:00:00Z
I never met Ali but her husband stayed up late until I arrived. The bed was very comfortable and the shower was fantastic!
Lynn
2017-03-27T00:00:00Z
Ali is very responsive. Our schedules didn't allow for us to meet in person but she responded to texts very quickly and accurately. We really enjoyed our stay and would definitely reccomend this place!
Lindsey
2017-04-03T00:00:00Z
The room I stayed in was clean. It just a little cold, but the host provided a space heater. Ali was very kind. She has two cats and two dogs. If you don't like pets, this place probably isn't for you.
Julia
2017-02-24T00:00:00Z
Wonderful room. Great for a snooze. The host texted us before our arrival to make sure everything was in order. Replied right away and was very pleasant to talk too
Spencer and Becky
2017-04-01T00:00:00Z
Awesome host! I had a couple dinners with them and felt very welcomed. They respected privacy and were very accommodating. Nice house, room and bathroom. Would definitely stay with again. Thanks!
Constantinos
2017-03-23T00:00:00Z
It was a good simple place to stay. All I did was sleep there. The queen bed is very comfortable.
Lizie
2017-03-31T00:00:00Z
Type de logement
Chambre privée
---
Type de propriété
Appartement en résidence
---
Capacité d'accueil
2
---
Chambres
Provo, Utah, États-Unis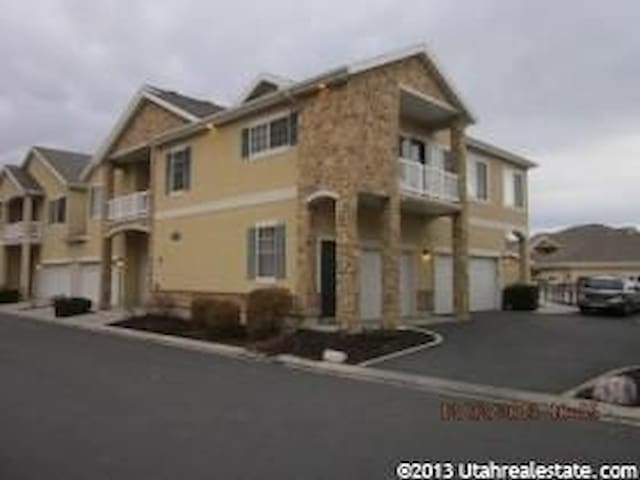 The home is located on the mountain in south Provo with a lovely view of Utah lake. 8 min from BYU, 10 min from UVU. 30 min from Sundance ski resort, and 45 min from the Canyons Resort or Park City. This is an awesome place if you are looking to attend a graduation, visit family or just want to hit the ski slopes without paying park city prices.
Very quiet neighborhood. Easily found from the freeway.
Bud was a great host and made sure I had everything I needed during my stay. Would definitely stay again!!
Tyler
2017-03-14T00:00:00Z
Bud is a great host, gracious, accommodating and friendly! This has been my favorite AirBnB experience yet. I would most definitely stay here again!
Taji
2017-01-07T00:00:00Z
Clean, cozy, and Bud is very kind. It was a very easy and accommodating stay. I only stayed a night, as I was just passing through, but it was exactly what I wanted: Easy, with a bed and chance for a nice shower, and great company.
Christopher
2017-03-23T00:00:00Z
Great place to stay!! We love it!
siting
2017-04-06T00:00:00Z
We stayed here for a whole week with no problems. Bud and his wife are great hosts, friendly and personable! My family talks to them as if they have been long-time friends. Highly recommend this place.
Lok-Man
2017-04-01T00:00:00Z
Bud and his wife are very friendly. This is our first time ever using AirBnB and it's natural to be a little weary of what the hosts are going to be like. They gave us more than sufficient boarding room and let us know where anything was. Their house has clean open space and you'll have open access to their kitchen/laundry and other amenities. We even had a nice casual dinner/chat after we were all home from our day's school and work. Their location is in a cul-de-sac up in the hills in Southern Provo which has a nice view and it is quiet.
Lok-Man
2017-03-28T00:00:00Z
Very clean and beautiful house, travel is convenient, especially the landlord couple, hospitality, especially with the landlord
玉梅
2017-02-05T00:00:00Z
Bud has a nice place located in a good quiet neighborhood. Easy access and convenient. The guest rooms were simple second-hand comfortable and clean. The bathroom was roomy, well stocked and clean. We didn't see our hosts very much throughout our three day stay, however -- Bud was great to work with! Very responsive, flexible, and kind!
Jean & Travis
2017-03-11T00:00:00Z
Type de logement
Chambre privée
---
Type de propriété
Maison
---
Capacité d'accueil
3
---
Chambres
Provo, Utah, États-Unis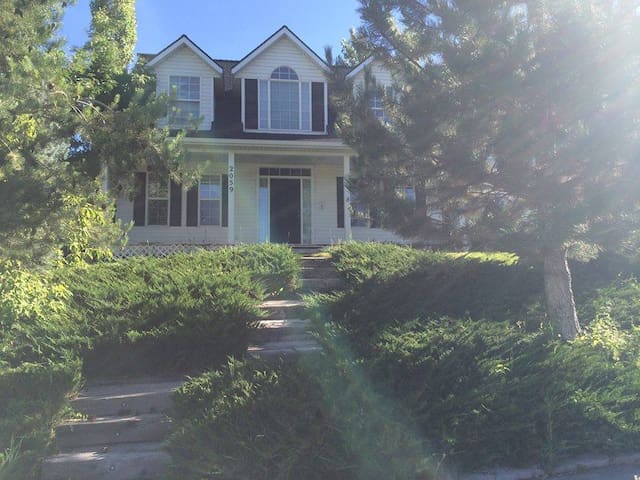 Experience our newly renovated historic apartment close to the heart of downtown Provo with two full size beds and one queen size bed in two bedrooms - comfortably accommodating up to 7. Walking distance to historic down town Provo with its charming shops and restaurants. A short drive to BYU, UVU and two LDS temples. I-15 is only 1/4 mile away for easy access to SLC and beyond. Amenities include: fully equipped kitchen, memory foam mattresses, 1,000mb (SENSITIVE CONTENTS HIDDEN)-fiber internet and Smart TV w/ Roku.
Type de logement
Logement entier
---
Type de propriété
Appartement
---
Capacité d'accueil
7
---
Chambres
Provo, Utah, États-Unis
Enjoy a brand new townhouse right by the mountains. Close to downtown Provo, the LDS temple, BYU and the canyon. Relax in a private room with a comfortable queen size bed. Watch the sun set over Utah Valley right from your window or from the deck. Enjoy an awesome spacious kitchen with granite countertops and hardwood flooring. Safe and quiet neighborhood. You can lock and unlock the door with your smartphone, using a unique virtual key issued to you for the duration of your stay.
Great room! I stayrd 2 nights in October & the location was perfect for my needs. I came in both nights after 9 pm & left by 8 am. I didn't meet the owner but the details to home, room, etc were perfect. Nice new place.
Kathy
2016-10-17T00:00:00Z
My husband and I stayed here for a few months while we waited for our apartment to be finished. We got to know Rogelio and Merissa really well, and I can honestly say they are some of the nicest people I have met! They were so accommodating and helpful if we ever had any questions. They let us use their kitchen utensils and appliances which was SO nice since we were there for so long. They always kept the house looking really clean and comfortable. The room that we were staying in was very comfortable and private, though you may occasionally be sharing a bathroom with other guests. Overall, it was a great stay and I would recommend that anyone book their next visit to Provo with these hosts.
Elizabeth
2017-03-22T00:00:00Z
Best host in Provo, I recommend him to everybody who intends to visit this beautiful town. I was treated very well in your home Rogelio, I hope to have the opportunity to stay there again. Thanks for the wonderful stay.
Jefferson
2016-12-09T00:00:00Z
A really nice stay. We really enjoyed everything about it...Thanks!!
james
2017-03-29T00:00:00Z
It was a great place to stay they are really friendly always kept the place clean made me fill like I was at home .. I stayed there for two weeks and that will be the place I go back to.. as long as I'm working n in provo I'll be staying there thanks for having me guys .. I'll be back lol
Brandon
2016-10-21T00:00:00Z
House was super clean and quiet. Just what we were looking for. Thanks for the last minute booking Rogelio
Reuben
2016-10-09T00:00:00Z
great place and a even better view. . if your planing on going to provo stay at this place very warm and they make you feel at home
Brandon
2016-10-28T00:00:00Z
Very clean and warm house. Rogelio is an amazing host and will make sure you are well taken care of. Kitchen had everything we needed. Happy guest
Matthew
2017-01-03T00:00:00Z
Type de logement
Chambre privée
---
Type de propriété
Maison de ville
---
Capacité d'accueil
2
---
Chambres
Provo, Utah, États-Unis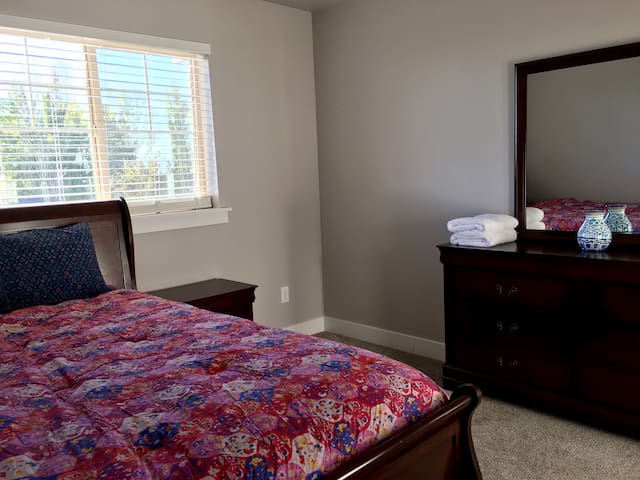 Bienvenue! Cette maison confortable mignonne est notre première maison et nous espérons que vous l'aimerez autant que nous! Vous serez logés dans une chambre privée spacieuse avec un lit de taille réelle complète (et un canapé-lit supplémentaire si nécessaire). Nous sommes d'Asie et de garder notre très propre. Accès facile sans combattre le trafic au centre-ville - 3 min en voiture à l'entrée Provo Ville Highway - 5 min en voiture du centre Provo St et Temple City. - 10 min à BYU.
My wife and I had such a nice time staying here! Ya Ya and her husband were so kind and accommodating. The home was so cozy and clean. Definitely recommend their home.
Seth
2017-01-17T00:00:00Z
Fantastic hosts, always greet with a smile and attentive to providing for you what you need. Ya ya is always cooking something and it makes the house feel more like a home. Both her and her husband seem like fantastic people and I couldn't have hoped for better hosts! I will be coming again!
Parker
2016-12-01T00:00:00Z
It was the perfect location as we were driving from Salt Lake City to the National Parks (Arches, Canyonlands). We can't thank enough our hosts for letting us check-in very late (after 12am), after we landed in SLC airport. The bedroom is cozy and comfortable, and they provide bath products in the bathroom. Great value and better sleep than in a hotel :) Thanks guys for having us!
Emilie
2016-11-24T00:00:00Z
Very nice place to stay. Friendly owners. Comfortable room. We had a pleasant visit with the owner. She even left us a treat for breakfast before we left in the morning. Would definitely recommend and would use this room if we needed one again!
Allison
2016-11-01T00:00:00Z
They are very friendly.
Izaiah
2016-12-02T00:00:00Z
Awesome host and a great value when staying in Provo. Ya Ya is very accommodating and helpful. The place is clean and very easy to access.
Steven
2017-03-26T00:00:00Z
It was a wonderful place to stay. Exactly as described, close to the freeway and all what Provo offers. They were always responsive and attentive.
Ivan
2016-12-20T00:00:00Z
Very good!
Li
2016-12-30T00:00:00Z
Type de logement
Chambre privée
---
Type de propriété
Maison de ville
---
Capacité d'accueil
3
---
Chambres
Provo, Utah, États-Unis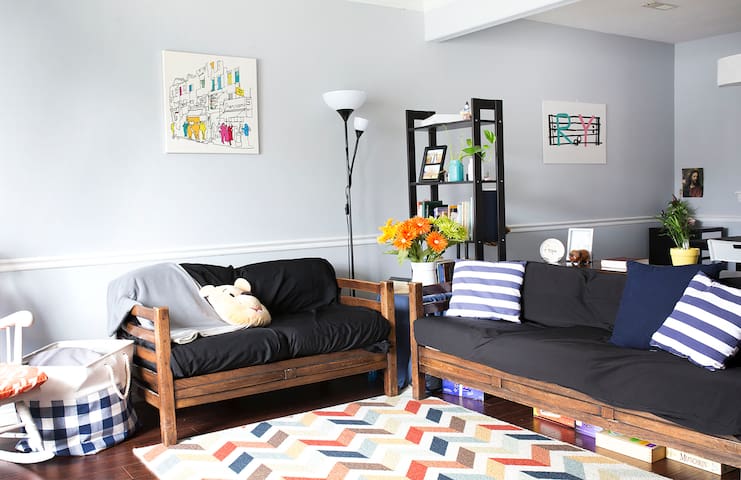 Beautiful and comfortable apartment at the base of Y mountain. BYU is within walking distance. BYU Creamery is also very close. Walk outside to the beautiful Y mountain. This apartment is freshly remodeled, has big windows with lots of natural light. Full kitchen and also includes a washer/dryer. It is in the basement of our home but does not have a "basement" feel. Our family shares the home with the apartment but the two are completely seperate. Welcome to the Cherry Pit!
This is a 1 bedroom apartment. The bedroom is very spacious with a California king bed. It has a full bathroom and washer and dryer as well. The kitchen is combined with the living room and is small but new and clean. Welcome to the Cherry Pit!
We are part of the Tree Streets neighborhood at the base of Y mountain. We are close to the Bonneville shoreline trail and a two minute drive to the Rock Canyon trail head. BYU is within walking distance. We are also 1 street from a huge park. Welcome to the Cherry Pit!
This has to be one of the nicest places I've stayed at. It's beyond clean and cozy... Brittanie is perfectly willing to help with any questions you may have. I will be staying here in the future for sure
Lucas
2017-02-27T00:00:00Z
This was a great place to stay. The location is close to BYU campus and an easy walk to a park, etc. There were two of us staying, but the living space was big enough to have six there for dinner and games after (thanks to a card table and extra chairs). The kitchen was a great bonus and was well stocked with the basics. The entire apartment was very clean. There was lots of hot water for showering (which is something important to me), and the real bonus is a washer and dryer right in the apartment. We'd definitely stay here again.
Donna
2017-03-28T00:00:00Z
Place was as described and very clean. Great location within walking distance to BYU campus. Brittanie was nice and helpful and very responsive. Would definitely stay again.
Colby
2016-10-16T00:00:00Z
Brittanie was pleasant and easy to contact. The Cherry Pit was clean and a really nice place to stay.
Patty
2016-11-13T00:00:00Z
Great placs to stay. Nice and comfortable. Would suggest small dark face towels so nice white towels don't get dirty.thanks for the stay
Adam
2016-08-14T00:00:00Z
Brittanie provided a very comfortable spot for my son to stay while visiting friends at BYU. It is within walking distance to the university, which was really great. He would definitely like to stay there again.
Megan
2016-09-06T00:00:00Z
I enjoyed my stay in the Cherry Pit. Great location, clean, and very comfortable.
Sandy
2017-02-23T00:00:00Z
My experience at the Cherry Pit was great. The apartment was very nice with lots of light and amenities. Brittanie was extremely pleasant and helpful. I highly recommend this spot if you are visiting Provo!
Alex
2016-08-27T00:00:00Z
Type de logement
Logement entier
---
Type de propriété
Appartement
---
Capacité d'accueil
2
---
Chambres
Provo, Utah, États-Unis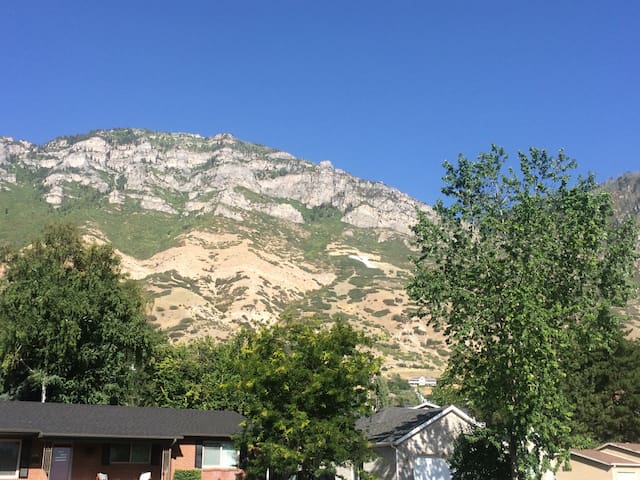 The apartment is a basement space that is furnished with a Queen size air mattress, desk and chair, mini fridge and microwave. You have a private bathroom and a shared laundry room. Our home is close to the city center, public transport, the Provo airport, and great local shops and restaurants. It's within walking distance to many restaurants, a couple parks, the newly renovate LDS temple, and the library. Our place is good for couples, solo adventurers, and business travelers.
Studio type apartment with closet space, desk for working, mini fridge and microwave. You have a private bathroom and access to a shared laundry if needed. Spacious enough for a lone traveler or an adventurous couple.
Our neighborhood is an eclectic mix of old homes built in the late 19th century and relatively modern houses that accommodate young, college students and families. Just a few blocks from our home is the Provo Convention Center, the newly renovated Provo LDS Temple, the historic Provo library, and a plethora of fabulous, non-chain restaurants and shops.
Great place to stay! Very clean and comfortable.
Amanda
2016-11-10T00:00:00Z
Great basement all to yourself. Includes full bathroom, closet, mini fridge, and microwave. Very pleased with location and communication with host.
Matthew
2017-01-15T00:00:00Z
The place is well located, in a very quite neighborhood. Place was clean and Marissa always communicated with me if she needed to use the basement (where is their laundry room). Overall, a great experience.
Claudia
2017-01-01T00:00:00Z
Marissa and her husband were absolutely lovely, which made our short stay very pleasant. Place is clean, good value for money.
Tatyana
2016-09-02T00:00:00Z
My house was awesome, they continuously made sure we had everything we needed and that we were satisfied. They were very easy to work with and were my favorite hosts I've ever had on airbnb!
Will
2016-09-01T00:00:00Z
Although we did not have an opportunity to meet Marissa we enjoyed our short stay. The neighborhood, which is quaint and quiet, is conveniently located close to BYU and downtown. The private entrance made it easy to come and go without disturbing her young family. I would recommend this Airbnb!
Amy
2016-09-10T00:00:00Z
Marissa was great and very helpful. The space was exactly as described and actually exceeded my expectations. She was very responsive to anything that I needed and provided basically anything that I would have desired. The neighborhood is very nice and close to Center Street where there are tons of restaurants.
Michael
2016-08-05T00:00:00Z
This was a perfect location for me to stay. I had a dinner downtown and it is nearby my kids who go to school at BYU. Marissa shared some delicious homemade from-her-garden zucchini muffins with me for breakfast! It is a simple accommodation at a great price.
Jocelyn
2016-08-30T00:00:00Z
Type de logement
Chambre privée
---
Type de propriété
Appartement
---
Capacité d'accueil
2
---
Chambres
Provo, Utah, États-Unis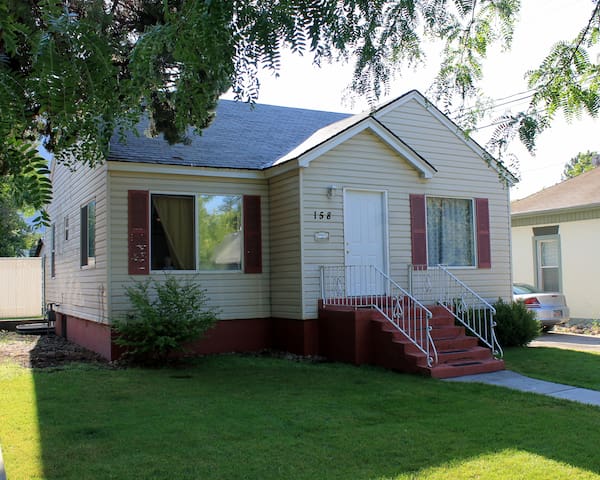 It's my house and I love it. Passing thru and need a clean affordable place to stay you should stop by. I do have pets so, if you're traveling with some of your own bring them on in! Garage for bikers or sports equipment. Park on the street. Smoke outside.
Two twin beds. Plan accordingly.
Tatiana was accommodating and their pet are so tiny. Only thing is that the bed is not made for two person, I had to slept on the floor (heavy carpet so it's ok).
Nicolas
2016-06-07T00:00:00Z
Tatiana and her father is so nice. The place is clean and good to stay. Highly recommend.
Chenyang
2016-07-21T00:00:00Z
Tatiana & her father, George were delightful! They were friendly, kind & very accommodating! We had some changes in our schedule with our family going in different directions at the same time and they graciously assisted us in getting us where we needed to be. They went above and beyond as hosts and we appreciated them so much. Their family and pets were adorable & always welcoming us with a smile. It was truly like staying with family! :) The location was perfect, close to everything yet in a quiet, friendly neighborhood. We felt safe coming and going at all hours. They were knowledgeable about the area so we were able to find all that we needed. Definitely would stay here again!
Jim
2016-07-31T00:00:00Z
Clean, simply. Easy to figure out. The bed was comfortable, wifi posted on the wall. Sufficient
Tish
2016-06-12T00:00:00Z
Everything as described. Clean and comfortable, pets were friendly and well behaved. A great bargain in a quiet yet convenient location.
Thomas
2016-04-29T00:00:00Z
The dad was nice when I arrived. After that... I never saw anyone. The area was pretty, but a little removed from the city. It would not be my first, second or third choice if I stayed in the area again.
Thandi
2016-08-27T00:00:00Z
Because of some miscommunication, no one knew I was coming, and I felt VERY AKWARD. Very LOUD TV across the hall until past midnight. People talking in the hall at 3 am. Multiple exits and entrances including the garage door. I did not get any sleep. And unlike the picture, it was just a mattress on the floor.
Tawny
2016-08-28T00:00:00Z
I didn't actually meet Tatiana, but her parents were very sweet -- they let me in and made sure I had everything I needed. It was a quiet, convenient location, exactly what I was looking for.
Zoe
2016-05-24T00:00:00Z
Type de logement
Chambre privée
---
Type de propriété
Maison
---
Capacité d'accueil
3
---
Chambres
Provo, Utah, États-Unis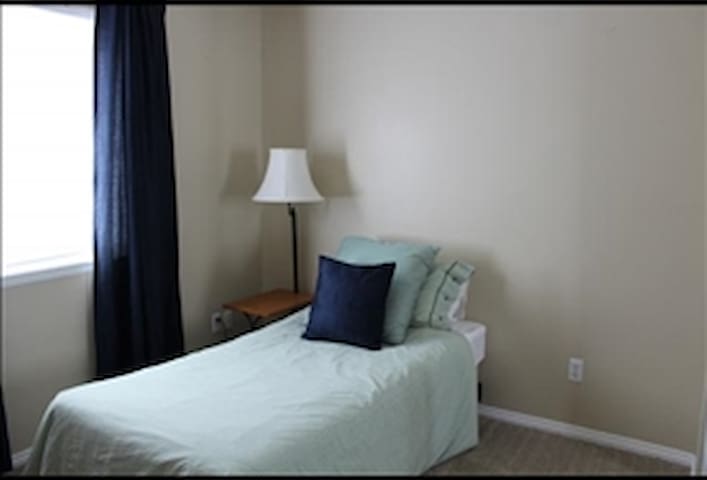 Our charming home is located less than 2 minutes from I-15 and 1 minute from Center Street. It is the perfect location if you're here to attend a BYU football game, drop someone off at college, or stay for a few days before your new apartment lets you move in. Whether you're cooking in our just-remodeled kitchen, relaxing by the fireplace in our cozy living room, or sleeping in our guest bedroom, we're sure you'll feel right at home. *The whole upstairs, 2 bedrooms, is available 2/18 - 3/4.*
We love our home! It is our first home and we have made a lot of changes to it since we bought it in January 2014, while still trying to maintain the integrity of the home. We probably like the fireplace and the huge windows most of all. We hope that you will enjoy your time with us! *If you are looking for 2 bedrooms for the months of February, May, or July, or if the dates you need are not available, be sure to check out our other listing. "Second bedroom in red brick house" will be available for some days during those months.
The best thing about our neighborhood is its ideal location! We love downtown Provo - there are so many good restaurants and fun things to do. Here are some other places we are close to: 10-15 minutes from Rock Canyon (rock-climbing / hiking) 10-15 minutes from the Y Mountain trailhead 7 minutes from BYU Campus 10 minutes from UVU 2 minutes from the new Provo City Center temple (LDS) 3 minutes from Provo Towne Center (mall / restaurants / Home Depot) 10 minutes from University Mall 17 minutes from Mt. Timpanogos trailhead 1 hour from SLC International Airport We have a pretty quiet neighborhood, and we have always felt very safe here. Every Saturday in May - September or October there is a farmer's market right down the street from our house. The park where they hold the farmer's market has a splash pad, playground, and picnic tables, and is a fun place for group get-togethers when the weather is nice.
Heather est très accueillante! Sa maison est très agréable. Je recommande vivement!
Chantal
2017-02-18T00:00:00Z
Thank you for the help to find your nice place and the interesting chat later.
Dorothea
2016-09-01T00:00:00Z
Heather and Steven were amazing hosts. This was my first AirBnb experience and it could not have gone better. Their residence is charming and a 5 minute walk to downtown Provo. I am a mortgage lender and investor and they were so helpful in giving me information about the real estate market and rental market. This will always be my first choice when I travel to Provo
Kerrie
2016-09-19T00:00:00Z
Heather has a cute little home close to downtown amenities, a short walk to the grocery, pharmacy, restaurants, shops, the convention centers and the temple. You are also just a short drive to BYU or a hike up the mountain to the Y! The room was clean and comfortable and the home well appointed with all necessary amenities. I am pescatarian and had already eaten upon arrival, but Heather had a lovely stew on when I arrived in the evening. Heather and her charming husband, we're wonderful hosts and I enjoyed getting to know them and hope to see them both again when they come to our fair hometown of Oakland, THE City By the San Francisco Bay!
Cheryl
2017-02-11T00:00:00Z
Really enjoyed Heather and Steven! I wasn't around much with running around with work but felt very comfortable in their home. I've been using AirBnB quite a bit being in transition into a new home yet still having a job in Utah County... and there is always the issue of having to leave the door unlocked, or constantly having to communicate when I was going to be coming and going (which is tough for me to know all of the time!) Steven has installed a really slick lock that you just key in and that enabled me to come in late without disturbing them and leave in the morning with the ability to lock the door. Felt far more comfortable with this than other places I've stayed. Highly recommend...
Brandon
2015-10-14T00:00:00Z
Heather was a very accommodating hostess! Clean and cute place at a reasonable rate. Very friendly when we got to meet her. Would definitely recommend, and would stay here again.
Anna
2015-11-25T00:00:00Z
Heather and Stephen were really welcoming and friendly. It was really nice to be able to come home to a relaxing environment. Very nice house, bed was soooo comfortable. Room had lots of natural light. Definitely recommend their place to anyone staying in the area.
Jessica
2016-05-28T00:00:00Z
The room was as described. Simple and clean. It is an older home with new updates. The hosts are very friendly. Great location...you can walk to downtown Provo and just a few minutes drive to BYU. Highly recommended. I would definitely stay there again.
Bill
2016-09-15T00:00:00Z
Type de logement
Chambre privée
---
Type de propriété
Maison
---
Capacité d'accueil
2
---
Chambres
Provo, Utah, États-Unis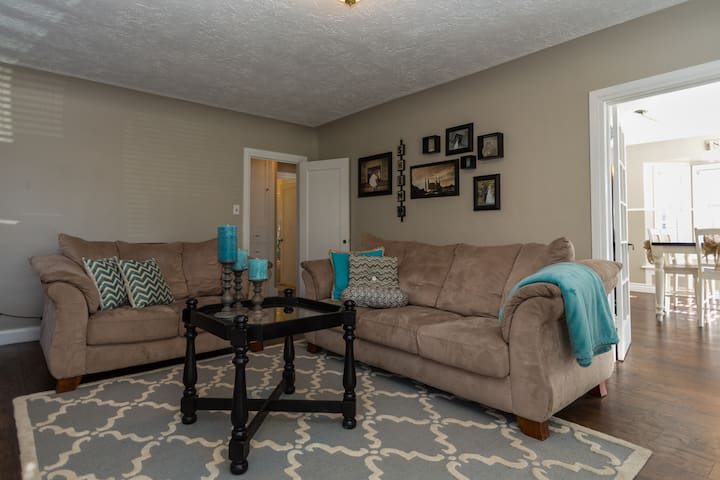 Saisissez les dates souhaitées pour connaître le prix total. Des frais supplémentaires s'appliquent et des taxes peuvent être ajoutées.