Are you looking to have a private event in an intimate yet eclectic with a warm feel, this space is for you. Great space for all private events such as birthday parties, bachelor/bachelorette parties, baby and bridal showers, etc. This place is walking distance to downtown Ferndale which includes restaurants, theatre, social night life and spirits.
This space is 1500 square feet. Accommodates 25-50 people. Open space for dancing, games and or table setup. Standard Bar, Refrigerator, Chaffers for food presentation and 8 burner gas grille ($25 propane refill). Full Kitchen and half bathroom upstairs. Added bonus Dancer pole (removable) and private massage room.
This unique venue was established in 2015 (ARTRENDESIGN) with the concept of bringing art and design in an industrial setting. It is a stand alone building creating the atmosphere for comfort ability, privacy and security. The neighborhood is very safe with Ferndale police precinct around the corner and private parking lot.
Type de logement
Logement entier
---
Type de propriété
Loft
---
Capacité d'accueil
16
---
Chambres
Ferndale, Michigan, États-Unis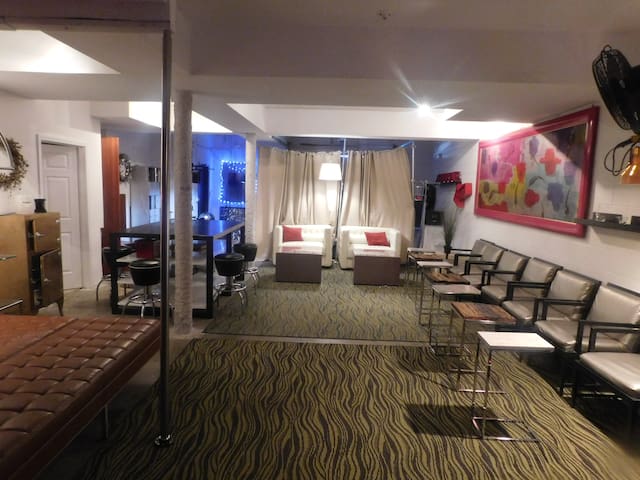 Quiet, spacious loft with exposed brick, tons of light, and breezeway windows above the queen size bed. Also, a big, comfy sectional that will sleep 2 comfortably. You will have the place to yourself, it includes a full kitchen and two full baths.
Large downstairs living area and sizable, open bedroom upstairs. Two full baths, one upstairs and one downstairs.
I love, love, love living here. It's quiet and out of the way, which means minimal hassle with traffic but quick, easy access to downtown. (About a 5 min drive to anywhere)
Amanda was an awesome, genuine host! Loved the property very homey and comfortable. She communicates very well and had everything I could possibly need to enjoy my stay!
Kendall
2016-05-23T00:00:00Z
Clean loft. Central location. Amanda was communicative and available when we needed her.
Evan
2016-07-18T00:00:00Z
Super cool place and a wonderful host....cannot go wrong.
David
2016-12-17T00:00:00Z
Amanda was great to deal with and very accommodating. She even recommended a great breakfast spot for the next morning! Awesome building, beautiful unit and great host. Would recommend!
Zlad
2016-12-11T00:00:00Z
Amanda was amazing, the best host ever for my first time using this airbnb app. It went so well and she treated us perfectly. Definitely would reccommend to friends and others. Thanks again!
Dylan
2016-08-21T00:00:00Z
Amanda was extremely helpful leading up to and during our stay in Detroit! She gave us plenty of tips for our stay and even hooked us up with a replacement air conditioner when the one in the loft broke. She was very timely when picking up and dropping off the keys. The loft is spacious and clean - well represented in the pictures on the Airbnb. I come to Detroit often and plan on staying in Amanda's loft in the future, and recommend it to anyone coming to visit the city.
Logan
2016-06-01T00:00:00Z
This was an absolutely fantastic stay. Amanda was incredibly friendly and welcoming. She stuck around for a few to make sure that we had everything that we could need and was quick to reply when we had any questions. The loft itself was beautiful. The hardwood floors were to die for, not to mention the wonderful lighting, open layout, and eclectic decorations. I would highly recommend this location to anyone looking to spend a weekend in a beautiful Detroit loft.
Eric
2016-09-18T00:00:00Z
Type de logement
Logement entier
---
Type de propriété
Loft
---
Capacité d'accueil
2
---
Chambres
Détroit, Michigan, États-Unis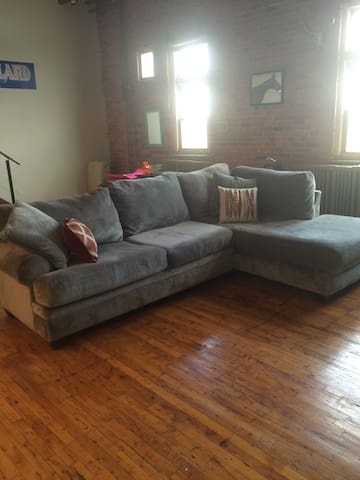 Located in the heart of Hamtramck. This airy, modern loft is cool and comfortable. Highlights include: 14 ft ceilings, stainless steel appliances, leather sectional couch, video security, tropical plants and a rooftop deck with hammock.
MasterBedrm upstairs with prv. rooftoop deck. Amazing views of mid/downtown. The room is two flights upstairs, so you won't hear a peep . It also has 40in tv, Sealy matress, feather bed and comforter.
The neighborhood is mostly Yemenese and Bangladesh immigrants. There's plenty of middle eastern restaurants and grocery. The Islamic call to prayer plays 5 times a day.
Darrin is the best host ever! His loft is nice and clean!
Benji
2016-07-27T00:00:00Z
Darrin is a great host, he had many helpful recommendations for Detroit and was easy to communicate with! Even though we had to defer our arrival by several hours, he was able to meet us and hand over the keys! Thanks!!!
Barbara
2016-07-09T00:00:00Z
Darrin is great super knowledgeable of the area and all around pleasant guy.
Julian
2016-06-18T00:00:00Z
Darrin is a great host. His loft is just as he described. Thank you.
William
2016-08-05T00:00:00Z
Darrin is by far the chilliest down to earth guy I've met and had a privilege to meet/ deal with on Airbnb. This guy makes you feel at home, like it's your house too.. His place is in a great spot uber cab it 8-10$ away from down town, mall 10-12$ to the mall. Greek town ask him he's knows the good restaurants :) he took me around for a drive to check out Detroit and area
Dillan
2016-04-21T00:00:00Z
Good location but not up to the standard of most Air bnb homes
Michelle
2017-03-10T00:00:00Z
It was lit, fam
Devin
2016-05-31T00:00:00Z
Darrin was easy to communicate with, and he made me feel at home. Introduced me to some neighbors who live nearby, which was really cool. The listing description was spot on, just like the pictures described. The neighborhood was awesome. There is no place like Hamtramck I have ever been to. Very fun place, very unique.
Brian
2016-06-13T00:00:00Z
Type de logement
Chambre privée
---
Type de propriété
Loft
---
Capacité d'accueil
2
---
Chambres
Hamtramck, Michigan, États-Unis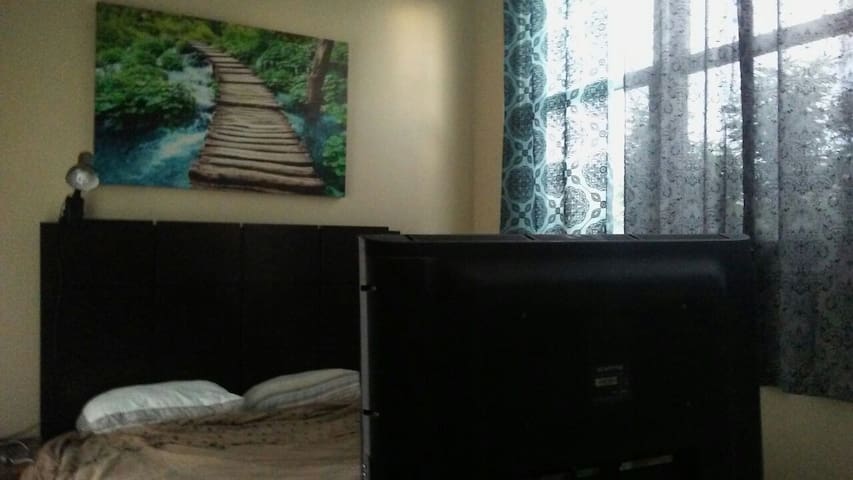 BI LEVEL LOFT THE CULTURAL EPICENTER OF METRO DETROIT.
Brand new, 4 unit loft building. 14ft ceilings High efficiency appliances Leather sectional Dj/ audio equipment Rooftop deck Hammock Great Views Restaurants, grocery, laundry, bars, and retail within 2 blocks Minutes from downtown and suburban Hotspots Video entry /fence 8 car garage
The host canceled this reservation the day before arrival. This is an automated posting.
Kendall
2016-05-20T00:00:00Z
Darrin (Eidolan) could not have been a more amazing and gracious host. He went above and beyond to make my friend and I feel at home and welcome in Detroit. The building is gated; the apartment is really nice and has a cool roof with a view of downtown. We felt very safe in the area, pretty much everything is nearby and the local food was great. He is also a really good DJ! We had a great time hanging out listening to some tunes before heading out. Darrin was very respectful and nice, he didn't have to go out of his way to show us a good time but he did anyway. I will definitely (hopefully) be coming back again soon!
Susan
2015-05-27T00:00:00Z
Type de logement
Logement entier
---
Type de propriété
Loft
---
Capacité d'accueil
6
---
Chambres
Hamtramck, Michigan, États-Unis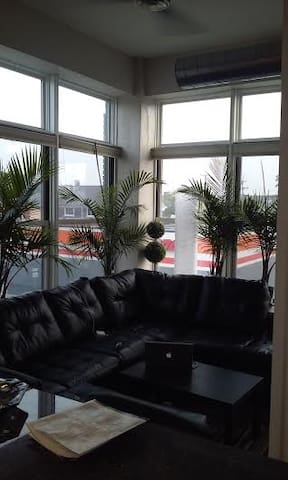 Saisissez les dates souhaitées pour connaître le prix total. Des frais supplémentaires s'appliquent et des taxes peuvent être ajoutées.