Industrial loft 11 min away from Desert Trip Festival, Coachella/StageCoach site, This listing is for the lounge in my recording studio, comfy COUCH to crash on and can set up air mattress for 2nd person, this place is all vibe and vinyl ! Feel free to ask any questions
This is a working recording studio so if you get inspired to jam and record that can be worked out, additional cost apples for studio time. Of course we have a stripper pole for exercise of course. 2 min off Freeway exit and 11 min to site Private room with comfy couch for one person and portable air mattress for other, Small dog friendly and there is a big dog park literally 2 min walk away. This spot is all about positive energy and creativity, I'm a professional musician and artist and this is my creative heaven, if you're like minded you will love it here. I will be working in studio FYI The vinyl is OFF limits to guests due to miss use.
Winco grocery store 3 min away open 24 hours, Walmart same distance open till midnight Target same distance open till 11 pm, Tons of Restaurants nearby Amazing mexican and Phó close by!
I had a really good time staying at Arthur's place. He is very nice and fun and make me feel I was on one of my friend's house. He definitely was always helpful and very easy to talk with. I recommend his place 200%, when I go back to Indio I will stay there again. As he mentioned on his post the place is full of good vibe and vinyl, that's so true. I went for Coachella festival and the place is located 10 mins by car from there so very close. Thanks Arthur for everything!!! :)
Linda
2016-05-04T00:00:00Z
Room was as described and it was comfortable. Arthur was easy to talk to and made sure if I needed anything or had any questions to just let me know. He was a good host and definitely helped me out in a short notice situation. I would stay here again if I'm ever in the area and need a place to stay. Also it was nice of him to leave a bottle of water and an energy bar on the spare air bed. It definitely was needed after my first day of stagecoach.
David
2016-05-02T00:00:00Z
Arthur is a courteous host and responded quickly in a desperate time. Unfortunately I did not actually end up staying at his home due to some highly unforeseen circumstances, but he refunded the money, even though I did not expect one.
Carla
2016-04-18T00:00:00Z
Type de logement
Chambre privée
---
Type de propriété
Loft
---
Capacité d'accueil
2
---
Chambres
Indio, Californie, États-Unis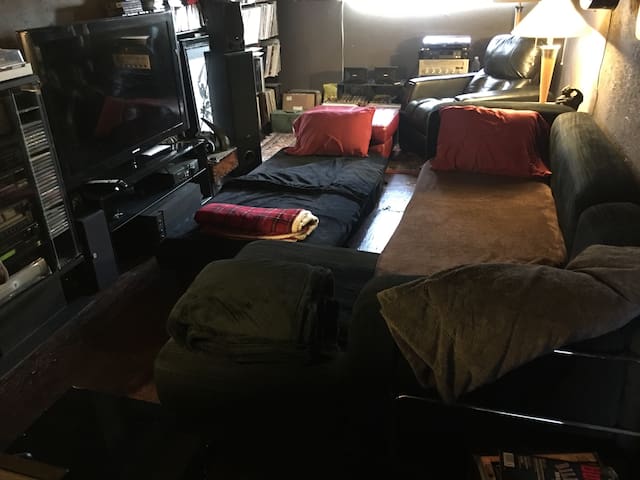 A peaceful and private mid-century modern studio fits two adults beautifully! An LGBT friendly retreat from the world with dual french doors looking out to private lush gardens, pool and hot-tub. Unobstructed desert mountain and valley views. Fully equipped kitchen, gas fire place, large modern bath with 2-person shower. Indoor / outdoor living as only can be had in the desert. Private outdoor clothing-optional space available upon request.
My artistic studio oasis is high up in Cathedral Canyon, away from the noise and bustle of the Coachella Valley cities, yet is only minutes drive-time from Trader Joes, Target, PSP airport, McCallum Theater and 8 miles from downtown Palm Springs attractions. Miles of hiking trails are nearby without getting into your car, and the large private gardens and yard, shared with the main house, allow clothing-optional living outdoors in your own private spa-like retreat. Peace and quiet of the Cathedral Canyon means beautiful stars in a dark night sky, coyotes howling at the moon and humming birds visiting during breakfast on the patio are all part of your stay here. During winter, fresh grapefruit can be picked from the garden and eaten for breakfast. Summer yields pomegranates, plumeria blossoms and cooking herbs, while year-round cumquats ripen for the picking. Upland and valley views of the distant desert up to 40 miles from the pool-deck, while nearby hills and mountains frame the vistas through the double-french doors from your bed.
The Mid-century Modern Artistic Oasis is located in a suburban neighborhood built in the early 1960's with single family homes with some small casitas / studios on 1/3-1/2 acre lots. We're high up in a canyon and our location is in a quiet cul-de-sac with almost no vehicle traffic. Downtown Cathedral City is 1.5 miles NE of the property, and the Big Horn Sheep Wildlife Refuge surrounds the neighborhood on 3 sides. The only noise heard in the neighborhood are the occasional dog barking, coyotes in the canyons howling at night, and numerous honey bees, song birds, hawks and humming birds who visit the waterfall and enjoy the flowering plants in the garden. We are high up in Cathedral Canyon about 700 feet in elevation above the Coachella Valley floor. There's miles of great hiking in the Big Horn Sheep Wildlife Refuge with rapid elevation-gain, views, peace and quiet without getting into your car. The edge of the refuge is a 5 minute walk from the property, and the trails are well marked. Carry water and snacks, and take out everything you carry in to keep our nearby desert pristine. Hiking maps are available to Airbnb guests in the back of the guest-guide-book provided.
Calvin and Jim made us feel very welcomed in their beautiful guest home. They were very responsive to all my email/text messages. Their Airbnb has everything that one would need for a wonderful stay, and the patio/hot tub/pool area was very inviting. Definitely a beautiful oasis that we would highly recommend!
Jennifer
2015-05-11T00:00:00Z
Jim was very gracious in accommodating us during our transition to Palm Springs. We had plenty of privacy in his relaxing casita. We definitely recommend Jim's place!
Michael
2016-04-28T00:00:00Z
This is my third time staying here. Everything was ready, it was easy to access. Even though Jim was not there he made sure to check in to see if everything was ok. It continues to be a wonderful quiet place for retreat.
John
2016-01-15T00:00:00Z
My host, Jim, was just great. He is charming and a perfect host. The casita was spotless, well appointed and I couldn't have asked for a more comfortable place to stay. Jim was able to answer any questions I had and directed me to wherever I needed to go. I have to say that floating in the pool at midnight beneath the stars and moon was heavenly. This was a great experience that I hope to repeat in the future.
Paul
2016-07-19T00:00:00Z
Jim's apartment is a haven nested against the gorgeous mountains of Cathedral City. My boyfriend and I stayed here for a weekend and we fell in love w/ the hot tub, amazing fireplace and beautiful bathroom. It has a full kitchen, which is nice for eating in and groceries. And anything we needed was not more than a 10 minute drive away. Couldn't ask for more. I highly recommend this place and we'll definitely be back!
David
2016-01-11T00:00:00Z
100 percent as advertised. Located in a quiet neighborhood overlooking the city, with easy access (driving) to most everything, the place is immaculate, comfortable and well-equipped (full kitchen). The pool and gardens are beautiful, and the grapefruit plucked from the tree was the best I ever tasted. Jim is a great host, easy to contact, and full of ideas for things to do and see. Definitely among the best places I've stayed.
Tom
2016-03-18T00:00:00Z
This place is a diamond in the rough close to everything but yet away
Tracy
2017-01-13T00:00:00Z
This is such a wonderful space! It has everything you could possibly need. I will definitely be returning. I had a fantastic time enjoying the pool and casita. :)
Jenn
2017-03-10T00:00:00Z
Type de logement
Logement entier
---
Type de propriété
Loft
---
Capacité d'accueil
2
---
Chambres
Cathedral City, Californie, États-Unis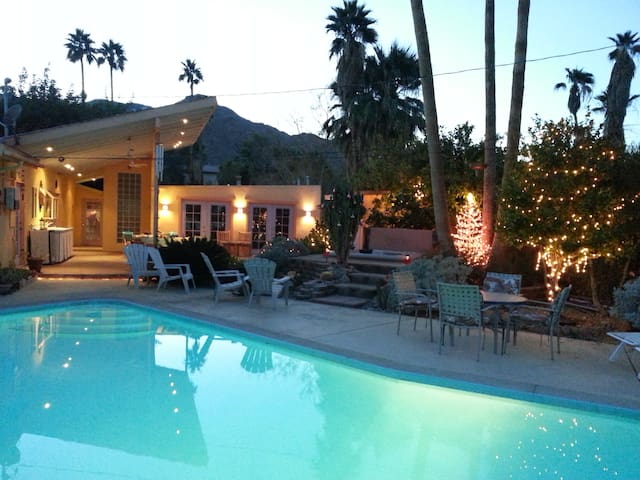 Détendez-vous dans ce quartier a noté le milieu du siècle dans un 784 m² loft ouvert avec 12 pi plafonds. Huit pieds curseurs ouverts à une vue parfaite de la piscine privée et San Juacinto Mtn. De nombreux choix de sièges offrent un salon, une cuisine ou un patio privé. Nous nous félicitons de voyageurs du monde entier. Soumettre des demandes pour la location disponibilité à long terme. ** Chauffage de piscine est un supplément. S'il vous plaît voir la section Règles Maison pour les prix et de l'information.
Ceci est un concept de loft ouvert. A 48 "smart tv peut être consulté dans l'espace. Placards à deux chambres se trouvent dans la zone de lit privé. Autre stockage se trouve dans le grand placard de foyer supplémentaire et dans les toilettes / salle de lavage privée. Il y a un grand dressing supplémentaire avec double vasque et douche à ciel ouvert. Cette accède d'une douche extérieure et un WC / buanderie. Profitez de l'ambiance intérieure / extérieure du grand salon ouvert, un comptoir de quartz sièges de cuisine 4 pour manger et offre un excellent espace de travail. salle à manger extérieure privée optionnelle est également disponible. le loft face à l'ouest de la belle montagne de San Jacinto. Sunmor est un quartier calme au milieu du siècle (très sûr pour la marche), à proximité du terminal de l'aéroport avec un accès rapide aux villes de la vallée au sud. Il y a un large éventail de proximité activités, notamment des sentiers de randonnée, des sentiers équestres, terrains de golf, le bowling et le tennis. Palm Spring Airport à 5 minutes en voiture ou 15 minutes à pied. * S'il vous plaît noter: le loft et l'extérieur est un hotspot wifi; il n'y a pas fixe disponible.
SUNMOR est un quartier de Palm Springs bien connu central composé d'une collection remarquablement intacte de maisons du milieu du siècle construit à la fin des années 50 et au début des années 1960. Le quartier est bordé par Palm Springs City Hall et l'aéroport international à l'est, Farrell Drive sur l'ouest, et de l'Est Tamaris et Andreas route au nord et au sud, respectivement. Les deux constructeurs primaires de maisons Sunmor étaient constructeur localement proéminent Robert "Bob" C. Higgins et le premier plan national Alexander Construction Company. Voir plus: (URL HIDDEN) Pour Info, Histoire et Infos Utiles voir: (URL HIDDEN) NOTE: Février Modernisme semaine pourrait apporter une tournée des maisons SUNMOR.
un accueil très chaleureux . Ils avaient même préparé un dîner pour nous deux . Une location plus que parfaite et des hôtes en harmonie avec les lieux
flo
2016-09-22T00:00:00Z
Great place to stay. Clean, bright, spacious, relaxing, quiet, peaceful. We loved our visit. Everything was perfect!
Stephanie
2016-10-07T00:00:00Z
Comfortable, clean relaxing environment. Would stay again.
Kaela
2016-07-06T00:00:00Z
I absolutely loved my stay at the Sunmor loft! The views of the mountain were amazing! The pool and outdoor shower was just amazing! I can't stress enough how much I enjoyed my weekend there. It was relaxing yet felt luxurious! I'm so happy I chose this house and next time I go to Palm Springs I would definitely want to stay there again! Kevin the host was so nice! He gave us a ton of info on where to go and what to do downtown. Just such a great experience overall!! Definitely recommend it!!!!!
Stephanie
2016-09-26T00:00:00Z
Kevin and Chris are lovely! The main house is very close to the guest house but they are as available as you need them to be. Very welcoming. The house is amazing! I just came for a peaceful little getaway and it was exactly what I wanted.
Sarah
2016-07-30T00:00:00Z
I thoroughly enjoyed my stay at Kevin and Chris place in Palm Springs. Even though they were going to be out of town, they did a great job of communicating this to me and lined up Joe (who was awesome!) to be present and available to get me checked in and answer any/all questions. They helped me find an excellent gym to use during my stay and even referred me to a realtor who helped me look for places in Palm Springs. At one point, I had a question about starting their gas grill, Chris called me back within 5 minutes to walk me through the process. Loved staying there - it was an awesome place, a beautiful neighborhood and the perfect working vacation from LA.
Stan
2016-08-20T00:00:00Z
My husband and I had a great 6 night stay at Kevin & Chris's pool casita. The casita is accurately represented in the photos and was very clean and comfortable. Pool was fantastic and Kevin & Chris are great hosts -- you can tell that they enjoy it! We would definitely stay with them again.
Rhonda
2017-03-14T00:00:00Z
Kevin and Chris's house was absolutely perfect for my stay. I was in Palm Springs for a wedding, and all other options were so expensive and out of my range. Instead, I rented from them, and it was way better than any hotel I could have stayed at. Their place has an open space that was so comfortable and welcoming. I was able to grocery shop and eat at home (healthier) than I would have been able to at a hotel or resort. Their pool also had the option of being heated, which provided the best outdoor experience ever. I didn't have to share the water with other people and their neighborhood was quiet. Not only was their house amazing to stay in, but Kevin and Chris were also extremely welcoming and hospitable. They gave me a tour of the place, as well as provided me with recommendations on things to do and places to eat at. I felt so comfortable and welcomed upon my arrival. This place was so great in fact, that I have had other people who asked for their information so next time they are in Palm Springs they can book here! DO IT!
Haley
2017-03-20T00:00:00Z
Type de logement
Logement entier
---
Type de propriété
Loft
---
Capacité d'accueil
2
---
Chambres
Palm Springs, Californie, États-Unis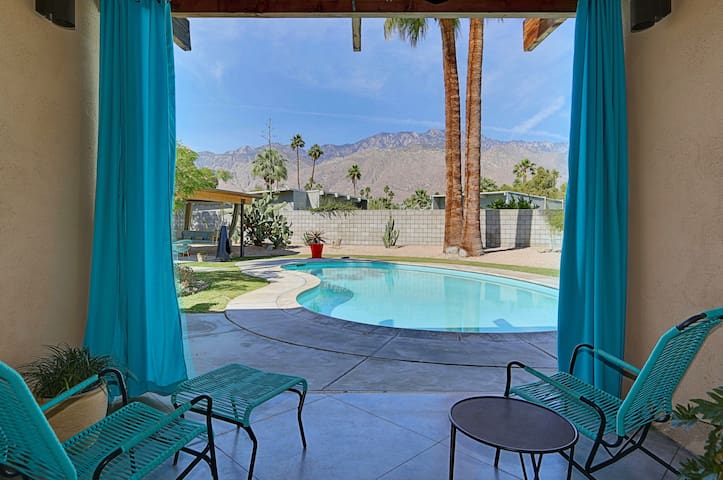 Cette aa chambre privée w / une plate-forme extra large appelé « Le nid d'amour » met en place au-dessus de la grange sur le site de l'événement de www.Genuine Projet Ranch situé dans Morongo Valley 20 minutes de JT et 20 minutes de Palm springs, une suite. ,petit déjeuner le matin. Nous avons une variété d'animaux qui sont très socialisés pour que vous puissiez profiter, prendre des photos, et même l'alimentation de la randonnée avec! Profitez d'une boisson de votre choix dans le « Projet Horse Saloon », jouer au billard, au ping-pong ou des chaussures de cheval. Profitez des 25 pieds. Swing & Relax !!
& DETENTE ...... REST Cette chambre privée au-dessus de la grange, très calme, sur la deck- vous ici les sons de la nature et peut voir un million d'étoiles .... sérénité du désert. R & R !!! Rappelez-vous, nous avons des animaux et parfois vous entendrez un corbeau de coq dans le sol en arrière ou notre Burro mignon « Romeo », appelant à son petit déjeuner le matin!
Il est calme et privé, très peu de voisins et 0 le trafic! Juste les sons de la nature et les animaux du ranch.
A MUST for those who love animals and want to have some relaxed days on a quiet and beautiful place. Galiena and Gary are great Hosts and did everything to make our stay there as pleasant as possible. Greetings to Romeo & Julia! :)
Ines
2014-10-19T00:00:00Z
This place is a little slice of heaven. Our hosts could not have been any sweeter, and accommodated our late booking and late arrival. The property is incredible, must see. We will be returning very soon.
sarah
2016-04-06T00:00:00Z
If you want a standard hotel with generic service then don't stay here! This place is AMAZING with the most fantastic hosts. It is an escape; the outdoor shower is a great way to start the day and things just carry on from there. A couple of days here will make you feel like you have been away for weeks! If you are going anywhere near Joshua Tree, Palm Springs or Pioneer Town then stay here - you will love it.
Rachael
2016-05-16T00:00:00Z
We had a great time staying in the Love Nest. Galiena and Gary were wonderful hosts, we drank in their saloon, played with their animals and did some star gazing on their hill. We'll definitely be back, and be recommending it to our friends. **Make sure you read the directions, they aren't lying when they say not to trust (SENSITIVE CONTENTS HIDDEN) maps.**
austin
2015-07-26T00:00:00Z
We had a great time with all the animals. Loved learning their names like Porkchop and Crybaby. The location is excellent. It's really easy to find but it's also private enough to feel like an escape. Palm Springs and Joshua are really close so you explore beyond the ranch. The actual Lovenest was very cozy and comfortable and we had a lovely view of the landscape from our bed. We slept very well and enjoyed the bathtub.
George
2016-03-28T00:00:00Z
Ah, where to begin! I was looking for a weekend getaway to surprise my love with when he returned from a business trip. After days of scouring AirBnb, the "Love Nest" popped up and I thought to myself... "Ok, this was definitely not here before!..." Turns out someone had to cancel last minute, and I got darn lucky! If it's available, BOOK THIS AS SOON AS YOU CAN! Galiena and Gary are the kindest, sweetest, loveliest people I have encountered and are an inspiration to live life exactly how you please. The ranch is their Labor of Love and it shows. Actually... you FEEL it when you arrive and explore the grounds. There is so much magic in the air... & as crazy as I sound, I cried when we left! What a special place - a reminder that you should save your money for EXPERIENCES vs. THINGS. Thank you, thank you, thank you Galiena & Gary!!(URL HIDDEN)
Jessica
2015-04-12T00:00:00Z
This is the place to land in Morongo Valley! Such a beautiful ranch, with animals and so much to see! Gary was an incredible host, hilarious, generous with his time, and always there to offer us whatever we needed. We had the best time playing pool in the saloon and hanging in the love nest. Galiena was away but we spoke to her on the phone a few times and she was lovely and helpful. Fabulous, unique hosts who are more than happy to help, a beautiful ranch experience like no other, definitely recommended!!!!!
Camilla
2016-09-07T00:00:00Z
Stayed here Coachella Weekend 1. What a deal!! Galiena and Gary are such warm, sweet hosts. They were very welcoming and helpful. This AirBnB is everything you see in the photos and more. If you are looking for something a little more exotic than a hotel room, this place is a MUST! Also, if you are a photographer, there is so much to capture on the property. Also super clean and very affordable.
Sanja
2016-04-17T00:00:00Z
Type de logement
Chambre privée
---
Type de propriété
Loft
---
Capacité d'accueil
2
---
Chambres
Morongo Valley, Californie, États-Unis
Loft studio over garage in the forest in Idyllwild, CA. Peaceful and serene...view of trees from every window and skylight. Queen bed with full bath and kitchenette (but no stove). 10% Riverside County occupancy tax to be collected upon arrival.
Rental unit available in bucolic Idyllwild, CA: The Loft -- a newer studio apartment above an oversized garage that sleeps two. Approximately 250 square feet of space. Includes reading chair and ottoman, writing desk, and small dining table with two chairs. Wonderful views of the surrounding forest. Come enjoy charming, rustic accommodations in beautiful Idyllwild in the San Jacinto mountains of Southern California. Situated near the Idyllwild Arts campus and less than one mile from the village center, Harmony Ridge is ideally situated for your vacation in the mountains. Enjoy all that Idyllwild has to offer: hiking on scenic mountain trails, wonderful restaurants, quaint shops, and the eclectic Idyllwild jazz scene.
Forest setting...clean cool air...easy accessibility to the village (3/4 mile)...nice café in easy walking distance (1/3 mile)
I would recommend this rogers loft. It is ina. Great location, close to downtown Idyllwild but still secluded and far enough away from town. If you have allergies to fur I would probably say to stay away, the place is dog friendly and while the place was pretty clean the rugs were full of dog fur.
Ashley
2017-01-15T00:00:00Z
Roger is an EXCELLENT host! We had such a great experience at the loft. First of all, it was clean, cozy and quiet! The windows and skylights offered lovely views of the trees and the bed was super comfortable. There was coffee, tea, a mini fridge, glasses and silverware available, and lots of TV channels (always good, haha). When we arrived, Roger had wine and cheese set out in the new pub area and we sat and chatted for awhile - what an awesome guy! I would definitely recommend this place for a relaxing getaway in beautiful Idyllwild. Thanks Roger!
Samantha
2014-09-29T00:00:00Z
Roger was an excellent host and we thoroughly enjoyed our stay in Idyllwild! The loft is clean and comfortable and exactly what you need for a weekend trip to the area. The loft is not far from key parts of town and you can access some great local restaurants just by walking. Roger is also very helpful with suggesting great places to eat and visit. If you are special he will even invite you into his wine bar next to the loft! - Overall great experience, would recommend this to anyone!
Greg
2015-04-27T00:00:00Z
Roger was an EXCELLENT host and I can't say enough about "The Loft in the Forest." It was absolutely adorable! Every amenity was thoughtfully provided. The room was professionally decorated with leather chair, ottoman, secretary and comfy bed. And Roger was the penultimate host. He even left coffee, cream and coffee cake by the door one morning. Skylights opened to towering pines with eagles, hawks, woodpeckers and jays. Paths led up the mountain. It was SO relaxing and peaceful - which is just what my husband and I needed as we waited for our house to close. This was our first experience with Airbnb and I can say without a doubt that we'll definitely return to Roger's mountain oasis. You'd be hard pressed to find a more tranquil, storybook setting. Thanks Roger! Thanks Airbnb!
Andrea
2015-04-03T00:00:00Z
Great host. Tranquil space. Very comfortable and well maintained - we will be back!
Nick
2016-10-23T00:00:00Z
The loft was a lovely, cozy place and fit our needs perfectly. We were visiting our daughter and the location was great, close to her with easy access to town. The weekend was very relaxing.
Marla
2014-10-14T00:00:00Z
Prior to our stay, Roger emailed us twice to provide some information about The Loft and where to find things and that it was clean and ready for our stay. When we arrived there were pamphlets about the areas restaurants, shops, and hikes and upon further inspection in the desk draw there was a binder that gave more information about The Loft including the wifi password. The Loft was very close to most of what Idyllwild had to offer. When we first arrived everything was set up nicely and the Loft appeared cozy, and we were impressed, but after actually walking around and exploring the The Loft, it was clear that the floor had not been cleaned at all. There was lots of white dog hair in all of the carpets ( clearly not vacuumed) and dirt and more hair on much of the wood flooring. We had brought our own dog because this was a pet friendly location, but pet friendly should not mean covered in pet hair and dirty. I also found a large earring piece on the carpet which further indicated it had not been vacuumed. Unfortunately, my husband was sneezing all night and the times that he left The Loft the sneezing stopped so it was not allergies to the outdoors in the Idyllwild area. The duvet/quilt on the bed also had various stains on them ( they may have been washed old stains? but no one wants to sleep in an unfamiliar bed that has mysterious stains on the bedding). We ended up sleeping there 1 one night because we arrived very late and night and had no other choice. The next day we called every other hotel in the area and they were unfortunately all booked for the weekend so we had to cut our weekend get away short. Roger did provide us with a full refund and apologized our negative experience with The Loft which we appreciate, however, we were very sad that our weekend that we had planned and waited for was cut short and ruined by our room being dirty/ full of allergens.
Christine
2015-04-20T00:00:00Z
Roger's Loft studio was wonderful! He has installed a new kitchenette which was really handy in whipping up sandwiches before heading out to our hikes. The pictures also don't do it justice - there are 2 beautiful skylights, such wonderful natural light - you feel like you're up in a tree house! He was the perfect host, available and helpful when we needed him, yet let us have our space. We will be back and would highly recommend to anyone else!
Claire & Daniel
2015-10-19T00:00:00Z
Type de logement
Logement entier
---
Type de propriété
Loft
---
Capacité d'accueil
2
---
Chambres
Idyllwild-Pine Cove, Californie, États-Unis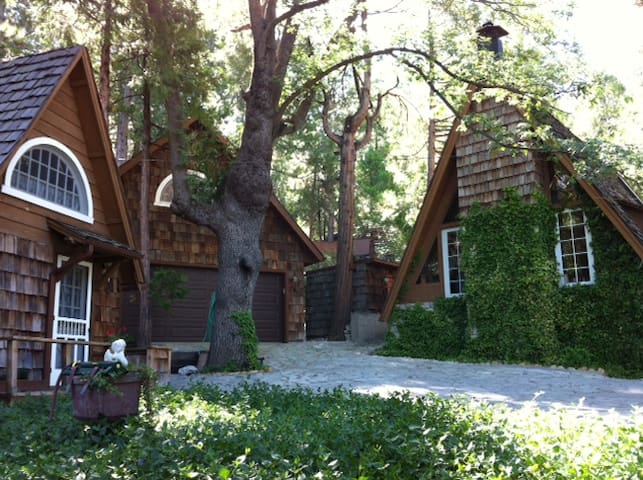 Surrounded by National Monument trails yet close to stores and restaurants in Palm Desert. Apt. has brand new appliances, and fully stocked. Beautiful view of mountains. Very private and serene. Separate small, shaded corral for 1 horse or 2.
Trails leads right off the property. Beach access is 1 and 1/2 hr drive. Palm Springs, Arial Tram, Joshua tree Nat. park and White water easy drive. Shopping in Idyllwild or relaxing with the grill outside. High desert Pinyon Pine surroundings.
Few neighbors. Dirt roads. No street lights.
Type de logement
Logement entier
---
Type de propriété
Loft
---
Capacité d'accueil
4
---
Chambres
Mountain Center, Californie, États-Unis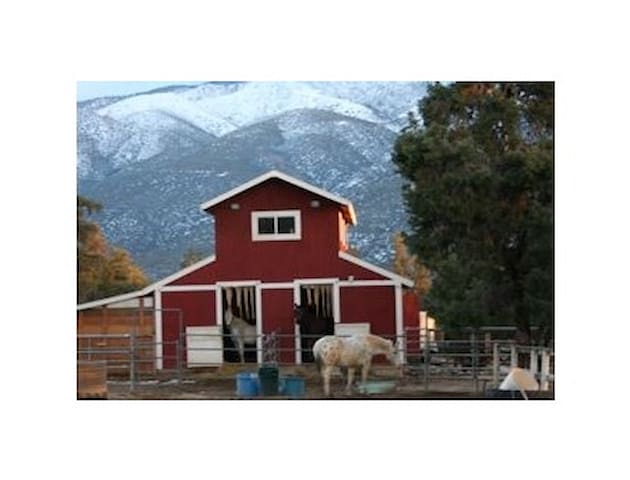 Saisissez les dates souhaitées pour connaître le prix total. Des frais supplémentaires s'appliquent et des taxes peuvent être ajoutées.