Saisissez la date d'arrivée au format jj/mm/aaaa
Saisissez la date de départ au format jj/mm/aaaa
Logements que vous pouvez réserver sans attendre l'approbation de l'hôte.
14 Bed & Breakfasts
· Tipp City
14 Bed & Breakfasts
· Tipp City
Saisissez les dates souhaitées pour connaître le prix total. Des frais supplémentaires s'appliquent et des taxes peuvent être ajoutées.
Cet été (juillet et août), vous pouvez essayer l'un de ces 100 logements les mieux notés, dans toutes les gammes de prix, pour découvrir Sonoma d'un point de vue local. Entrée dans les lieux 24h/24, réservation instantanée, mais aussi vin et petites spécialités locales à disposition… autant d'invitations à vous détendre et à profiter pleinement de votre voyage.
A Queen Anne Historic Home in the Huffman Historic District of Dayton - near the University of Dayton with easy access to Highway 75, Highway 35, Highway 675 and Highway 70. Wonderful homemade coffee cake and other delicious homemade items served at Garnet House Bed and Breakfast.
At Garnet House Bed and Breakfast, we provide super clean, comfortable guest rooms that are always secure, safe, quiet and private. Access to the guest quarters is limited to the guest/guests and the property manager should the need occur. Double bookings are never scheduled. Access to the rooms when locks are installed, will only be available to the guests and the House Manager as needed in order to service/clean and restock the rooms. All such facilities assure that the House Manager has a key to every door; that is safety/security and maintenance required. *Our security systems, additional measures and the house manager personally monitor the entire house with the exception being the private guest quarters.. All entries, exits, and surrounding property areas are closely monitored at all times.. It is all for the security and privacy of our guests that we take such measures. *Our Military, Government, Corporate/Executive/Business, Leisure Travel Guests, etc., no matter what the reason for your stay with us, are treated to a Spa inspired stay! The best foods, the softest fresh linens and Vicky's delicious homemade treats are all for the pleasure and enjoyment of our guests. We go well beyond the expected, necessary and ordinary to provide exceptional services and security to our guests. Our every effort is to assure a worry free stay, fun, comfort and your freedom to come and go, sit on the porches, patios, enjoy the backyard water feature, eat delicious food and leave smiling and while referring guests to us. Our manager's honesty, integrity, education, flawless background/not even a speeding ticket, upbringing and personal code of ethics and morality assure that our guests are safe and the house and all property is secure! When you stay at Garnet House Bed and Breakfast...You are Safe! Your belongings, no matter how valuable, are secure! Comfort, privacy and an Excellent Breakfast are always assured.... You have our reputation and ratings on that. We provide 1000% Great Services to our guests, it is our standard and the standard for our personal lives as well with the objective of always giving a 1000%. Please enjoy your stay in Dayton at Garnet House Bed and Breakfast! Sincerely, Elliott Gregory, House Manager Vicky Evans, Proprietor
Her hospitality was wonderful, a good balance of attending to our needs and giving us space. A problem with not being able to book two rooms was solved when I talked to her about it. Beautiful Victorian home in historic district, close to Oregon District and downtown, lovely large breakfast.
Justin
May 2016
Our stay at the Garnet House B&B was AMAZING!!! Vicky and Elliott were very prompt in reaching out to us. The bed and breakfast is gorgeous! Elliott made us wonderful breakfasts in the morning! We were in the area for a wedding. Elliott and Vicky were so great at accommodating our constantly changing schedule. I had mentioned that it was my girlfriends birthday, but that we wouldn't have time to celebrate until after the wedding. Elliott surprised us with chocolate cake and champagne!!! The room had everything you could imagine. On the day of the wedding, the best mans tuxedo button popped off right before the ceremony. Fortunately the B&B had a sewing kit in the bathroom and was close to the wedding venue. The bride never found out and the Garnet B&B saved the day!!!!
Kei
September 2016
My stay at Garnet House B&B was perfect in every way! I could not have asked for a better first Airbnb experience. As soon as Elliott opened the door, I knew that I was safe and secure and welcome. Vicky and Elliott have installed a top-of-the-line security system to ensure complete safety for their guests. The security system wasn't the only thing added recently... the house has been refurbished in meticulous accordance with historical guidelines, and beautifully decorated in the style of the period. Elliott has a keen eye for detail. He encouraged me to appreciate and experience all of the house, rather than stay holed up in my room. Speaking of the upstairs room... it was incredible. The climate control is perfect, the bed is comfortable, and I loved spending time out on the private balcony. The balcony and front porch have been protected against mosquitoes and other insects, so you won't be constantly swatting at them. Breakfast was an exquisite combination of food made by Vicky and Elliott, as well as some luxury dishes purchased from Dorothy Lane. Even as a vegetarian, they took great care of me. After, I took my coffee onto the front porch and had an excellent conversation with Elliott, who is a wonderfully interesting man if you take the time to know him. He is passionate about the business and will make sure that everything is perfect for your stay. Whether it's a romantic getaway or just a room for a night, I highly recommend this B&B.
Janna
July 2016
We had the pleasure of staying the Garnet House B&B and what a treat it was! Our experience was an incredible experience! Our room was spacious, quaintly decorated, and spotless! the bed was so comfortable, it was hard to get up! Elliot was the perfect host! His breakfasts were amazing! Homemade coffee cake, fresh squeezed orange juice, infused water and more! Felt like royalty dining! We will definitely be back and have been telling our friends to check it out too! AWESOME experience!!
Carole
November 2016
Elliott was waiting for our arrival and made it easy to park and get to our room. The house is amazing, and our breakfasts were so fancy and fun! When we got back each evening, there was a treat waiting for us -- so thoughtful. And my husband's favorite Diet Coke was very considerately supplied. The location was so much better for us than a hotel wold have been -- if we're back in the area, we look forwad to staying again.
Melissa
August 2016
The queen rooms were beautiful, clean and peacefully Quiet! Breakfast & surprise snacks in the room were lovely. We will be back!
Kathy
September 2016
Where to begin? This place is truly fantastic. I am a military member, and Vicky and Elliott went above and beyond to make my stay as comfortable, and pleasant as possible. They worked with my Per Diem, and even provided dinner. This meant so much to me, as I would come home starving from long shifts, and I would have a delicious home made meal from Vicky prepared for me. I was here to interview for a position, and Elliott graciously provided thank you cards and other tokens of thanks for me to deliver to my interviewers. To give you an idea of the level of dedication Elliott has to this B and B, I had a shift that ended at 2:00 AM, and had to be up at 5:00 AM to get ready for a 6:00 AM shift. Elliott made sure I had food both when I got home, and somehow had breakfast ready 3 hours later. The bed is incredibly comfortable, and the decor in the home make it feel welcoming and comfortable. I feel that I have truly made some new friends in Dayton, and hope to return to live here in the future. One thing is for sure though: If I ever do have to visit Dayton again, I know where I will be staying.
Justin
October 2016
We did not meet Vicky. Elliott the bed and breakfast caretaker was wonderful!
Olivia
November 2016
Type de logement
Chambre privée
---
Type de propriété
---
Capacité d'accueil
4
---
Chambres
1
Dayton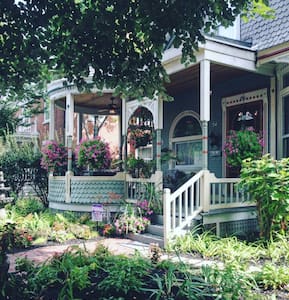 Our Bed and Breakfast is located in a lovely historic neighborhood, on a quiet tree-lined street. The Linden Room is one of our four guest rooms.
This beautiful and exquisitely decorated historic home is very pleasantly unique and is a rare find. Clean and well maintained by the owners, we wanted for nothing. We even had cookies and beverages brought to our room to enjoy by the fire (faux fireplace, yet no less cozy). Since most Airbnb listings do not offer meals, we were very pleasantly surprised to be served a sumptuous breakfast in their elegant dining room. Located just off I-75, this lovely lodging option is the ideal overnight stop for us when traveling to and from family visits.
James
January 2017
My boyfriend and I had a wonderful time at the Caldwell House B&B. The hostesses, Deb and Stacy, were incredibly gracious and helpful, and we thoroughly enjoyed our stay. The house was charming and had a lot of character, and the surrounding area was quaint, felt very historical, and was walkable/close to the downtown. The breakfast Stacy made for us (watermelon, homemade muffins, and quiche) was delicious too!! Although we stayed for 2 nights, we wish we could have stayed longer and had gotten to learn more about the house and the area. If we ever visit Piqua again, we will make sure to stay at the Caldwell House B&B!
Taylor
July 2016
Type de logement
Chambre privée
---
Type de propriété
---
Capacité d'accueil
2
---
Chambres
1
Piqua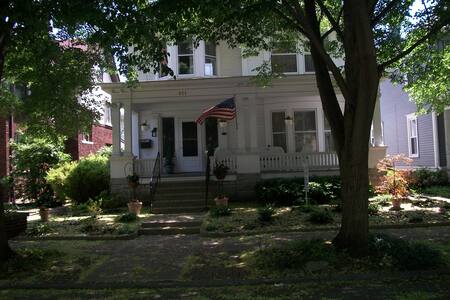 The room includes 40" smart TV with 200 channels and HD channels, queen size bed, and continental breakfast. The house is close to downtown, University of Dayton, WPAFB, Carillon Historical Park, Dayton Mall.
Access to the kitchen, living room, washer and dryer, bathroom, wifi, and 40" smart tv with up to 200 channels (HD). Help is available 24/7.
It is close to downtown Dayton. It is on a very desirable neighborhood/community. A perfect 10 in school ratings. Public transportation is close to the house. Very safe to come and go ride a bus anytime of the day. Public transportation is close to the house and will get you to almost anywhere.
The area is gorgeous. Me and my wife had unfortunately little time to actually spend with Willie and Vernadeth (spelling?). We were in town for a conference, and were gone from the house from 8am til 10pm. All I can say is that everything was as advertised. The hosts were accommodating (even providing breakfast!), the room was clean, and best of all: it was close to the convention center.
Philip
August 2016
My week stay was everything I needed. I only saw Willie once as he works evenings but his family was very friendly and quite accommodating (breakfast in the morning!). The neighborhood is beautiful and conveniently located. The room was comfortable and it met my needs (closet, dresser, mini fridge). I would recommend this setting to all.
Allen
August 2016
William and Veredith were very gracious hosts. Their home is conveniently located and the town of Oakwood is lovely to walk around. Their home and the neighborhood are very well kept and safe. I look forward to staying with them on future visits to Dayton.
Suzanne
April 2016
I extended my stay as it is a great experience. The location is close everything from gyms, malls, restaurants, Whole Foods, and anything you need. The host family respects your privacy and gives you your space while always being there when you need them. I would recommend this place to anyone!
Carissa
June 2016
Willy is a very great host and his home is very lovely and clean. She has also a very nice wife and daughter. Willy is very nice and friendly, very helpfull to provide any usefull information you need about. He also offered me breakfast on the few days I was there. His location is just a few miles from center of Dayton and very easy to reached. Neighborhood is absolutly beautiful. The room was great with a very comfortable bed, and personal AC and TV. I could use kitchen to heat up pizza and grilleed chicken. Bathroom was very clean and comfy. I would highly recommend this location to people looking for comfy place in Dayton.
tomek
September 2016
Willie and his family are very friendly and helpful. They gave us a lot of help during our first day in Dayton.The room is clean and (URL HIDDEN) a word, I will recommend willie 's house if you want to find a great place to rest in Dayton.
Zoe
August 2016
My friend and I had a great experience staying here. The room is clean and nice. We were given a key upon arrival and free to come and go as we pleased. The house is in a good neighborhood, and the hosts are friendly. It's a good value.
Karol
August 2016
House and room were clean. Amenities were good. Peaceful stay.
KIMBERLY
July 2016
Type de logement
Chambre privée
---
Type de propriété
---
Capacité d'accueil
2
---
Chambres
1
Dayton
Enjoy full and complete private access to the upper loft of our 100-year old home, featuring a bedroom with a king bed and private bathroom, a queen and two singles and a private bathroom, and a common room with a day bed. We offer a relaxed, comfortable stay in a renewed century farm house on 11 acres. We care for five South Down Baby Doll sheep, a couple acres of wine grapes and also a hop yard, along with additional produce in the growing season.
Enjoy full and complete private access to the upper loft of our 110-year old home, featuring a bedroom with a king bed and private bathroom, a queen and two singles and a private bathroom, and a common room with a day bed.
Artist Junction Bed and Breakfast is nestled in the quiet countryside of Darke County, OH, on a working farm that raises sheep and grows grapes for local vineyards and hops. We are located just miles outside the county seat of Greenville, OH. All the attractions in Darke County are within easy driving distance, including Historic Bear's Mill, the KitchenAid Experience Retail Center, Garst Museum, three wineries, and much more!
Type de logement
Logement entier
---
Type de propriété
---
Capacité d'accueil
7
---
Chambres
2
Greenville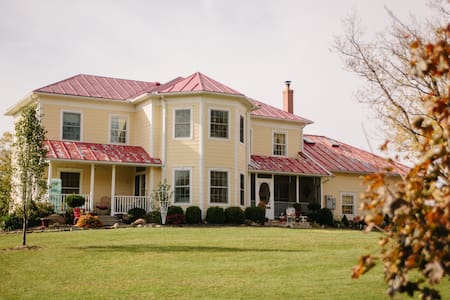 10 minute walk from Wright State University, 5 min drive from Area B WPAFB. 2 floor Townhouse with many young adults, students and professionals nearby. Generally quiet and convenient parking in overflow. Next to Col Glenn Hwy, Meijer, restaurants and Beavercreek.
Micah was very accommodating and made sure I had everything I needed. He provided a parking pass, so I was able to park right outside of the apartment. The location is perfect for a visit to WPAFB and/or Wright State University and is in a very quiet neighborhood.
Chelsea
August 2016
This was a great, one week stay for me while I was finishing an internship at WPAFB. My feedback- The bed was really comfy and nice; the PS3 in the room was a great added bonus for streaming entertainment; and Micah and Joyce made me feel very welcome, almost like family, and helped me with anything I needed. Everything you could need, store, entertainment, and restaurant wise, is within a 2-10 minute drive away. Would definitely stay again!
Ariel & Jose
August 2016
The stay was good. The parking situation is odd, but Chi went out of his way to make it work even saving a spot with his own car. I think I'm going to be in Dayton again in the future, and I will definitly be trying to stay here again.
David
July 2016
Nice bed ,very comfortable
李
November 2016
Chi was a wonderful host. The room he provided was clean, quiet and the bed was comfortable. I was provided access to Netflix and wifi. The townhouse was close to Starbucks, a grocery store and many restaurants. I was there to attend a convention at Wright State a University and was only 5 minutes driving distance. Chi and his wife made me feel at home with towels, bottled water and complete access to their home. I recommend their home to anyone needing a safe place to stay.
Marc
July 2016
Thank you for hosting Micah and Joyce :)
Tiffany
September 2016
Micah Sun and his wife were very welcoming. He even got a hold of parking pass for the length of my stay which made it really convenient to park right in front of the house. Both of them were great hosts and showed me where the best places to eat were and were always eager to offer a meal when staying there. The room was clean and the bed really comfortable. The location is really convenient if visiting the base or Wright State.
Rodrigo
July 2016
Good clean room. Micah was friendly Ana made sure I had everything I needed. Also he made sure to het me a parking pass for the complex so there were no issues with parking.
Philip
October 2016
Type de logement
Chambre privée
---
Type de propriété
---
Capacité d'accueil
1
---
Chambres
1
Fairborn
The French House Bed & Breakfast is nestled in the charming town of Frenchtown, Ohio. The French House has been operating since 1999 and has accommodated many guests coming to visit Darke County. We offer spacious and quaint accommodations for a reasonable rate. Rooms include a Continental Breakfast, a private kitchen, great room and the outdoor patio. Lower level has 2 bedrooms - can be rented individually or as a 2 bedroom apartment.
This is a country home with open space in a quiet area. Guests may use a private patio off the lower level, and may sit in the yard for some relaxing fresh air.
Location is in a small quaint town called Fenchtown of 100 people, and near a small town called Versailles with a population of 2000. The home is close to Eldora Speedway (10 miles), also close to several fairs and country concert and weddings and family events in Darke and Mercer counties.
Type de logement
Logement entier
---
Type de propriété
---
Capacité d'accueil
6
---
Chambres
2
Versailles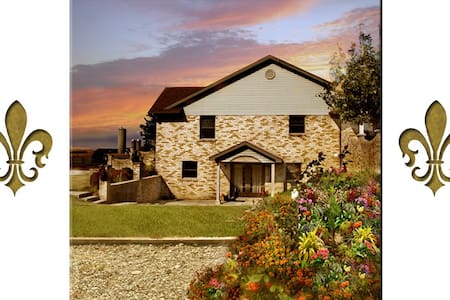 Queen Anne Home - Close to Air Force Museum, University of Dayton, Wright State University, Dragons Stadium and Downtown Dayton. Great Food and Hospitality! You are very Welcome and we would love to have you as our Guests! Parties and Events must be approved by the host.
My husband and I had our wedding ceremony and party. It was really an amazing experience! Vicky and Elliott are so sweet. Elliott will prepare wonderful breakfast and he was a hero for our wedding! We spent three days in this gorgeous house! It has amazing decoration. If I have a chance, I will come back next time! Highly recommended!
Yuning
January 2017
Type de logement
Logement entier
---
Type de propriété
---
Capacité d'accueil
4
---
Chambres
2
Dayton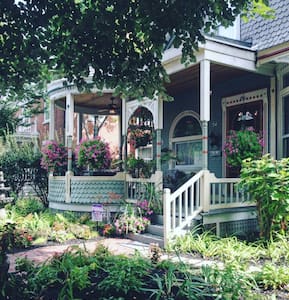 Our adjacent fully-paved, off-road bike trail offers refreshing rides - we rent bikes too! (How about a bicycle-built-for-two?). Take a walk to a close-by cafe, enjoy a easy hike in nearby Indian Mound Reserve Park, then grab some gourmet ice cream!
Our family-owned inn is the only one of its kind in the region. Rooms feature internet access, real HDTV, small fridge, iron/ironing board, individual climate control, coffee maker, top quality H20+ shower amenities, and sparkling chrome! Excellence-rated by TripAdvisor! Feel free to wander around our lobby and balcony areas and check out our museum displays featuring local history and the role of Ohio in the American Civil War 1861-1865. Our front wrap-around porch invites you to relax. Enjoy our second-floor Game Room with its big-screen TV and board games. Our friendly staff is here to answer your questions about our area - whether you are antiquing, on a college road trip, visiting Yellow Springs, biking, hiking, celebrating an occasion, attending the fall Renaissance Festival, or just escaping from the daily pressures!
Cedarville, Ohio has a population of about 4,000. We are a mix of educational, professional, trades, and agricultural families. Our village is as "Mayberry" as you will find in the 21st century. Cedarville township is "dry", so plan accordingly if needed. Our shops and restaurants are all within a reasonable walking distance (on a nice day!) Our property sits adjacent to the Ohio-to-Erie Bike trail and is quite close to our local park which offers childrens' playground equipment. We are just 5 minutes from the Historic Clifton Mill and 10 minutes from the popular Village of Yellow Springs. Cedarville University is a 90-second drive. Nearby Dayton boasts great dining, night life in the Oregon District, and a fabulous Aviation Heritage "trail" including the Wright Brothers' historic sites and the National Museum of the U.S. Air Force. We are 35 minutes from the Dayton Airport, 55 minutes from the Columbus Airport. All village shops/restaurants and Cedarville University are within walking distance (on a nice day of course!) At Hearthstone Inn you'll find the serenity of a B&B coupled with the convenience of a hotel. Our guests LOVE returning again and again because of the cleanliness and quaintness we offer. NOTE: Your special AirBnB room rate INCLUDES our local lodging taxes. Weekends (Friday/Saturday) are double occupancy. Sundays through Thursdays, rates are for up to four (4) people.
Un petit hotel propre et sympathique, typique, confortable et chaleureux. Déco kitchissime, faux feux de cheminée, canapés et fauteuils massifs, moquette, ..., tout y est. Accueil souriant, petit déjeuner inclus très correct. Bon rapport qualité/prix.
Stephane
February 2016
Cedarville is an idilic little mid western community that is home to a great Christian college. To be able to find such a nice place nearby the school was nice. If you stay there you must make a trip to Young's Dairy where they make their own ice cream from the cows they milk on site. It's great for the kids.
David
June 2015
Stuart was an amazing communicator and helped us with Thanksgiving plans since we were coming, with no plans. He gave us several options to chose from. The location was in a small town, easy to find off the highway, quiet room, and friendly staff. Front desk staff helped with map of area and hiking options. Rooms were very clean and well appointed, comfortable beds, and nice breakfast. Inn is close to Yellow Springs which was our destination.
Jennifer
November 2014
The bike path from Oregonia/Xenia basically dumps your right onto the front door of this place which was a great start. Stuart and Angelina were friendly and welcoming and made us feel comfortable right away. We chained our bikes to the front porch. The room was clean and smelled good and provided plenty of Bath and Body Works soap, shampoo, conditioner, and Aveeno body lotion which felt great to use after our ride. We rode our bikes into Yellow Springs for dinner and rode back late at night using 27 and Clifton road. We got back to the hotel around 11:30 and Stuart was at the desk to greet us again. The breakfast was just what we needed in the morning, mostly we ate fruit salad and bagels but there were plenty of other things. Thanks for a relaxing and comfortable stay!
Caitlin
September 2016
It was a lovely facility and very welcoming. I did have to communicate to the person checking us in that we did have a dog with us even though I had exchanged emails about bringing the dog prior to arrival. They were happy to accommodate once I mentioned it. I would recommend staying here.
Amy
August 2016
Stuart is great! He is very helpful and knowledgeable about the community.
Richelle
August 2015
Awesome time! Arrived just in time to watch trick or treat through the town. Was perfectly accommodating to bicyclist!
Barb
October 2016
Type de logement
Chambre privée
---
Type de propriété
---
Capacité d'accueil
4
---
Chambres
1
Cedarville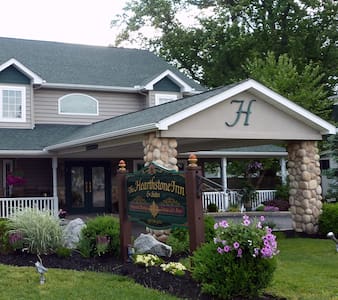 Bed & Breakfast in rural, scenic West Liberty, Ohio near Indian Lake, Mad river Ski Resort, Trout Fishing, Markin Zipline Adventure, Liberty Hills Golf. Easy drive from Columbus, Dayton, Cincinnati, Muirfield PGA golf course. Private, peaceful, clean
Escape Route 508 is a farm house Bed & Breakfast with 3 spacious guest rooms with private baths, many amenities. See our website www.espaperoute508.com Common living room with fireplace, dining room, kitchen, in ground heated pool, hot tub, many outdoor patios, gardens We respect our guests privacy, we will be available and are interested in people if guests wish to interact with us.
Quiet, private, peaceful setting. Super easy access to new extension of Simon Kenton Bike Trail, Close to recreation at Madriver Ski resort, Indian Lake State Park, Golf courses. Lots of local festivals, activities. A car or motorcycle is necessary to get here. Restaurants and shops close for bicycles from here. This is a great place to rest and connect with the ones you love.
Type de logement
Chambre privée
---
Type de propriété
---
Capacité d'accueil
2
---
Chambres
1
West Liberty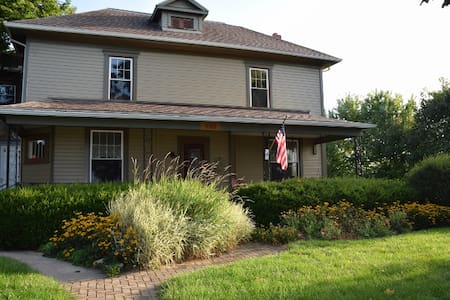 The Artist Junction Bed and Breakfast King Room features a private room with a luxurious king-size bed and private bathroom. We offer a relaxed, comfortable stay in a renewed century farm house on 11 acres. We care for five South Down Baby Doll sheep, a couple acres of wine grapes and also a hop yard, along with additional produce in the growing season.
Guests will have access to a private bedroom with king-size bed and the adjacent common area with seating and a dining table.
Artist Junction Bed and Breakfast is nestled in the quiet countryside of Darke County, OH, on a working farm that raises sheep and grows grapes for local vineyards and hops. We are located just miles outside the county seat of Greenville, OH. All the attractions in Darke County are within easy driving distance, including Historic Bear's Mill, the KitchenAid Experience Retail Center, Garst Museum, three wineries, and much more!
Type de logement
Chambre privée
---
Type de propriété
---
Capacité d'accueil
2
---
Chambres
1
Greenville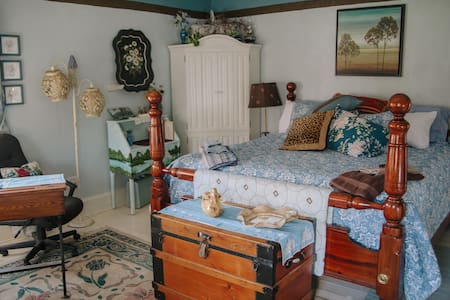 Emma's Bed and Breakfast is the perfect "home base" for all of your Ohio adventures. Located just outside of Springfield and a short drive away from Columbus, your opportunities are endless. Pricing is per room. We have four rooms available.
Emma's Bed and Breakfast has the charm of its 1833 construction, but has been updated to include the most modern and convenient amenities you can imagine. We have 4 rooms, each furnished with wireless internet, cable, a desk, privately controlled heat and air conditioning, a private, en suite bathroom, toiletries, and robes. Each guest has access to their room, but also the dining room, living room, outdoor deck, and porch. We are on 9 acres of wooded land... soon to be full of trails! We are available for all of your needs while you are here with us!
The host was very kind and helpful, area is beautiful. Home was clean.
Sherrie
July 2016
The property and house were beautiful! The hosts were kind, attentive, and accessible. The breakfast was unique and delicious.
Elisabeth
September 2016
Type de logement
Chambre privée
---
Type de propriété
---
Capacité d'accueil
2
---
Chambres
1
Springfield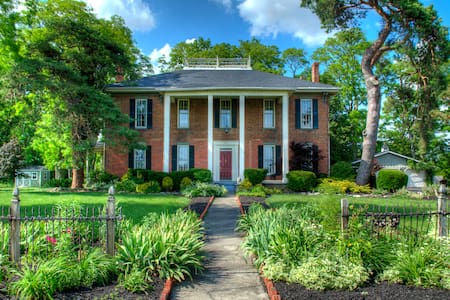 My place is close to great views & Historic Bear's Mill. You'll love my place because of the coziness. My place is good for couples, solo adventurers, and families (with kids).
Type de logement
Chambre privée
---
Type de propriété
---
Capacité d'accueil
4
---
Chambres
1
Greenville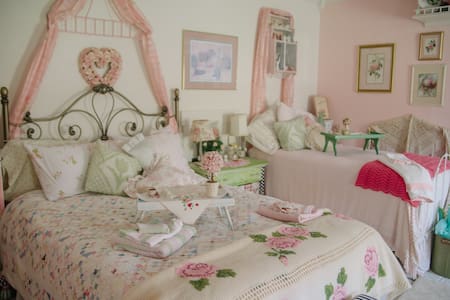 Our home is peaceful getaway on a wooded three acre lot. It is perfect for those looking for some rest and relaxation. Breakfast is included! We are close to many area attractions and driving distance to Dayton and Columbus.
We have two rooms available. One has a king size bed while the other has a twin size. Private bathroom with large soaking tub/shower combination. There are beautiful views from all of the windows in the house. A full breakfast is included with the cost of the room. It will change daily but usually consist of eggs, sausage, toast, orange juice, coffee or tea, and a fresh baked good. Currently you can eat in the dining room or if weather permits on our balcony or the patio overlooking the yard. Guests will have access to a bedroom with a very comfortable king size bed. The bedroom is down the hall from a full bathroom with two sinks and a large soaking tub/shower combo. If you enjoy a glass of wine and conversation we are more than happy to sit with you and talk. If you would rather keep to yourself that is fine too. We are flexible so just let us know since this is your trip!
The house is set back from the road and sits atop three beautifully wooded acres. Lots of wildlife including birds, deer, squirrels, chipmunks and an occasional fox. With over 50 trees on the property you feel like you are in a miniature forest. You are driving distance to many attractions. A short ride up the road you can access 70 miles of trails that are 10' wide paved asphalt, ideal for biking, walking, running, and in-line skating. A grocery store is just under a mile up the road from the house. Lots of places to eat are within two miles. The house is located only 2.5 miles from Wittenberg University. There is a Frank Lloyd Wright home 4.2 miles away. Clark State Community College is only 4 miles away. Wright State University is 26 miles away. Cedarville University is 15 miles away. There is a bike trail minutes from the house as well. If you are looking to golf there are a few courses near the house. One course is the Windy Knoll which is only a mile away. Yellow Springs is a short drive away. You can visit Young's Dairy on your way for some delicious ice cream.
Mike was gracious when we goofed up the day of our arrival. He went out of his make-up a spare room for us. The atmosphere was friendly and low-key. Mike is very easy to to talk to and he is very knowledgeable about the surrounding areas. He always asked if we needed anything. The accommodations were spotless. It was a very relaxing, cozy stay.
April
August 2015
So this was our first Airbnb experience and it was wonderfully amazing. The house was more interesting and beautiful than the pictures and had the most wonderful collection of period furniture that complimented the house and enhanced the experience. Ok then there's the breakfast - over the top fantastic. We can't wait to go back!!
Janiece
May 2016
Mike was a fantastic host and his home is gorgeous. It was kind of like staying in a castle. Mike was very accommodating and even went out of his was to have vegan breakfast food ready for me. My boyfriend and I both thought the room and private bath were comfortable and spacious. I'd definitely stay there again - thanks Mike!
Melissa
September 2014
Our stay at Mike's was spectacular - from before we arrived to the minute we left! Mike graciously answered all my questions prior to our arrival (this was only our 2nd Airbnb experience) and even came out to greet us in the drive when we arrived! The fact he brought his dogs out with him was an added bonus! He helped us carry our bags inside and continued to be a great host, answering our many questions about his beautiful home - and believe me, we had a lot! Mike's home is just fantastic! A true treasure- from the architecture of the house itself, to the wonderful furniture and decorations. Mike was kind enough to answer all our questions and allow us to wander about his home. Breakfast is included and unlike most B&Bs which have a set time to dine, Mike asked us when we would like to eat. Unfortunately, our trip didn't allow for us to enjoy what I understand to be a fantastic meal (there is a guest journal in the bedroom and it has plenty of rave reviews of the breakfasts) but, I was very appreciative that we could choose when to dine. We did have coffee and homemade muffins on the morning of our departure and that was great! It was served in an awesome China tea set to boot! The breakfast conversation was just as awesome. We couldn't have asked for a better way to start the day. One of the best things about this place is the feeling of being isolated while still being right in the middle of it all. My boyfriend grew up in this town and didn't know this place was here. There are even ducks and chickens that roam around the property; in fact, they greet you in the morning at the door! We love it! We just can't say enough nice things about this place. We happened upon it by luck since our usual spot was sold out (a local hotel). We are so glad we found it - and will be back for sure! Thanks for a wonderful weekend!
Saundra
June 2016
Mike was a wonderful host and my stay was very comfortable and pleasant. They have a beautiful home, with a very convenient location for anyone visiting Wittenberg. Highly recommended!
Dave
October 2016
Lovely place to stay in Springfield - comfortable bedroom, tasty and generous breakfast, and friendly host! Would stay again.
Andrea
August 2015
From the very first email, Mike made me feel very comfortable and "special". It was like having my own private concierge. Mike and Victor are more than "hosts" ... they are your friend. Their home is lovely ... set off the road and surrounded by 30+ yr old trees. My boyfriend and I enjoyed just walking around the property gazing at all of the trees and shrubs. Oh, and they chickens and ducks are the cutest ever! Each has their own unique coloring - simply adorable. Mike made us special breakfast each morning - delicious! So much food, I could barely eat all of it. Our weekend was exactly what we wanted - quiet and relaxed. We drove into Yellow Springs, shopped at old book stores and ate at a lovely cafe. The best part of the weekend was coming back to Mike & Victors home and drinking wine with them on their patio as it softly rained. Oh, correction - best part of the weekend is I have TWO new wonderful friends.
Julie
September 2016
Mike was the consummate host - he greeted us warmly as we staggered in late from the airport. He made the most delicious breakfasts and stayed to chat with us as we ate. He is a very charming and kind person - so thoughtful about what we might need. The room was perfectly comfortable - a GREAT bed! The bathroom has all that you need. The house and grounds are spectacular. It was a lovely weekend!
Gwen
June 2016
Type de logement
Chambre privée
---
Type de propriété
---
Capacité d'accueil
2
---
Chambres
1
Springfield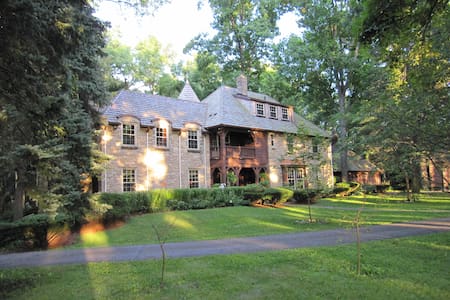 Lovely home in very quiet neighborhood. Four guest rooms in the house. The Spruce Room has comfortable queen-size bed, TV, Wi-fi and its own ensuite bathroom.
Pool table and ping pong table available. Spacious front porch and lovely back patio can be enjoyed. Besides private guest room and bath, guests have access to common areas such as living room, music room, dining room and kitchen. Innkeepers are happy to offer as much or as little information as guests require regarding local sights, attractions, shopping and restaurants.
Lovely historic neighborhood with tree lined boulevard. Small, picturesque town with friendly folks. Conveniently located off Interstate 75. Most places in town can be reached by walking or car. We provide a full homemade breakfast each morning. We are happy to cook for special dietary needs. We are not handicap accessible and all guest rooms are on the second floor.
Type de logement
Chambre privée
---
Type de propriété
---
Capacité d'accueil
2
---
Chambres
1
Piqua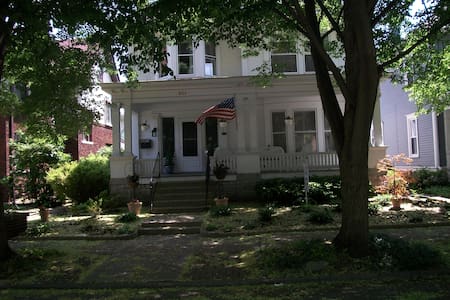 1

–

14

sur

14 Bed & Breakfasts