Saisissez la date d'arrivée au format jj/mm/aaaa
Saisissez la date de départ au format jj/mm/aaaa
Logements que vous pouvez réserver sans attendre l'approbation de l'hôte.
Saisissez les dates souhaitées pour connaître le prix total. Des frais supplémentaires s'appliquent et des taxes peuvent être ajoutées.
Cet été (juillet et août), vous pouvez essayer l'un de ces 100 logements les mieux notés, dans toutes les gammes de prix, pour découvrir Sonoma d'un point de vue local. Entrée dans les lieux 24h/24, réservation instantanée, mais aussi vin et petites spécialités locales à disposition… autant d'invitations à vous détendre et à profiter pleinement de votre voyage.
Private loft overlooking farmland, which includes the use of garage, bathroom, bedroom with Queen size bed and single bed. Close walk to the beautiful Ventnor beach, only 5 minutes to Grand Prix race track, Penguin Parade and main township of Cowes. T.V/DVD & the use of BBQ and cooking facilities.
Quiet, private Loft with kitchenette, tea/coffee and breakfast cereals etc supplied and bathroom which is totally separate from the Hosts. We live in the main house and we like to greet our guests and are available if required. The use of garage with adjoining meals area which leads to an outdoor area to sit and listen to the birds. There are stairs up to the Loft bedroom and the bathroom is located on the ground level. We like to meet and greet and be available if anything extra is required. Current brochures and maps of the area provided.
Quiet court in Ventnor which is a rural area and close to a lovely swimming beach.Close to main township and penguin parade. Beach is a short walk to watch the sunset. Close drive to beach, Penguin parade, Cowes township and Grand Prix track.Buses only during Race Track events. BBQ for use with side burner for extra cooking. Please remember to turn off the gas bottle.
Très bon accueil, dans la présentation du logement et de la région en général, tout est fait pour que les hôtes se sentent très à l'aise. Tous les supports touristiques étaient fournis (carte, attractions, restaurants), un guide complet avec des informations utiles sur l'île. Accès internet gratuit, télé + quelques DVD... Séjour d'une seule nuit que nous aurions volontiers prolongé, peut-être l'année prochaine ??!! Merci à Carole et John.
gabriel
October 2016
We live in the beautiful Barossa Valley and rarely leave home, but when we do, it's lovely to stay in a place that FEELS like home! Our stay in Phillip Island was the perfect balance between high end motor sport and pristine natural environments. Carol's place was perfectly situated between the two. After a long day of travel, and a longer day at the races, it was nice to go "home" make a cuppa tea and relax. Everything was catered for if not more! Fresh fruit, milk, bread, gorgeous jam and a selection of cereal, teas and organic press coffee. If welcomed back, we will stay again. Thank you for making us feel welcome.
Jennifer
October 2015
Lovely quiet location and friendly and helpful hosts. Accommodation was very clean and comfortable.
Ross
October 2015
Would stay here again in the Winter. It was so cosy. Host was lovely, including Fred the dog. Beautiful part of the world Phillip Island.
Mervyn
June 2016
We had a great stay. Perfect location to access the pingouins parade, the beaches, the Nobbies. Nice and clean. Carol was easy to communicate and is a great guest.
Marie
January 2016
the location is great ,close to the center and the pengiun. confortable bed and rooms, plenty breakfast and host is kindly and helpful.
YIZHEN
December 2015
Carol and John were wonderful guests to begin with; and it was such a pleasant surprise to meet Fred! Absolutely homely and cosy feel once you head up to the living space. The kitchenette was adequately equipped and so were the bedroom areas! Extremely satisfied and enjoyed the overall experience. Would definitely recommend people to book this place for any trips to Phillip Island! 5/5 without a doubt! :)
Martin
June 2016
Place was great, location was easy to find and we loved the outdoorsy feel
Tanya
May 2016
Type de logement
Chambre privée
---
Type de propriété
---
Capacité d'accueil
3
---
Chambres
1
Ventnor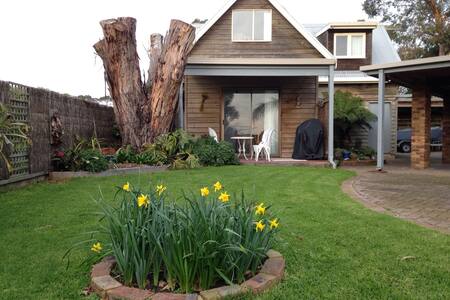 Our little loft is the perfect place to wind back the clock, switch off the devices and relax. The beach is 200m away, the bookshelves are well stocked and there are decks of cards and stuff for sketching.
The loft is a such a sweet and cosy little place. We hope you will feel instantly at home. We've thought about all the little things. The quality queen-sized bed with pure cotton sheets would keep Goldilocks happy. All of the kitchen appliances are new and modern but the decor and furniture is as vintage as anything! And that's just the way we like it. We are beach people (as well as being concerned about the environment) and so we don't believe in air conditioning. We have windows that let the late sea breezes through and a ceiling fan directly over the bed. On very hot days we stay at the beach and don't wander home until long after sunset. We have always lived this way and find it very comfortable. You have your own separate entrance stairway from the garage. The stairs may make the loft inaccessible for those with limited mobility. We live in the house which the loft is attached to and you can knock on the door or call us if you need anything. We are happy to chat or offer you a cuppa on the deck while we give you local tips but this is your holiday so we'll be guided by you. For short stays we will stock the loft with the basics for brekkie and tea and coffee etc, but you can get in touch with us if you need something more elaborate and we can negotiate. It's all about the food for some of us (especially us) so we get that some are picky and that it's not always easy to track down the best local stuff in a short time-frame. Believe us we know where to procure the best hand-made croissants, or custard-filled doughnuts etc etc and we can sort it all out for you ready for your arrival if you give us some notice.
We love living at Fishies beach and we would love to share it with you. It's a family kind of place, not a party kind of place so if you're up for a big, boozy, loud music kind of a time maybe choose another spot. But if you're up for quiet and laid back - come on down. It's an easy 1km walk into town from our house and the bus to the train station in Frankston goes right past our door. Did we already say that the beach is at the end of the street? And there's a cafe and a second-hand bookshop there as well. Mornington Main St is about 1km away so you can stroll there. There are so many cafes that it's ridiculous (we can tell you the best ones) and clothes shops etc. But there are also all the boringly necessary things like chemists and supermarkets. There are more op-shops in Mornington than anywhere else on the planet but don't bother going to them because we have already cleaned them out.
Staying in Jenny's loft was a complete joy. It's beautifully decorated with top notch vintage kitsch! The space was very relaxing and comfortable. The private entry was easy to access and treats were waiting for us on arrival. The location is ideal, close to the beach and shops. So much fun. This is my new fav!
Kathryn
November 2016
We really loved our stay with Jenny and Damien in their little beachside loft. Not only was the presentation immaculate, the thoughtful touches of chocolates, fresh flowers and honey from the garden to name a few made the experience all the more memorable. Would highly recommend and we will be back!
John
November 2016
We stayed two nights at Jenny's wonderful loft and it was perfect. We were looking for a quiet getaway not too far from the hotsprings and Jenny's fit the bill perfectly. The apartment was exactly as pictured, and only 30min drive from the hotsprings. It's beautifully decorated in a vintage homely style with lots of detail and natural lighting and had everything we required. You could tell that a lot of effort was put into the place as even though the loft had an old-school look, it was well maintained, clean and the equipment was new. We ate out one night and the town centre was a short walk away. The other night we ate in and cooked a meal. The kitchenette was compact but had all the essentials, even some butter! We would highly recommend this place to a couple looking for an escape from the city bustle.
Michael
November 2016
The loft was so cute! Looked just like in the pictures, and was so clean. Me and my boyfriend stayed only for one night, however we fell in love with it and really enjoyed our stay. Location was great, close to the main street where all the shops are. Jenny was an awesome host, she messaged me the details prior to our arrival. I loved all the small details she put into making this loft feels like home to the guests. Definitely will recommend to families and friends! And hopefully we can come back one day.
Steffi Rosalina
December 2016
We arrived at 8:45pm on a Friday night, without realising we had mistakenly booked for the Monday (oops). Luckily, the loft was free, and our hosts kindly raced around fixing the room up for us. It was such a beautiful space to stay in, with every amenity you could possibly want. The decor is charming and eclectic, the bed soft and warm, and the shower strong and hot. Little touches to make the space welcoming were noticed and appreciated. Thank you, Jenny and family, for your wonderful hospitality. We cannot recommend you highly enough.
Adam
December 2016
A very very nice place that's strategically located very near to the beach and the town! Easy access to the highway too! Make the journey so much easier!
Daniel
November 2016
The loft is very well-equipped and comfortable. It is in an amazing location and Jenny is a great host!
John
December 2016
Jenny and Damien were delightful hosts that have put so much effort into creating a beautiful place to stay, with so many added touches that instantly makes you feel at home. Welcome to the Airbnb community, there is no doubt that you will be Super Hosts.
Carol
December 2016
Type de logement
Logement entier
---
Type de propriété
---
Capacité d'accueil
2
---
Chambres
1
Mornington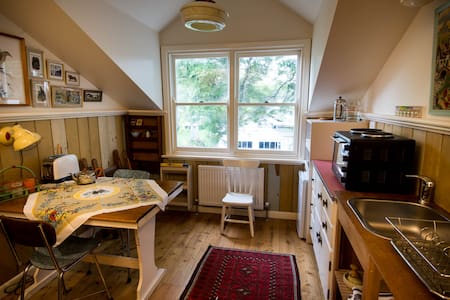 This is a large room with large double shower, toilet and kitchen. The room is comfortable and private and perfect for a quiet get away. Only a short walk to the beach and other attractions in a peaceful quiet little town.
The self contained room is in a quiet suburban neighborhood within easy walking distance to town, nature reserves and beach. It is intended as a quiet romantic getaway or medium term accommodation for those seeking a temporary base on the Bellarine Peninsular. Whilst celebrations of all kinds are encouraged and supported, is not a loud or raucous party house. Access is by stairs at the rear of the property and completely independent of the main house.
The neighborhood is quiet and suburban, only a short walk to reserves, a small but comprehensive shopping street, cafes, take away and eat in eateries, a pub, beach, boat ramp, fishing wharf. Plenty of room to park a boat trailer on or off road. I have two bicycles which you are more than welcome to use. Most things in St Leonards are within walking distance. There are buses which connect to trains to Melbourne fit those who want to make a day if the trip. There are 5 very different small towns surfing beached and a whole world of wineries and restaurants within 25 km drive
Clive was a very accommodating host. The studio apartment was perfect for our little family getaway and would stay again if in the area. Big comfy bed for a good nights rest. Supplied us with all the essentials including breakfast cereals which our 7 year old daughter was very happy with. Thanks again Clive.
Simon
October 2016
Big thanks to Clive for a wonderful time! A great clean little space that is perfect for that beach get away on a budget. The single trundle bed for our little man was nice and sturdy and felt very comfortable. The place was very clean and had all the things you need for a quick getaway. Clive was very easy to deal with and a genuinely nice host. Wifi was a really pleasant surprise and helped out heaps. Will stay again when in St Leonard's.
Aaron
December 2016
Clive and Sandy were great hosts. Communication was clear and timely. The room was as described and was clean, comfortable and spacious. A great option for those on a tight budget.
Jane
May 2016
I had a lovely stay in Clive's loft apartment with my 2 children. The communication was excellent and a box of toys was even provided to keep the kids amused. The space is just as described and was cosy and comfortable for our 2 night stay.
Tanya
April 2016
The host canceled this reservation the day before arrival. This is an automated posting.
Siddharth
Clive's studio apartment was perfect for our weekend away in St Leonards/Queenscliff. It was fully self contained and in a great quiet position, bed was very comfortable, the kitchen is perfect for self catering and had some breakfast provisions. Clive was very welcoming, contacted me to arrange our check in and was very flexible with check out time. He was more than happy for our son Billy (well behaved small terrier) to join us which was a great bonus. We can't wait to return to St Leonards and return to Clive's apartment.
Craig
December 2016
It was a fantastic location with nice views and close to all the amenities of st leonards. Clive was more than welcoming and met all requests and was a pleasure to meet and made our stay fantastic. The room was very clean and well kept and the fully stocked kitchen appliances made cooking a breeze. Highly recommended!
Joel
September 2016
Clive is super nice! He's flexible with check-in and check-out time, and helped us a lot. The apartment is perfect if you'd like to have a beach holiday with your family or friends. It's spacious, comfortable, and there are even book and video tapes. Though it could be a bit hot during the day in summer, but generally it's a cozy place. Will definitely go back if I'm gonna have a holiday on the Great Ocean Road with friends.
Yiwei
December 2016
Type de logement
Chambre privée
---
Type de propriété
---
Capacité d'accueil
3
---
Chambres
1
Saint Leonards
Very close to transport, shops, beaches, sailing, Sandbelt golf courses, walking & bike riding trails. Village atmosphere, great cafes & restaurants. Beautiful 100+ year old Edwardian home in lovely garden. Quiet street only metes from the beach. 30 minutes to Melbourne City by car or train. Entire upstairs ensures privacy and independence, while we are downstairs to offer support if required. Good for couples, solo adventurers, business travellers and sports fans & competitors. Kids by request.
Two huge rooms upstairs, one designated bedroom with queen sized bed, dressing table, desk ,large wardrobe and air conditioning. Second room even larger with single bed, lounge, armchair, TV, breakfast table & chairs, fridge, kettle & toaster, eating & drinking necessities, extra wardrobe plus books & games, iron & ironing board. Modern bathroom has shower & toilet, with external vanity for easy access. Rooms are upstairs accessed from spacious vestibule. Front verandah available for eating, reading or relaxing. Table & chairs and clear protective blind overlooking lush garden. Washing machine & clothes line available on request for longer stays. We will always be here to greet you, hand over keys, and orientate you to your accommodation and the neighbourhood. While your privacy and independence are guaranteed, we are just downstairs.
Sandringham has a lovely village atmosphere with plenty of cafes and restaurants, a large supermarket, beautiful foreshore, beaches and boat harbour. Yachting, sailboarding, kayaking, swimming, paddle-boarding, etc. Extensive walking and bike riding trails. Some of Australia's best golf courses nearby, tennis courts and recreational parks, playgrounds and picnic areas. Watch magnificent sunsets from the clifftop just across the road. Southland shopping centre only 10 minutes by car with cinemas. Hampton & Brighton shopping strips offer character, unique experiences, goods and services, and abundant dining & people watching opportunities. and are just minutes away by train or car. Train station with direct link to city (30 minutes) only 3 minutes from our home. Buses and taxis leave from just outside train station. Car parking in driveway. Council approval granted for hosting Airbnb guests (R/N 2023/16)
Thanks Lyndall and Malcolm for a lovely stay! The loft area is lovely, clean and spacious and very private. The layout of the house meant we didn't even notice the hosts. Enjoyed the use of the verandah, two second walk to the beach, shops and train station. Highly recommend this spot
Catherine
December 2016
Type de logement
Chambre privée
---
Type de propriété
---
Capacité d'accueil
2
---
Chambres
1
Sandringham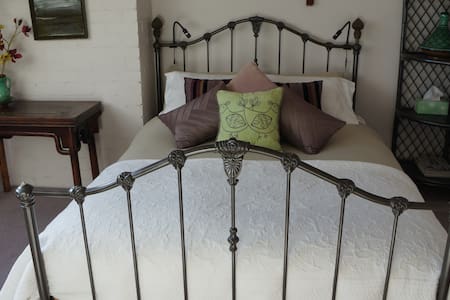 My place is close to the beach, family-friendly activities, and nightlife. You'll love my place because of the high ceilings and the location. My place is good for couples and furry friends (pets). Please enquire re overnight rates during off peak
THE APARTMENT - can sleep 4 Brand new with luxury fittings and designer New York style decor ! A separate apartment with a king size bed on the ground floor and a mezzanine lounge which can be made into a queen bed. * kitchenette with sink and fridge * pod coffee maker , selection of teas and seasonal fruit * state of the art bathroom * walk in robe * hair dryer * toiletries * flat screen tv downstairs * flat screen tv on mezzanine level * bath robes * A/C and heated * linen and towels provided * Situated on a working vineyard . Wines are available to buy at wholesale prices and private tastings can be arranged You are welcome to walk, or picnic in the vines. We are pet friendly, as long as your pets are too! Conditions apply. $30 fee per dog * Can babysit dogs if you are going to a wedding! * 5 minutes from beaches by car * We provide a cheese plate on arrival, if required, and wines are available from your mini bar at wholesale prices! This is an adult only property. There are dams, horses and dogs on ths propetrty. PARKING Outide your apartment LOCATION Karina Vineyard Close to golf courses, wineries, chair lift, restaurants, Peninsula Hot Springs, Arthurs Seat Eagle Chair Lift, horse riding, art galleries, adventure park and maze. Great shopping and local markets! * Next door to Crittendens and close to all peninsula wineries, restaurants * Peninsula Hot Springs, Arthurs Seat Eagle Lift * Horse riding and golf courses closeby * We can provide transport to close wedding venues! Please enquire when booking Uber is now also available. The vineyard grounds and barbecue area. Feel free to picnic on the lawns overlooking the private lake. We live on the property so are available when you need recommendations for restaurants sightseeing or a chat! We have a cellar door on the property.
Peaceful , beautiful rural setting so close to Dromana beaches and central to many wineries such as Crittendens and Trofeo Estate and many more a short drive away. A perfect spot to relax and unwind. A car is required.
Our time was thoroughly enjoyable, Hellen and Jack were both unbelievably accomodating, friendly and helpful. There food suggestions were helpful for people that aren't familiar with the area. The icing on the cake was having two of the most precious dogs greet you at the gate and run along beside the car every time you come home.
Nathan
November 2016
Driving through the gates we passed an idyllic lake and followed the road that wound around the vineyards. The scenery was peaceful and bucolic. Upon arrival Jack and Helen gave us a very warm welcome to their Vineyard. Nothing was too much trouble for them and they were most happy to answer any questions we had. The accommodation was immaculately presented and very clean. There was even a little bed for our dog which was amazing. The king bed was very comfortable and room atmosphere was relaxing. Jack and Helen made sure that several amenities were available in the kitchen and bathroom to us which was a nice touch. Jack and Helen have 3 cats, 2 dogs and 3 horses on the property. Their dogs are super friendly and always greeted us upon arrival. We also had some family come over for wine and cider tasting on the property which is an absolute must! Thank you for being so accomodating and having us. It was an absolute pleasure. :)
Heath
November 2016
Type de logement
Logement entier
---
Type de propriété
---
Capacité d'accueil
4
---
Chambres
1
Dromana
Conveniently located closeby to Monash University Caulfield Campus and the Caulfield Railway Station with easy access into the city (15 minutes express train). Lots of parks and cafes within walking distance. There are two beds located in our loft, one queen bed and a single in the landing area. Private ensuite bathroom. Suitable for couples and business travellers.
Guests are able to access the kitchen (share with host) and the downstairs lounge (share with host). If a family requires more than the loft beds there is another room down stairs which could be used. eg a family of 4 I will be happy to offer information/help throughout your stay
Close to the Caulfield Station. (6 minute walk) The Dandenong Airport bus service runs directly from airport to the end of my street and from the Caulfield Plaza direct to the airport approximately 2 hourly.
We had a fantastic stay here in Melbourne at a very convenient location, close to trains and shops. Jenny was a fantastic host and communication was great.
Michael
September 2016
Jenny was a lovely host, being her first occupants she was more than welcoming, accommodating and happy to help in any way. The house was clean, tidy and warm overnight! Breakfast, tea and coffee was a lovely extra as well. Would recommend to all and personally would stay again.
Bill
September 2016
5mns walk to Monash university. The listing is very honest and the room and the ensuite fitted the description. Jennifer is a friendly and helpful host.
Marie-France
December 2016
Type de logement
Chambre privée
---
Type de propriété
---
Capacité d'accueil
3
---
Chambres
1
Malvern East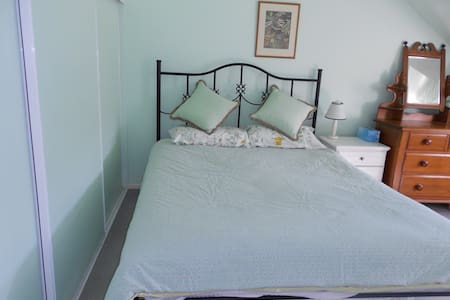 Our light-filled 2 level loft is located within a safe residential neighbourhood, close to the city, beach and public transport. Surrounded by beautiful gardens with access to pool. A perfect combination of city life and relaxation.
PLEASE CHECK OUT OUR OTHER VERY CHARMING AND LUXURIOUS VICTORIAN PAVILION FROM AROUND AUD 100+/NIGHT!!!!! Very private and completely separate to the main house 38sqm combined living/bedroom on one level with a modern downstairs kitchenette and bathroom plus under cover sitting area/terrace overlooking pool You have access to the pool and BBQ. Always happy to assist in regards to anything;i.e. shopping,directions,transport,entertainment etc.
Leafy friendly safe and quiet neighbourhood in North Brighton,very close to Elwood- however close to shopping schooling beach transport city max. 30 minute car drive to the city centre. 5 minute walk to the beach. bus stop at the end of our street- 216/219 to Brighton Beach/City 300m - Busstop 630 direct 30 mins to Monash University/Clayton Campus 15 minute walk to nearest train station. 20 minute train ride into the city centre. Close-by restaurants, cafes and shops. Washing machine/dryer available on request. Easy street parking. No smoking inside. Pets negotiable. Respectable guests :)
Manuela and Guny are the best hosts we've ever seen! The place really nice and beautiful, just five minutes from see shore. Swimming pool is great and loft looks just after refurbishment . Everything is new there. It takes just fifteen minutes to get there on foot from Gardenvale station.
Pavel
April 2015
As host, Manuela is a lady of style and good taste. She made us welcome with freshly-cut flowers in our bedroom (and with some food and milk in the fridge to get us started). Gunni entertained us with tales from his experiences in Melbourne and beyond. Lovely house and garden; and certainly not to be missed - a home away from home.
Lucy & Simon
October 2015
Great host, great location. This is my first experience of using Airbnb, and will strongly recommend this place for holiday. It's really handful to the beach, bus stop and cafe, and easy access to city by bus or train. My daughter and I were very excited to see the jellyfish in pink color at Middle Brighton pier which is only 15-20mins' walk from this lovely loft!
Rachel
August 2016
Clean, tidy and everything we needed plus more for our whirlwind overnight night trip! The loft was perfect for what we needed and if we had more time, we would've taken advantage of the beautiful pool. Gunni (sorry If I spelt this wrong) did a fantastic job of looking after us and even dropped us off to our car in the morning! Stay exceeded expectations!
Scott
February 2015
My partner and I stayed 2 nights in the loft apartment and absolutely loved the layout and serenity of the area. The property is amazing and proximity to amenities is excellent. We walked to the train station and went to the city. It was also a good area to cycle. I would definitely recommend and stay there again.
Maria
March 2016
Huge thanks to you both for making us feel so welcome and comfortable. Your friendliness and ongoing willingness to help are hugely appreciated as were the small touches when we arrived such as the wine and easter bunny. The property is great - a relaxing place to be and we are looking forward to a month in the Pavillion. We cannot thing of a better place to be staying and would recommend the Loft and your hospitality to everyone. Many, many, thanks, Deb and Shane
Deborah
April 2016
We extended our first stay as we loved this place, especially the hosts and the peaceful setting. I cannot recommend it highly enough.
Deborah
April 2016
A great place to stay in Melbourne. Close to the beach, parks, great shops and restaurants yet in a nice quiet street. The apartment has everything you need, very comfortable large bedroom space, modern bathroom and kitchen. Wonderful place to stay if you have a dog, our old dog was allowed to wander at will around the beautiful garden. There is a great "dog off lead park" just around the corner. Friendly, welcoming hosts.
Rachelle
October 2016
Type de logement
Logement entier
---
Type de propriété
---
Capacité d'accueil
2
---
Chambres
0
Brighton
With rustic charm this comfortable & spacious 2 story loft has everything you need to make for an enjoyable break away including spa & spa deck to unwind, have a drink & watch the sun go down over the city lights. Privacy & space in a beautiful setting. Please be aware there are some tight stirs to be aware of. Take a peak at Genevieve's blog thewanderbug.com
A truly beautiful space. Beautiful gardens, amazing views across beautiful Melbourne city, Western port Phillip bay & Cardinia dam. Sunsets, space & privacy. The 1000 steps are just a few minutes away access them at the top of the National Park to avoid the conjestion at the bottom - then relax in the spa or hit a restaurant or local bar for a drink to unwind. Parking on the property & stairs to be aware of. Upon arrival & departure only. We are relaxed & friendly here & want you to enjoy your stay & make you welcome - The choice is always yours for how much interaction you would like. Privacy is key.
So beautifully quiet & private. Take the 688 over the mountain & then back again home. No driving required if that suits yr needs, the bus stop is 5 minutes walk only.
It was absolutely breathtaking. Getting to the place was an adventurous task but as we finally made it to the hidden loft, it was all so worth it. The second you start exploring this loft, you can tell that Fiona has put in so much effort into making your stay as relaxing and enjoyable as possible at such an affordable price. It's perfect for a little romantic get away from the melbourne rush. I highly recommend this rustic, cosy loft and I can't wait to come back!
Danielle
December 2016
Great experience from start to finish!
Nicholas
June 2016
The loft was great! The spa really was a nice touch, a great little escape to a beautiful part of the world. Fiona was most helpful and great to communicate with :)
James
November 2016
We had the best time at the loft and can't wait to return! Fiona was a wonderful host and was quick to answer any questions we had, we felt very welcome. The loft is a really beautiful space, in gorgeous natural surroundings - sitting in the spa at night under a sky full of stars, with views through the trees to Melbourne, was such a treat. We will definitely be back!
Genevieve
July 2016
Fiona was a fantastic host, with every little detail thought of and prepared for (plus great recommendations on local eateries!). The Loft itself was perfect for my partner and I for a weekend getaway; the scenery and views were simply incredible.
Emilie
December 2016
Had a great stay at Fiona's loft. After going for a hike and doing the 1000 steps the hot tub was nice and relaxing and the eggs for breakfast was a nice bonus. Thanks again Fiona!
Burag
October 2016
Mr partner and i absolutely loved our stay at the loft, were disappointed we could not stay another night to enjoy its beautiful and peaceful surroundings. Was a little bit chilly to enjoy the spa and its magnificent views but we will definitely be returning in the future. Fiona was very helpful especially when we needed directions and the loft was perfect with everything you need for that weekend getaway.
Carole
August 2016
Fiona was very welcoming and helpful. The loft was beautifully decorated, and easy to find.
Michelle
July 2016
Type de logement
Logement entier
---
Type de propriété
---
Capacité d'accueil
3
---
Chambres
1
Ferny Creek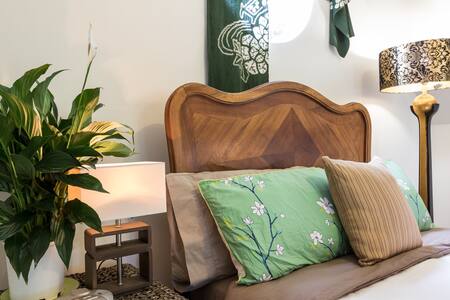 This cosy split-level, 3 bedroom loft apartment, features sparkling new bathroom, walk-in shower, kitchenette, HDTVs, wall heaters, air conditioning, overhead fans, bedding and linen. Just check in and start your family holiday. Upstairs there's a double bed and single bed in separate rooms, downstairs another small bedroom sleeps a 4th person in an extra single bed. Keep the door open and make it an extension of the living room. enclosed courtyard with a Weber-Q gas barbeque. Parking at front
There are no views, but the location, surrounded by tall trees, is so handy... just a 5 minute stroll to the main swimming beach at Cowes , the main town centre and restaurants and shops. Phillip Island's famous Penguin Parade is just a 15 minute drive away. Completely self contained We are located in the main house next door.
Type de logement
Logement entier
---
Type de propriété
---
Capacité d'accueil
4
---
Chambres
0
Cowes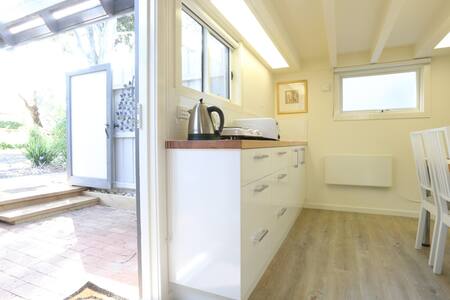 Loft is cool in summer & warm in winter. Just 15 minutes to a Zone 1 station, 35 minutes to the CBD. Chadstone is a 10min bus ride. Bus or walking distance to Monash University & Hospital. Everything for a short or long stay to enjoy, TV, fast WiFi.
The loft is about 39 sq metres which is a lot of room. It comfortably takes two adults with two children. Every item you need to cook and enjoy yourself is ready to use. The ensuite is complete with shower, hand basin and toilet. Queen bed & double sofa bed. We offer good facities suitable for all styles of cooking. The Loft has everything you need, for long stays, a clothes washing machine is available. Car parking is in the drive behind our farm gate. You can wander around the garden, lounge on the deck, play with the dog and cuddle one cat or teach the galh a few words. As little or as much as the guest prefers.
Peaceful, quite, safe, green and friendly, we often chat to all our neighbours. Huntingdale Road has many cafe' that provde a range of cultural meals. Ten minutes minutes to Chadstone bus and 15 minutes to train. Transit bus to Monash University or a 25 minute walk. Bicycle track to Monash.University and Chadstone. From the airport book a chauffer car from http://kennylimousine.com.au/ or https://www.omnicar.com.au/. Taxis do not provide the level of service that a chauffer car does. Bus link to Chadstone shopping Centre. Huntingdale road has many cafe's and restaurants. Close to Monash University.
The garage loft matched the pictures perfectly. It was a wonderful space! Bryce and his wife have set it up so nicely and have thought of everything. Great location, not too far from the city and lots of little places to eat and shop near by.
Cody and Jack
February 2015
The host canceled this reservation the day before arrival. This is an automated posting.
Katherine
Thank you Bryce and Diane, the accommodation was great and the location was as well, being not far from Monash Uni. Thank you both for the breakfast and information regarding directions. It was lovely to meet you both, thank you for allowing us to stay. Warm regards, Paige and Marty
Paige and Marty
February 2016
Bryce is very friendly and welcoming, he welcomed us with a basket of bread, home made jam, honey, and fresh eggs that really made us feel home. The place is as described, and the neighbourhood is calm and close to transportation.
Moataz
December 2015
Bryce welcomed me and my kid as if we had been longtime friends. He showed us around his wonderful garden, where we saw a lovely dog, two cats, chickens, parrots and honey bees. My 5 year old son was always happy throughout the stay as he felt like staying in a farm. The loft was well equipped. I especially loved the gorgeous air-con, which controlled the room temperature and humidity so nicely that we did not experience Melbourne's cold morning or hot evening in the comfortable room.
Takehito
January 2015
Byrce and Dianne were great hosts; very friendly and accommodating. The loft was exactly as described and photographed. Will definitely be staying there again :) Highly recommended.
Stefan
September 2015
The loft space looked exactly what the pictures have shown. It was well furnished and from there, we could see how meticulous the hosts are when it comes to the guests' needs. 1. Air-conditioner/Heater is great for unpredictable weathers in Melbourne 2. Clean linens provided and spacious. It was definitely a comfortable stay for 4 nights and the location is good especially if you're planning to visit Monash University and its vicinity. Hosts are friendly and even gave us their fresh produce straight from their garden! Definitely returning here if I were to visit Melbourne again!
Karen
February 2015
Bryce and Diane were friendly and welcoming hosts. They were generous with their hospitality and made me feel at home. The loft was cosy, photos were accurate, and I would certainly recommend this as a comfortable place to stay.
Sarah
November 2015
Type de logement
Chambre privée
---
Type de propriété
---
Capacité d'accueil
2
---
Chambres
1
Huntingdale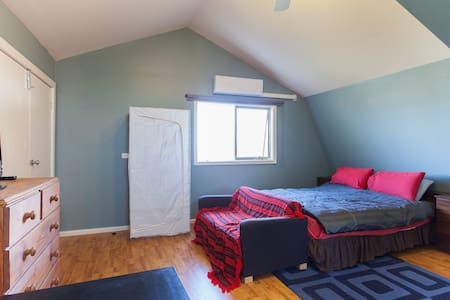 Cozy Loft Apartment with a large Bedroom space that looks out over the Lounge. Walking distance to cafe's, restaurants, supermarket, parks, Caulfield Racecourse and Monash Uni Caulfield campus. There are 3 types of public transport (tram, train, bus stops) available on the doorstep to take you to explore Melbourne.
This is a cozy apartment with full amenities. It is a loft style apartment on the top floor of a double story building with security access with intercom. There is no lift but only 2 sets of stairs. Parking is available under the building. Please let me know if you require this as you will need a remote to access this. Wifi is also available. I am available for guests to contact me between 8am and 10pm daily
This neighbourhood is in a great location as is not in the hustle and bustle of the city but is still only a short distance away from many attractions that are easily accessible by public transport or car. Only 36 minutes from Melbourne Airport and 6 minutes to the Fwy. Caulfield Racecourse is an 8 minute walk away which also makes it the perfect spot to stay for the spring racing carnival. Chadstone Shopping Centre (the largest in the Southern Hemisphere) is just a short 5 minute drive or bus ride away. The city is only 5 stops as well as all the major sporting venues. Catch the tram from out the front door to the famous St Kilda Beach which is only a 20 min journey. There are 3 types of public transport. A 2 minute walk to the tram stop, 8 minute walk to Caulfield train station and a 6 minute walk to the bus stop. There is only 5 stops on the train into the city and only takes 20 minutes on the tram out the front door to get to St Kilda beach which is full of bars and restaurants.
Nadia was very accommodating and happy to help. She made sure my trip was easy and enjoyable. The place was clean and exactly what was advertised. It is was a great place for my trip to Melbourne.
Zach
April 2016
Type de logement
Logement entier
---
Type de propriété
---
Capacité d'accueil
2
---
Chambres
1
Malvern East