Saisissez la date d'arrivée au format jj/mm/aaaa
Saisissez la date de départ au format jj/mm/aaaa
Logements que vous pouvez réserver sans attendre l'approbation de l'hôte.
9 cabanes
· Warmian-Masurian Voivodeship
9 cabanes
· Warmian-Masurian Voivodeship
Saisissez les dates souhaitées pour connaître le prix total. Des frais supplémentaires s'appliquent et des taxes peuvent être ajoutées.
Cet été (juillet et août), vous pouvez essayer l'un de ces 100 logements les mieux notés, dans toutes les gammes de prix, pour découvrir Sonoma d'un point de vue local. Entrée dans les lieux 24h/24, réservation instantanée, mais aussi vin et petites spécialités locales à disposition… autant d'invitations à vous détendre et à profiter pleinement de votre voyage.
We invite you to Masuria to one of the first glamping in Poland. Glamping at Meadow is located on a beautiful masurian meadow , which is part of an old ,beautifully restored mansion in Muławki near Kętrzyn.
Glamping at Meadow - we would like to invite you to Masuria one of the first glamping in Poland. Glamping is a combination of two words - glamor and camping. That gives us luxury camping , situated in a beautiful location , close to nature . Such is the idea of glamping - a luxury in the heart of nature . Our Glamping at Meadow is set on a 1 hectare of beautiful meadow , in the village Muławki near Kętrzyn . The meadow is part of the historic , beautifully restored Manor Muławki , separated from it by mysterious old park , which guarantees peace and privacy. Meadow besides peace and rest from the hustle and bustle , it provides closeness to nature . Daily guests on it are storks , cranes , birds of prey and many other animals that can be seen from the terrace. Our meadow and surrounding Glampingu provide direct contact with nature. We prepared for our guests terrace covered with awning , fireplace , hammocks , barbecue . We gladly give support and show our guests the unknown Masuria .
Glamping at Meadow is located in the village of Muławki near Kętrzyn . This location makes us a great starting point for a whole Masuria . Ketrzyn alone offers plenty of tourist attractions - including Teutonic Castle and the historic church, the second in Europe in terms of size Stud Stallion , Masonic Lodge and the nearby historic quarters of Hitler - Wolf's Lair , the Museum of Mazury in the flock . In the vicinity of Kętrzyn there are many scenic cycling routes , and would still creating new bicycle paths . From us it is also close to Mrągowo ( 23km ) , Giżycko (35 km ) and Mikołajki (41 km). Everyone will find something for himself! Glamping is located on Meadow , you can park your car on it . We have bikes for our guests. Glamping at Meadow is designed for 2 people. We also have 2-bedded tent , which on your request we can prepare. It would be a great option for children . Tent rental is included . For people who want to come with a bigger group , we offer accommodation in a nearby Manor Muławki ( 2 doubles ) .
Beautiful Glamping surrounded by beautiful nature!!!! We stayed three nights at the little house full of many details and it was really wonderful!!! Especially the turntables with many different plates! Tomasz and Pavel are very friendly and helpful! If you need something - just ask! Pavel lives just right behind the house. But at the same time you have your privacy. There is a barbecue and an outdoor fireplace. We were allowed to use bicycles for free and were able to explore the surrounding area. If you´re looking for a quiet, peaceful place in the beautiful surrounding of the Mazurian lakes, you should go for it!!
Dana
August 2015
Everything was just great!
Martyna
May 2016
We enjoyed staying at Tomasz Glaming at Meadow. Cosy place with just the things you need to relax.
Coen
August 2016
Thank you Tomasz for making the meadow such a welcoming, cozy place that provides everything needed for a relaxing stay:) We had an awesome time and the nearby bistro is, as the Glamping itself, created with much dedication and love for detail! Great communication, helpful reccomondations for trips to nearby gems included! Hopefully we will come back one day:)
Tina
July 2016
Tomasz and Gosia (also need to mention Paweł, The Count, living in nearby mansion) are all very friendly and helpfull hosts who can tell you many interesting things about neighbourhood. In their recently opened cafe/restaurant you can taste local cuisine served by Tomasz. Glamping house itself is located on the meadow just like it's pictured on the photos. We spent four wonderfull nights there and the balance between wilderness, privacy and being taken care by hosts was just great. We'd love to spend some more time there.
Maciej
June 2016
Es war eine große Freude im Glamping zu wohnen! Es ist wirklich so schön wie auf den Fotos und sehr gut ausgestattet! Wie ein Kunstwerk - dieses Glamping. Gerne wieder!
Karoline
August 2016
Nasz wyjazd do Glampingu to był istny strzał w 10! Domek ma wysoki standard, jest pięknie urządzony i posiada przemiłych gospodarzy, którzy zadbają o jak największy komfort w czasie twojego pobytu. Mogę śmiało polecić to miejsce dla par, które chcą uciec z miasta i spędzić kilka dni na Mazurach. Wiem jedno - do Glampingu na pewno powrócimy i będziemy polecać to miejsce znajomym!
Marcin
May 2016
The host canceled this reservation 16 days before arrival. This is an automated posting.
Tomasz
Type de logement
Logement entier
---
Type de propriété
---
Capacité d'accueil
2
---
Chambres
1
Muławki
Kasia, Marek i ich pocieszny piesek Benio bardzo ciepło nas przyjęli, zawsze służyli pomocą i sprawili, że czuliśmy się jak u siebie. Domek jest pięknie urządzony i bardzo funkcjonalny. Okolica to istny cud natury z pięknym polem lawendowym i lasem na wyciągnięcie ręki. Gorąco Polecam!
Adam
May 2016
Dear Marek! Thank you so much for hosting us in your beautiful place! We felt so well in your tasteful and cosy tiny house in the middle of fields and woods! We can highly recommend this place to people who love nature, who are not missing any TV or tourist action programm and who find romance between falling stars and the sound of singing crickets and yelling cranes! We hope to return to this place some day. All the best fou you and your wife!
Helena
June 2016
Very smart and cozy! We love it!
Mandy
July 2016
Goraco polecam domek lawendowy. Gospodarze: Pan Marek oraz Pani Krystyna sa przemilymi osobami, a ich pupil, piesiek o imieniu Benio jest najprzyjazniejszym psem na swiecie. Sami sie przekonacie jak bedziecie mieszkali w domku. Miejsce urokliwe. Czisza na okolo.Piekny las z dwoch stron domku. Lawendowe pole tuz z boku domku. Domek wyglada jak z obrazka. Jezeli Szukasz wyciszenia, spokoju z dala od miasta, to miejsce jest dla Ciebie. Pozdrawiam serdecznie z Chicago. I highly recommend this place. The hosts, Marek and Krystyna, are super friendly. Their dog, called Benio, is one of the most friendliest dogs I have ever met. You'll see it yourself when you stay at Marek's place. If you are looking for peace and tranquility - away from city noise - you have found your place in Masuria, in Poland. The little house looks and feels picture perfect. Warm greetings from Chicago.
Dan
June 2016
I spent with my friends some days in Mark and Kasia place. I'm really fall in love with this paradise and I know I will come back there. Marek and Kasia are the best host as I have possibility to meet - They are friendly, open-minded - We had a great pleasure to spent evening togheter! The home is located in green paradise where all around are forests. I think it's nice place if You want to spend some with nature without crowd. Thanks for everything!
Magdalena
August 2016
Picturesque neighbourhood, little but cosy house, super-friendly hosts.
Anna
August 2016
Same pozytywy. Domek bardzo ładny, co widać zresztą na zdjęciach, z gustem i dbałością o szczegóły. Gospodarz bardzo uprzejmy. Oprócz ludzi jest i pies Benio, który wdzięcznie zabawia swoją obecnością. Duża działka, idealne miejsce na spokojny wypoczynek.
Krzysztof
August 2016
Marek and his wife are great hosts. Both welcomed us very warmly and helped us with great information about the region, delicious restaurants and gave us ideas for trips to beautiful cities and sights. The description of the house is absolutely right. Its such a romantic, peaceful and quiet place to relax. And also it is a perfect place for day trips to lakes and historic cities nearby. We've enjoyed our stay a lot and it was very hard to say goodbye. If we will come back to this region we will stay there again!
Robert
August 2016
Type de logement
Logement entier
---
Type de propriété
---
Capacité d'accueil
4
---
Chambres
0
Wipsowo
Miejsce idealne. Domek zapewnia wszystko, czego potrzeba. A oprócz tego szum drzew i wyśmienite towarzystwo radosnych psiaków z sąsiadującej leśniczówki.
Marta
July 2016
Przepiękna i spokojna okolica. Fantastyczne lasy i bajkowe leśne jeziorka. Ewa bardzo serdeczna i więcej niż opiekuńcza, to wymarzona gospodyni dzięki której naprawdę czujesz się jak u siebie. Polecam wszystkim, którym marzy się odpoczynek od miejskiego zgiełku i hałasu.
jakub
August 2016
Unfortunately we did not meet Ewa personally as we arrived pretty late in the evening, but the communication with Ewa in advance was very easy and she made sure that we got the keys to get into the beautiful house. The house is really in the middle of nowhere between fields and forests in an absolutely stunning landscape. The house is lovely. Nicely decorated which even made the two rainy days a cosy experience. But of course we also enjoyed the final sunshine with breakfast in the morning sun on the nice terrace and relaxing in the hammock within the wonderful garden. The house is very well equipped, you will find everything you need. However, as it is really in the countryside it takes you about 15min by car to get to the village to buy some groceries. For us that was no problem at all, we loved it the way it was and would definitely like to come back. Thank you Ewa for this nice stay, for preparing everything so nicely and for the yummie jam and pickles. Miriam & Matthias
Miriam
August 2016
Type de logement
Logement entier
---
Type de propriété
---
Capacité d'accueil
4
---
Chambres
1
Czarny Bryńsk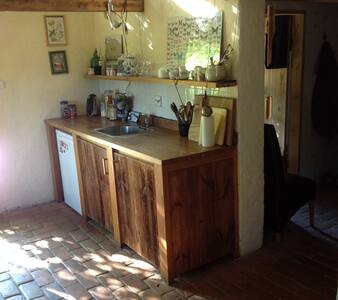 Wszystko zgodne z opisem. Domek czysty, wyposażony, w dobrym stanie. Gospodarz był bardzo kontaktowy i pomocny. Polecam!
Justyna
May 2016
Wszystko tak jak w opisie, gospodarz bardzo sympatyczny i uprzejmy. Domek czysty, wyposażenie wystarczające, okolica spokojna i cicha. Pozdrawiam gospodarza i polecam innym to miejsce
Paweł
July 2015
Bardzo fajne miejsce na weekend za miastem. Domek przytulny,ładna okolica. Dużo miejsca pod zadaszeniem przy domku gwarantuje możliwość spędzenia czasu na wolnym powietrzu nawet, gdy pada. Ok. 3 km od domku jest duży zalew. W okolicy pola i lasy. Gospodarz przesymatyczny ☺. Na pewno chętnie tam wrócimy ☺.
Alicja
July 2016
Отличное место для загородного отдыха. Можно отдохнуть от городской суеты и побыть в тишине. Рядом с домом есть детская площадка. Хозяин приветливый и доброжелательный. Рекомендую!
Alena
July 2016
Domek ładny i przytulny. Okolica urocza. Wlaściciel bardzo sympatyczny i słowny. Wszystko bardzo profesjonalnie zorganizowane. Polecam!
Marcin
April 2016
Type de logement
Logement entier
---
Type de propriété
---
Capacité d'accueil
6
---
Chambres
3
Myszyniec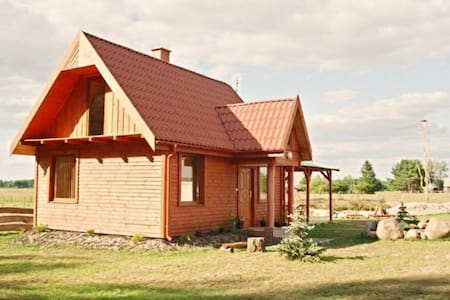 Jestem bardzo zadowolona z pobytu u pana Macieja - Gospodarz bardzo sympatyczny i pomocny. Domeczek śliczny i czyściutki w pełni wyposażony i do tego jeszcze basen do wyłącznej dyspozycji oraz rowery. Jezioro ciepłe i czyste, las pełen jagód i grzybów, łąki pełne bocianów i krów - ogólnie bardzo polecam to miejsce, jeśli ktoś szuka spokoju i ciszy - takiej sielanki mazurskiej wsi i miłego gospodarza
Anna
August 2014
Piękna okolica, wszystko jak w opisie, a nawet jeszcze lepiej! Kontakt z gospodarzem na piątkę z plusem, pan Maciej jest bardzo otwarty na swoich gości, wszyscy byliśmy bardzo zadowoleni z pobytu. Świetnie wyposażona kuchnia, ogromnym plusem są też rowery udostępniane przez Gospodarza. Serdecznie polecam
Nina
August 2015
Type de logement
Logement entier
---
Type de propriété
---
Capacité d'accueil
4
---
Chambres
0
Marksewo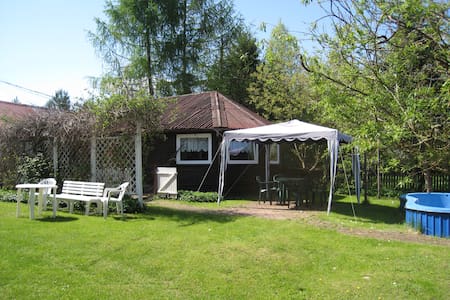 Das Haus in Wilkasy ist für Besucher mit ganz wenig Anspruch gut geeignet. Uns hat es nicht so gut gefallen, weil die Ausstattung zwar sehr neu aber sehr minderwertig war. Es gibt leider auch keinen Zugang zum See, der auf dem Bild im Hintergrund zu sehen ist. Und auch die angegebene Kinderfreundlichkeit konnten wir nicht erkennen. Bettwäsche war da, aber außer einem Händehandtuch im Bad und zwei kleinen Waschlappen in der Küche nichts.
Christin
July 2016
Type de logement
Logement entier
---
Type de propriété
---
Capacité d'accueil
6
---
Chambres
1
Wilkasy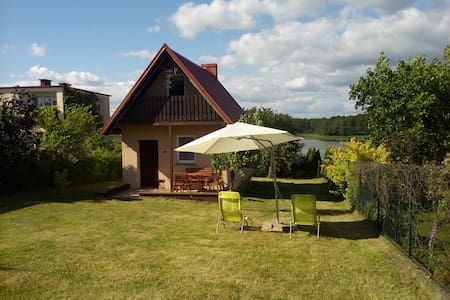 We had a great time, even though it was just one night. Nice terrace, nice view, nice host, in two words - nice place!
Janek
August 2016
Type de logement
Logement entier
---
Type de propriété
---
Capacité d'accueil
6
---
Chambres
2
Górzno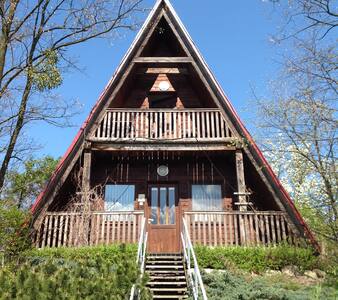 The cabin and lake are amazing, perfect location...nice and isolated yet a 7 minute drive to town!
Kellie
September 2016
Type de logement
Logement entier
---
Type de propriété
---
Capacité d'accueil
6
---
Chambres
2
Węgorzewo