Saisissez la date d'arrivée au format jj/mm/aaaa
Saisissez la date de départ au format jj/mm/aaaa
Logements que vous pouvez réserver sans attendre l'approbation de l'hôte.
14 Bed & Breakfasts
· Wilkes-Barre
14 Bed & Breakfasts
· Wilkes-Barre
Saisissez les dates souhaitées pour connaître le prix total. Des frais supplémentaires s'appliquent et des taxes peuvent être ajoutées.
Cet été (juillet et août), vous pouvez essayer l'un de ces 100 logements les mieux notés, dans toutes les gammes de prix, pour découvrir Sonoma d'un point de vue local. Entrée dans les lieux 24h/24, réservation instantanée, mais aussi vin et petites spécialités locales à disposition… autant d'invitations à vous détendre et à profiter pleinement de votre voyage.
Located in historic downtown Wilkes-Barre,our rooms all have private ensuite baths,queen beds,direct tv,fridge.Rates include breakfast and off-street parking.The house,circa1865,is furnished with antiques and period furnishings.Close to I81 and area attractions.
Delightful. Terrific experience-tempted to visit Wilkes Barre again to just extend the experience! Thank you.
Tf
October 2016
Cecilia and her husband, Gordy, were fantastic! My wife and I could not have asked for a better first experience at a bed and breakfast. They were so helpful with recommendations of places to see in the area. Breakfast each morning was phenomenal (eggs benedict on croissant and gluten-free blueberry ricotta pancakes)! And the Hillard House was even more beautiful in person. The rooms are spacious and comfortable. Coming back after visiting neighborhood vineyards and breweries, the front porch makes for a fabulous evening. We highly recommend staying at the Hillard House with Cecilia and Gordy!
Cameron
May 2015
Very charming house in nice neighborhood! Cecilia and her husband were the perfect hosts!
Matthieu
May 2014
We had a very nice stay at the Hillard House, a mansion from 1865 on the bank of the Susquehanna River (though you can't see river from the house). It was easy to communicate with Cecilia, and we enjoyed a nice breakfast along with the other tenants of the B&B, prepared snd served by Cecilia and her husband. The B&B has many common areas, for sitting and reading, and our room was nice with a great mattress and a small but nice bathroom. A good value for those wishing to stay in Wilkes-Barre.
Stewart and Lucero
August 2015
Our hosts were very welcoming and helped with our bags. We stayed there only for one night, but we enjoyed a charming, historic, well maintained home. We met wonderful people at breakfast and had great conversations.
Zbigniew
June 2015
Cecilia and her husband Gordon (Gordy) treat their guests with consideration, respect, and a warm sense of humor. My eight nights with them were wonderful. A great environment, a lovely old house, a comfortable bed, delicious breakfast, and the chance to get to know the two of them and laugh together. No matter what brings you to Wilkes-Barre, your trip will be exponentially enhanced if you stay at Hillard House.
Suzanne
June 2016
This B and B was excellent. The house was very cool and I enjoyed the antique items around. The hosts were super nice and provided a wonderful breakfast
Jackson
June 2016
Type de logement
Chambre privée
---
Type de propriété
---
Capacité d'accueil
2
---
Chambres
1
Wilkes-Barre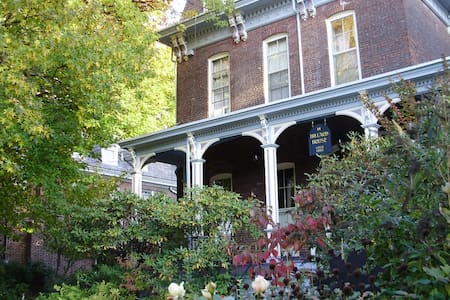 Welcome to Whitewater Farm and thank you for checking us out! Welcome to White Water Farm! My husband and I along with our 15 month old son live on this property that has been in our family's hands for over 30 years. This rental is for the furnished guest bedroom inside our 1890's farm house. It is located on the second floor of our home; a double bed is provided and guests have access to a bathroom with shower. There is also a half-bathroom available on the first floor. Guests from both of our listings share the bathrooms. My husband and I (and son who rarely cries but it is a possibility!) live at the end of the upstairs hallway; our room is separated from the guest room by 25 feet. The house does not have A/C but in the summer we provide a fan for the bedroom and welcome you to open the windows to let in the cool night air. During winter, we rely on our wood-burning stove to heat the house. An electric space heater is also available upon request for the guest bedroom. Guests should expect clean linens, fresh towels, and coffee/tea and bagels/butter/jam in the morning. All other food is supplied by guests, and they are welcome to use the oven, stovetop, and microwave in our kitchen to cook meals. Wi-fi is available throughout the house. Washer and dryer available. Please bring outdoor towels for swimming in our pond/river along with you. There is a friendly lab mix dog that lives in our house (named Lucy) along with our newest addition, a Blue Tick Heeler puppy (Rowdy) and a social half-Siamese cat (named Big) as well as his nephew (Zig). Our pets do not have access to the guest bedrooms, but they are permitted in other rooms in the house as well as outside. In our backyard, we have several chickens and peacocks. Our rooster crows in the morning so if this sort of sound affects your sleep schedule, please reconsider booking with us. At White Water Farm, every window holds an amazing view! The entire property is surrounded by lush Pennsylvania forest and farmland. Corn, soybeans, oats, wheat and potatoes are the main crops that you pass as you drive up our road on the way to the apartment. Attached to the house is a gorgeous wrap-around front porch with fantastic views of the fields; just the most perfect spot to wake up to with a cup of coffee in hand! There are hiking, biking, and horseback riding trails within range and a gorgeous river which white water rafters flock to throughout the year; hence, the name White Water Farm. Rafters arrive from near and far to take on the challenge of the Nescopeck River that cuts through the property! Guests at the house typically enjoy walking or running on the two mile nature trail. The area holds a variety of wildlife, including deer, raccoons, migratory birds, and all the other native species of the Blue Mountains. I am often around to give a mini-farm tour of my parents' potato & grain farm and I'd be thrilled to do so! The tour lasts 30-60 minutes and there are several historic and interesting barns on the property that seem to wow people of all ages. I am also available to give beginner riding lessons on one of my amazing lesson horses IF my son is in daycare, which is most often on weekdays rather than weekends. Lessons are one hour long and cost $30. Basic horsemanship skills are taught and one will leave the lesson with a new found appreciation for all things equine. Couples or groups up to 2 may split the lesson so that each person gets individual ride time within the hour. Helmets are provided and required for wear. Running the farm and horse stable keeps my husband and I quite busy, but we are always available if guests have any questions and we spend most evenings on site. Local Information: White Water Farm is located just west of the Pocono Mountain range in northeastern Pennsylvania. The nearest city is Hazleton, PA with a population just under 20,000. Wilkes-Barre is a 20 minute drive away; Scranton is 35-40 minutes away. We are conveniently located within 1 mile of Interstate 80, the main east/west route through Pennsylvania. Easy on/off. Within a three mile radius, one has access to a grocery store, liquor/beer store, local restaurants, and several gas stations. Everything you would need is in this valley. Come see for yourself how beautiful Pennsylvania can be! The closest grocery store is Goulds' ShurSave, located along Route 93. Less than 2 miles away, it is located in a shopping center that has a beer store, liquor store, pizza restaurant, pharmacy, and tobacco shop. There are a wide array of local restaurants with exceptional food, including The Frogtowne Bar & Grille (located just 1 mile away), Sally's Country Inn, The Meating House, Brass Buckle, etc. Local attractions include: Knoebals Amusement Park, Elysburg, PA Centralia, PA (underground burning city) Laurel Drive-In (open seasonally), Hazleton, PA Jim Thorpe, PA (historic mining town with train rides available!) Cinema and Drafthouse, Ha...
Blakslee and her husband, Raleigh were wonderful hosts. They made the seven people in our party all feel welcome. We rented the 1 Bedroom in the farmhouse and the Loft above the garage. The farm was lovely. We enjoyed the farm tour, the garden tour, watching the chickens, swimming in the pond, the fire pit and the living space. We were very appreciative of the breakfast items including farm fresh eggs.
Anne
September 2016
Blakeslee and Raleigh were wonderful hosts-- so friendly and warm, and shared their breakfast of biscuits and gravy with us on Saturday morning as we chatted about family and farming. The room was super cozy and the quilts kept us nice and warm. We loved walking around the house and checking out the garden, the chickens and rabbits and the location of the house was the perfect-- only ten minutes or so from the wedding we were in town for. JP and I especially appreciated that Black snapped a picture of us as we were headed out-- so thoughtful! We wish we could have stayed longer to explore more, but if we're back in the area, were love to stay with them again!
Alyssa
October 2016
Blakeslee and Raleigh were excellent hosts. We arrived and were immediately in awe of the beautiful landscape. They are very connected to the land and the people of their community, which made our short time at their farm very relaxing. The old farmhouse is very charming and beautifully decorated. We liked the view of the fields and lake in the morning from our window a lot. What a nice start of the day.
David
May 2013
The B&B was very cozy and warm. Blakslee was very kind (and her scorne was great!)
JinSeok
February 2015
It is always a pleasure to stay at Blakslee's! The farm is beautiful, Blakslee and Raleigh are friendly and kind and the room is lovely and comfortalbe. Blakslee is so thoughtful, there is everything you might need, down to a covered pitcher of water and glasses in the bedroom, and coffee, cereal and fruit in the morning. Their restored farmhouse is renovated, comfortable, clean, attractive and welcoming.
Cynthia
August 2014
This place is run like a well-established bed & breakfast but has all the coziness of staying at a friend's house. It's the perfect balance of hospitality and freedom, and I would definitely go back again! The horseback riding lesson was great, too!
Heidi
November 2014
We had a wonderful time! Blakeslee and her husband were so welcoming and the house was charming. Breakfast was delicious and laid back, and I loved having the dogs and cats around.
Quinn
February 2015
My wife and I had a fantastic stay with Blakslee and her family at their awesome farm property! She was very understanding and accommodating, even after we got in much later than expected on night one. The house and property were gorgeous. We had clean sheets and towels waiting for us, breakfast available every morning, great advice for local attractions (go to the Burger's Farm market for pumpkin picking!), and a beautiful, kind family to spend the weekend with. The highlight of our short weekend was hiking in the woods with Blakslee's two dogs. They guided us through the beautiful nature trail (without leashes!) and entertained us thoroughly. Our room was quaint and rustic. It was the perfect spot to stay in order to recharge our batteries from our hectic city lives! We only wish our stay was longer. We will absolutely come back if possible, and we have already recommended this stay to many of our friends. Thank you Blakslee and your wonderful family. We had a blast!
Ben
October 2016
Type de logement
Chambre privée
---
Type de propriété
---
Capacité d'accueil
2
---
Chambres
1
DRUMS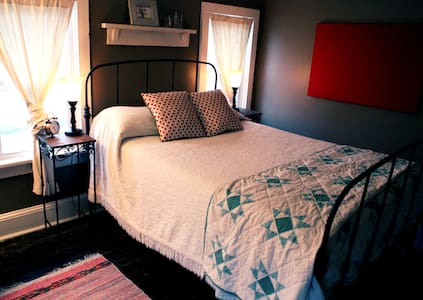 The Colonnade is a unique boutique hotel and event space located in beautiful downtown Scranton. Each suite has a private bedroom, bathroom and sitting room. Free wireless internet and honor bar. Continental breakfast tray delivered to your door available upon request.
The Colonnade is 140 years old! It was renovated and restored in 2006. The guest suites are on the second floor and accessible via a private rear entrance. The first floor is an event space and is often booked with private events. Tours of the property are available upon request. Paul and or Josh will greet you to check you in. They will point out a private guest entrance which the guest should use for the duration of the stay. Paul and Josh are on site or accessible by cell phone at all times.
Our neighborhood is on the cusp of the downtown. We are one block from Courthouse Square, the city center. We are also on the boarder of the University of Scranton. Buses and taxis available. We are one block from the city center and walking distance to most downtown attractions. Paul and Josh own a restaurant 2 blocks from The Colonnade. The restaurant is called POSH at The Scranton Club. posh@sc.com
Very beautiful hotel suite and property. Comfortable mattress and delicious scones and coffee/tea for breakfast delivered to the room.
Tyler
October 2014
Thank you very much for the stay. Service was great, suites were fantastic and overall stay was very pleasant and enjoyable.
Paul
March 2016
I had such a wonderful stay at the Colonnade. Paul was so kind - I didn't get into Scranton until late at night and he stayed up and waited for me! The rooms are spacious and comfortable and the rest of the hotel is beautiful. I would highly recommend staying here!
Natalie
January 2016
The suite is perfectly appointed with amazing attention to detail. The space is thoughtfully laid out and beautifully designed. We had a wonderful nights sleep.
Carl
November 2014
The host canceled this reservation 10 days before arrival. This is an automated posting.
david
Another wonderful stay at the beautiful Colonnade! Highly recommended!!
Ghazal
January 2014
The Colonnade was impressive and the room comfortable and clean. We did feel a wee bit abandoned and we did not see our host, or anyone, except when we arrived. We did have a couple of issues, and were unable to reach anyone on the phone. One of the issues we ended up resolving on our own and the other by text message with the host when we realized calls were not working. Even in the morning when our light continental breakfast was dropped off outside the door, we did not see anyone. The room was warm and cozy but the rest of the house was unheated and inaccessible to us. This was all ok, but these are things to be aware of. Paul did quite nicely help us up with the luggage when we arrived. And he kindly made me an egg as a substitute for the pastry they serve as I can not eat sugar. All in all we were comfortable but felt slightly like we were in a deserted house.
Erica
March 2014
We had a lovely second stay at the Colonnade. Paul was discreet and available when needed. All was comfortable and clean. Great central location.
Erica
June 2014
Type de logement
Chambre privée
---
Type de propriété
---
Capacité d'accueil
2
---
Chambres
1
Scranton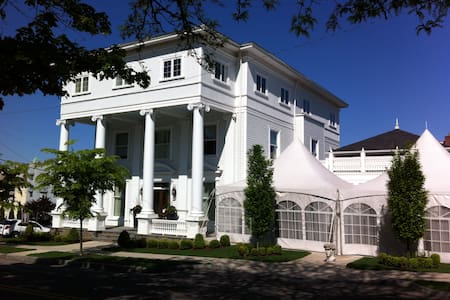 Each Suite restored back to the original 1882 origin features TWO Master Bedrooms & 1 Bath.You will have the choice of reserving your stay in one of our three suites- Cleland, Fritz, or Patterson. 'Once-in-a-Lifetime' stay! We are close Montage Mtn.Ski Resort & the famous Pocono-Mountains.
Breath-takingly gorgeous B&B, faithfully restored back to its 1882 origin! Each Suite features TWO Master Bedrooms, & sleeps 4-6 Guests! Offering you only the finest First-Class cuisine and L'Occitane amenities. You will have the choice of reserving your stay in one of our three suites- Cleland, Fritz, & Patterson Suites- each artfully themed after the Historical owners. Your choice of Suite is adorned in Lavish antique furniture and professionally designed to provide you with a 'Once-in-a-Lifetime' stay! You will also find a perfect abundance of Cultural & Entertainment resources in the Local Downtown Scranton, Montage Mt.Ski Resort & the famous Pocono-Mountains area. Our Chief Gwen Earles makes an "order only" breakfast menu that is specialized for each individual guest.
Type de logement
Chambre privée
---
Type de propriété
---
Capacité d'accueil
5
---
Chambres
1
Scranton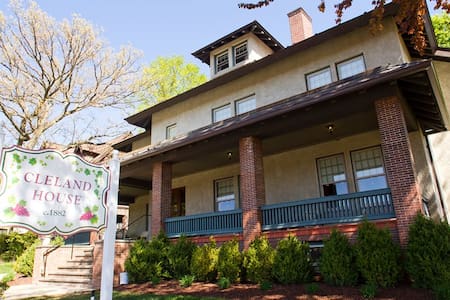 My name is Cassandra Fleming,I am your inkeeper at North Street B&B is a place to come and let your hair down I have three rooms to rent.The first room is call the teacup rose room all the colors say just that. It has a beautiful canopy over the bed and the decore is wonderful.My other room is call the victorian room has a great victorian bed that is so comfortable and large, floor model tv with cable, air conditioner, and beautiful colors that will put you in a romantic mood. My last room is call the coco channel it is design with just that the bedding is coco colors with champane trimmings this is a must see it also has ac, and a tv to watch dvd which we have for your pleasure.We have a pool and a gym to keep you in space while you are on vacation. We have two porches over looking the moutain views we are 5 minutes from the town where all the action takes place. We have internet access and parking. I am a great host and cook you will not be disappointed My website is Bed & Breakfast .com or you can log into book your room for a delightful retreat.Hope to see you soon!
From the moment you walk in you feel like family! Cassandra is one of those people I would love to sit and talk with all day! She made my daughter feel soooo special by getting her a little something for her birthday. What a sweet touch! Everything was perfect! Not a complaint ! We will def be back !!!! Thank you Cassandra!
christina
October 2015
My lovely boyfriend & I had a wonderful stay at Cassandras beautiful home. We decided to book this little get away to enjoy a nice fall weekend in Jim Thorpe. We were greeted with a bottle of wine and given a tour of the house where the entire upstairs was reserved for the two of us. The home is cozy and comfortable. Cassandra made sure we had everything we needed and the home had a seperate entrance & exit for guests which was very convenient. It truly felt like home! The next morning Cassandra cooked a delicious american breakfast with scrambled eggs and served with fresh coffee. It was the perfect way to get us on the road! Overall, exceeded our expectations.
Courtney
November 2015
Cassandra was an extremely accommodating and thoughtful host. She was a great cook, providing breakfast and fresh baked cookies upon arrival. We would highly recommend staying with Cassandra
Chris
September 2014
Had an excellent time! Cassandra was a very welcoming and pleasant host. The space and location are top notch. Getting to Broadway, the main thoroughfare in downtown Jim Thorpe, is only a ~15 minute walk. Tons of great restaurants, bars, and shops in close proximity. We can't wait to visit again.
John
June 2015
Cassandra's house was warm and inviting. When we arrived, she had baked delicious chocolate chip cookies and welcomed us to her home. Her house had a private entrance, a private kitchen and sitting area. There was more than enough room to spread out. She provided a delicious breakfast in the morning and was a joy talk to. Her house is a short drive to the center of town and very close to the market to purchase groceries.
David
October 2015
We had a brief but great time at the North Street Bed & Breakfast. Cassandra was a great host and very flexible. We loved her dogs! Plenty of space to ourselves and a great breakfast. Short walk to town for dinner. I definitely recommend staying with her in jim Thorpe!
Laura
August 2015
Cassandra was a wonderful and hospitable host. My wife and I love our stay there!
Sanjiv
August 2014
Cassandra provided An anniversary cake and bottle of champagne. She was a wonderful hostess, and we really enjoyed our stay.
Mark
September 2016
Type de logement
Chambre privée
---
Type de propriété
---
Capacité d'accueil
2
---
Chambres
1
Jim Thorpe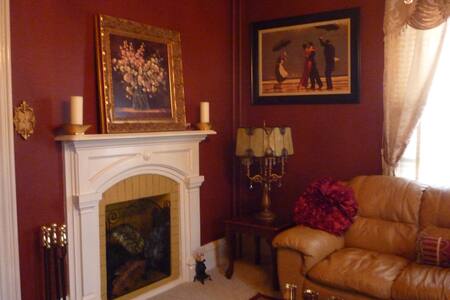 The Lodge at Raven Creek- Our beautiful B&B offers travelers a place to relax or get out and enjoy nature. With clean & simple decor, our Lodge is the perfect getaway location.
Our Lodge has 4 Bedrooms, 2 Bathrooms, a living room, dining room and kitchen. You can rent 1 room or rent the entire Lodge nightly or weekly. You'll also have access to our beautiful wrap-around porches, our lush backyard, and enjoy our campfire pit.
Our quiet neighborhood is peaceful and simple yet within driving distance to many great attractions. Country living at it's best! We are 20 minutes from Bloomsburg University, 10 minutes from Rickets Glen State Park, and 45 minutes from Wilkes Barre
The Lodge has a very nice atmosphere with the beautiful gardens surrounding it, the wrap around porch; the room had a nice cabin feel to it. Brooke is a great host and prepared lovely breakfasts. She also gave good information about the surroundings with respect to hiking, restaurants, shops etc.
Louise
June 2016
Brooke and Corey were very welcoming, accommodating hosts and the B&B was lovely and peaceful. We were in the area to hike in Ricketts Glen State Park -- would definitely recommend hiking Falls Trail at the park and staying at this B&B nearby.
Valerie
June 2016
The lodge is beautiful and Brooke's hospitality is wonderful! I would definitely recommend to my friends. Sidenote: cell phone reception seemed to be very spotty (or usually non-existent), probably depending on what service you have, so I would recommend getting all the information you need prior to getting to the lodge, just in case!
Christina
October 2016
N/A
Rebecca
November 2016
We stayed at the lodge twice - please see the review we posted after the second stay. We had a wonderful experience!
Peter
August 2015
We had a wonderful time at Brooke's Airbnb lodge. Even though Brooke and her husband were away the weekend we stayed there, we felt right at home thanks to her friendly treats left outside, the beautiful open nature of the lodge, and the additional supplies she left in case we had forgotten anything. It was an absolute pleasure to get away from it all for a weekend-- even cell service! Brooke was so thoughtful and her home was gorgeous inside and out. We felt lucky to stay there on our way to Rickett's Glenn for the falls hike.
Doug and/or Juliette
September 2015
The host canceled this reservation 19 days before arrival. This is an automated posting.
James
My wife, our toddler, and I stayed at Brooke's B&B for a night on an outbound drive that we wanted to split up. We had such a good experience that we stayed there again on the way back. Brooke and her family are very warm and welcoming - even offering to meet us when we got in quite late one evening. We all instantly felt at home in this lovely, lovely family-run lodge. We had two fantastic nights of sleep - great beds, dark rooms, and peaceful quiet. And we awoke to wonderfully tasty, filling breakfasts (one of which we had on the porch - so nice!). I don't think I've ever had better peaches, and our son absolutely devoured them! The grounds are beautiful, and they are in the process of adding a pond, which will make them even nicer. We understand that the owners purchased the place just a few weeks ago, but we experienced none of the hiccoughs that one might expect from a new business. We highly recommend Brooke's lodge with no hesitations for shorter or longer stays. We also think it would be perfect for large events, like weddings.
Peter
August 2015
Type de logement
Chambre privée
---
Type de propriété
---
Capacité d'accueil
2
---
Chambres
1
Benton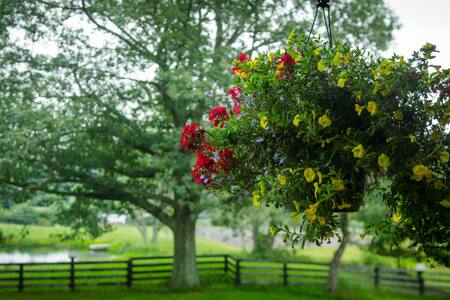 The Old Tioga Inn offers 3 - 4 private bedrooms with their own private baths. The Master Quarters - This large main floor deluxe master bedroom with the private bath is top of the line in luxury. It features a two-person Jacuzzi hot tub with 12 jets to relax after a long day. There is also a two person standing shower. The room features a soft king-sized bed with room to spread out and rest. There are his and her closets with abundant room for hanging clothing as well as dressers for storing all of your needs. The room features French doors with a view of the North Woods, look closely as you may see many types of wildlife passing through. This room offers a great romantic get-away or celebrate a special night for the two of you. You deserve to treat yourself to this luxurious experience! Sit back and relax while you enjoy our newly completed private deck that is part of the Master Quarters. In the morning, you will awake to a wonderful hot home-cooked breakfast!
Terrific lodge near hiking and lovely host Awesome country breakfast
Mariann
September 2015
Type de logement
Chambre privée
---
Type de propriété
---
Capacité d'accueil
2
---
Chambres
1
Benton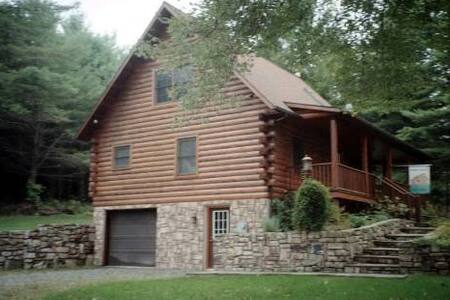 The Master Loft is a large private bedroom located on the second floor of the home. It is the only room located on this level. It offers privacy. It has a private bathroom with stand up shower. The bedroom has a king size bed, as well as a pull out couch for additional sleeping space. The room also features air conditioning, ceiling fan, satellite TV, and a table (sitting area). In the morning you will awake to a wonderful hot home-cooked breakfast.
Felt like home. Welcoming and accommodating from the start. Stayed with my daughter for a girls weekend close to home. Enjoyed the quiet and the breakfast was delicious. Would recommend
Cindy
August 2016
Excellent experience: very much appreciated the personal guidance about Ricketts Glen trails and access points. Wonderful campfire spot too -- and lots of friendly pets.
Eric
June 2016
Type de logement
Chambre privée
---
Type de propriété
---
Capacité d'accueil
4
---
Chambres
1
Benton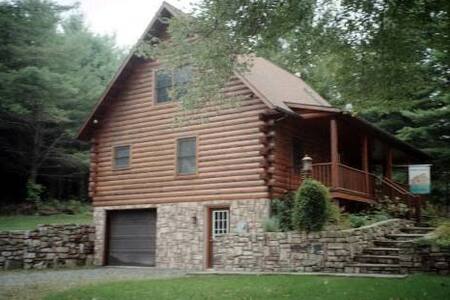 My place is close to local amenities and attractions, Berwick Hospital Center, and BIDA Business Complex. You'll love my place because of the coziness, the high ceilings, the views, and the location.
Type de logement
Chambre privée
---
Type de propriété
---
Capacité d'accueil
3
---
Chambres
1
Berwick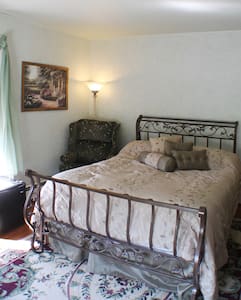 4 miles to Ricketts Glen State Park.
The Hunter's Paradise – The bedroom and private bath are on the main level of the home. The room has a full-sized bed with a private bath across the hallway. There is ample closet space and a built in table for sitting and dining. There is also plenty of storage room for you with the built-in shelves. This room features a grand experience of deer antlers and mounted fish. You will enjoy a home-cooked breakfast with your stay.
My husband and I stayed for one night. Communication with the host was good. About an hour or two before we arrived our host left us a voicemail explaining that they would not be there when we arrive. She have detailed instructions on doing a self check in. We had no problem finding our room. We never did meet the hosts. There were cookies and zucchini bread as well as some drink on the kitchen Island. The cookies and zucchini bread were covered with plastic wrap. I'm not sure how long it was there but there was a small amount of mold on the bottom of the zucchini bread. Our room was nice and had an air conditioner in the window. There were other instructions and info on the table in our room. We also had a small refrigerator which was helpful. The private bathroom was clean but both the tub and sick weren't draining very well. The bath mat on the tub floor had a long crack down the middle. This made me nervous about germs especially when the drain wasn't working fast enough. We had access to a beautiful living room and dinning room as well as front porch. This is a hobby farm also so there were goats and chickens. A friendly cat hangs out on the porch and was quite bold about getting at my food! Lol.
Margaret
August 2014
Type de logement
Chambre privée
---
Type de propriété
---
Capacité d'accueil
2
---
Chambres
1
Benton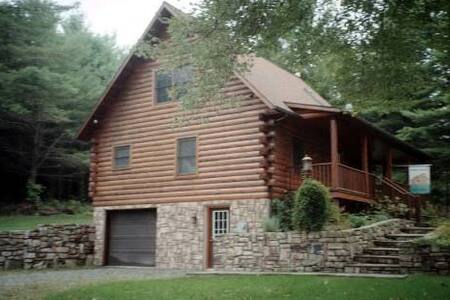 My place is close to local amenities, Berwick Hospital, BIDA Business Complex. You'll love my place because of the coziness, front porch, the location. My place is good for couples, solo adventurers, business travelers, and families (with kids).
Type de logement
Chambre privée
---
Type de propriété
---
Capacité d'accueil
2
---
Chambres
1
Berwick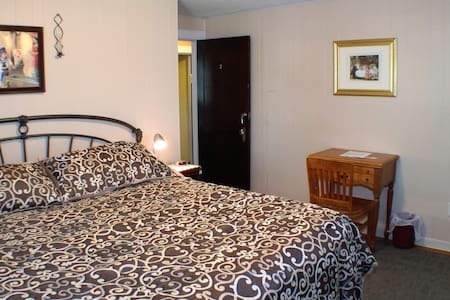 My place is close to Small town amenities. You'll love my place because of the location and the coziness. My place is good for couples, solo adventurers, business travelers, and families (with kids).
Type de logement
Chambre privée
---
Type de propriété
---
Capacité d'accueil
4
---
Chambres
1
Berwick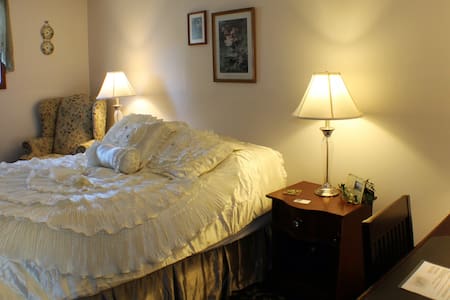 I have three rooms to rent one is dowstairs and two upstairs the one downstairs is call the Teacup Rose room it`s beautiful with wonderful colors and decore with a canpoy over the bed. The Victorian room has a floor model tv with cable and a beautiful victorian bed this is a must see and the last room is call the coco channel room is says just that with all kind of coco and champaine colors and a dvd to watch all the lastest movies.The second floor is private with a sitting room and flat screen tv with cable ,kitchen, and your own entrance to come & go as you please with beautiful mountain views. So book your room for a delightful retreat and come see for yourself. We have a swimming pool but close for the winter and we also have a gym in the basement if you like to work out. We are five minutes away from all of the attractions we also have parking so that you can park your car on the side of the house. Our charge for a single room is $116.00 per night and for double occupancy it is $148.20 per night both rooms comes with a full breakfast!
The host canceled this reservation 9 days before arrival. This is an automated posting.
Evan
The reservation was canceled the day before arrival. This is an automated posting.
Dior
My wife and I were visiting Jim Thorpe for our 14th wedding anniversary and this was our first experience using Airbnb. Cassandra has helped to ensure that we will absolutely use it again! We were over 3 hours later than expecting getting to Cassandra's home and she didn't complain. She welcomed us into her lovely home with warm homemade cookies and even offered us a glass of wine. Her home is so beautiful and inviting and she made us feel incredibly comfortable. The entire second level was ours and it was so much more than what we expected. Breakfast was wonderful and she invited us down to her dining room where we were able to see even more of her amazing style. The weekend ended perfectly by us staying just long enough to meet her husband Richard who was just as welcoming as Cassandra. We would absolutely stay with Cassandra again and we will recommend her to anyone we know who is traveling to Jim Thorpe. Our recommendation is that you skip the Inn that is in the heart of Jim Thorpe and stay a few blocks outside of town with Cassandra. Thank you again for making our anniversary weekend so memorable Cassandra!
Kevin
September 2014
From the moment we walked into Cassandra's beautiful get away she was the most gracious hostess. She automatically made us feel like family and didn't mind that we were two hours later than expected arrival. The bedroom and dwelling was beautifully furnished and went beyond any expectations we had. She truly made our stay wonderful and hopefully we can return in the near future. We are craving her amazing chocolate chip, caramel and pecan cookies. Don't miss out on a beautiful stay and a beautiful hostess!
Jeanne
October 2012
We had an absolute fabulous time. The rooms were very spacious and comfortable. The layout was great--we had our own kitchen, sitting room, back porch & entryway. The cookies, brownies & water bottles were a very nice touch & unexpected. Breakfast was delicious! And best of all, Cassandra was very warm, welcoming & accommodating. We'll be choosing N. Street B&B whenever we're in the Poconos. Thank you Cassandra for a lovely stay.
Catherine
June 2012
It was a really warm experience. Cassandra made us feel welcome and her dogs were lovely. Place was cozy and conveniently located. Overall it was a wonderful experience.
Punit
October 2014
Type de logement
Logement entier
---
Type de propriété
---
Capacité d'accueil
6
---
Chambres
3
Jim Thorpe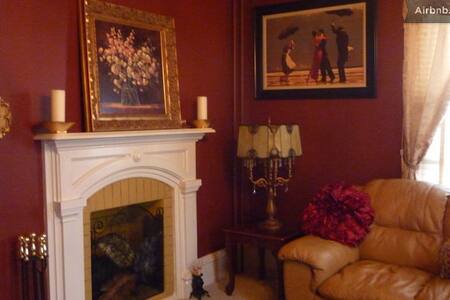 The Inn offers lodging that accommodate overnight travelers passing by, guests visiting family and friends, as well as long-term business professionals for companies in the area. The Inn provides a quiet and comfortable stay in a setting that is clean and inviting. The White Birch Inn is an early 1900's Victorian home and has 6 rooms, each with a private bath. The Annex is an early 1900's Brick Foursquare home. It has 5 rooms, 2 that share a bath.
Whether you are escaping on a romantic getaway, visiting with friends and family for graduations, weddings and other social events or staying in the area for an extended business trip . . . We invite you to experience the quaint elegance of the White Birch Inn located in Berwick, Pennsylvania, a borough nestled along the Susquehanna River. Our guestrooms feature comfort and abundant amenities with a cost that is impressively affordable. Safety and quietness are attractive features to this Queen Anne style inn. You will find it easy to unwind from the clamor of business travel or the invigorating fun with family and friends. Each room boasts beautiful decor and queen-size beds with exquisite pillow-top mattresses that will invite you to a night of sleeping bliss. All rooms or suites have a private bath. The White Birch Inn gladly accommodates business guests. Free Wi-Fi is included with your stay. Breakfasts offer a changing selection of hot entrees each morning in the Dining Room. Here our guests will enjoy a room looking out of one of our many bay windows. While the Inn does not prepare meals other than breakfast, there are restaurants in the surrounding area and we are happy to assist with dinner arrangements. The kitchen is available to our guests at other meal times. Common Areas outside your guest room are the living rooms and dining rooms of both the Inn and the Annex. We'll be available in person or on the phone to check you into your room. Homemade goodies await your arrival. We'll have an ample and delicious breakfast for you in the morning. Breakfast is usually served at 8:30am, but let us know what works with your schedule and we'll accommodate a better suited time as well as any dietary needs, just remember to let us know at booking.
Berwick, Pennsylvania is conveniently located between Rickett's Glen State Park and Knoebels Amusement Park. Less than an hours access to many popular State Parks and Lakes. Berwick is home to the famous annual Run for the Diamonds race on Thanksgiving Day and the Christmas Boulevard, both of which conveniently take place in our front yard! We are also proud of our local football legacy for Berwick High School and our Berwick Bulldogs! Public transportation to/from NYC and other areas is available on a limited schedule. Contact Trailways Bus company for more details. http://www.trailways.com/ The Main House of the Inn is a Queen Anne Victorian Home. 3 rooms on the main floor are accessed from the Inn's main entrance. The other 3 rooms on the second floor have a separate entrance accessible by outside steps on the opposite side of the Inn's main entrance. There is kitchen access on both floors but even guests on the 2nd floor has the option to use the main floor amenities and common areas. The annex is located a brief walk away from the main house. (2 houses away from main house.) This house is in the style of an American Foursquare brick home. Need extra space for kids or co-travelers? It too has 4 rooms with private baths and 2 additional rooms (Good Old Days/Den) that may be rented along with another room but must share the bath with that room. The annex also has a common kitchen/dining room and Living room. Both the Inn and the Annex have Wi-Fi access and Cable T.V. Pets are only permissible (for an extra charge) in designated rooms of both the Inn and Annex, so please be sure to book well in advance for sake of availability.
The White Birch Inn was an awesome place to spend a night in the great quaint town of Berwick. The house was very clean and the service was everything you could ask for. The breakfast could have been the best I have ever eaten. Overall the service and house were fantastic. Go stay at the White Birch Inn!
Andrew
October 2014
Type de logement
Chambre privée
---
Type de propriété
---
Capacité d'accueil
2
---
Chambres
1
Berwick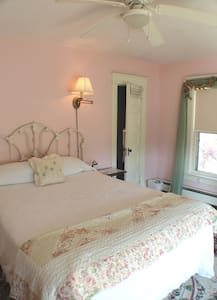 1

–

14

sur

14 Bed & Breakfasts