Saisissez la date d'arrivée au format jj/mm/aaaa
Saisissez la date de départ au format jj/mm/aaaa
Logements que vous pouvez réserver sans attendre l'approbation de l'hôte.
Saisissez les dates souhaitées pour connaître le prix total. Des frais supplémentaires s'appliquent et des taxes peuvent être ajoutées.
Cet été (juillet et août), vous pouvez essayer l'un de ces 100 logements les mieux notés, dans toutes les gammes de prix, pour découvrir Sonoma d'un point de vue local. Entrée dans les lieux 24h/24, réservation instantanée, mais aussi vin et petites spécialités locales à disposition… autant d'invitations à vous détendre et à profiter pleinement de votre voyage.
Ubytování naprosto perfektní. Vybavenost apartmánu byla naprosto luxusní. Lokalita kousek od Lysé hory. Pan Vít velmi příjemný a ochotný. Mohu jen doporučit. Určitě se brzy vrátíme. Děkujeme :)
Alena
September 2015
Everything was perfect.Beautiful place with wonderful views.Great contact with the host who is a very nice person.Highly recommended.We will be back for sure :)
Marta
December 2016
Huge house in the heart of Beskydy. Location great for hiking but also close to reach bigger cities Ostrava and Frydek Mistek. Very warming owners. House perfectly equipped even for 8 people. Place to be for holidays!
Petra
June 2015
Cítili jsme se zde jako doma a ani se nám nechtělo odjíždět. Děkujeme!
Šárka
November 2016
Apartmán je nový a moderní, skvěle vybavený, s krásným výhledem na hory. Využila jsem ho jen v rámci krátké služební cesty, ale byl by ideální pro rodinnou dovolenou.
Kateřina
November 2016
very nice house located in the mountains. I wish i have had time to stay longer there and explore the nature around (i was making one night stop as part of the long journey). I will probably come back in the winter to stay for skiing there :)
Eugene
July 2016
Było nam ciężko trafić, ale gospodarz pomógł i po nas przyjechał, mieszkanie super, w pełni wyposażone, świetne widoki, bardzo polecam!
Sylwester
November 2015
Vit is a great host. He was very helpfull and provided my and my friends with a lot of information regarding the region. Even though we came in a group of 7 and we had a long and loud party (our friend is getting married!) he had no issue with that and told us about it prior to our arrival. Contact is great, no issues at all. I highly recommend Vit as a host, this doesn't get any better than this :) The house: it's really nice and new, there's everything you may need outside such as grill, a big table, parking spot for 5-6 cars. The shower has a radio installed! And it's so quiet and peacefull outside.. Great!
Maciej
July 2015
Type de logement
Logement entier
---
Type de propriété
---
Capacité d'accueil
10
---
Chambres
2
Ostravice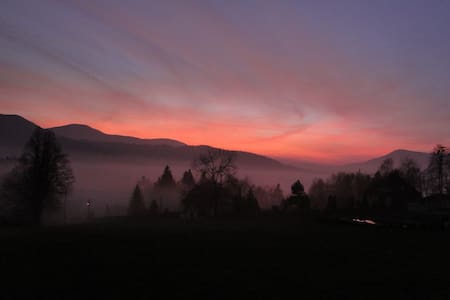 Rádi bychom Vás pozvali do zcela nového zrekonstruovaného podkrovního apartmánu v blízkosti velmi atraktivní kulturní oblasti Dolní Vítkovice. Festivalu Colors of Ostrava. Stodolní ulice, ojedinělého místa zábavy. Stejně tak centra města Ostravy.
El apartamento super espacioso,muy limpio ,cómodo y (URL HIDDEN) única pega son las escaleras pero sobre todo que por la mañana entra mucha luz.Faltan cortinas.
Dune
June 2016
This place is spacious, clean, and nicely equiped. He helped to find the house and restaurant for breakfast. It was quite convenient to park. It is more like domitory. It is suitable for big group as well.
Sunae
August 2016
Modern, very spacious, an enjoyable stay overall. Martin was great to deal with.
Alastair
August 2016
Ubytovani bylo vyborne. Krasny podkrovni byt. Flexibilni cas ubytovani. Ubytovani bylo v tesne blizkosti Dolnich Vitkovic, kde jsme se take jeli podivat. Parkovani hned u domu. Wifi. Pokud budete mit hlad nebo zizen, je v byte minibar, kde si muzete za maly poplatek koupit piti nebo nejake male obcerstveni. Vrele doporucujeme.
Martina
December 2015
The house was brand new.martin was very helpful.its a very good place for crowded (URL HIDDEN) feels like renting the whole hostel...the house is 5€ taxi fare away from city center..
yetkin
November 2015
We never met Miroslav. But his communication was perfect and prompt. Apartment is as described in pictures. Well equipped and also suitable for big group. Definitely recommend to friends and relatives.
Atul
June 2016
Byli jsme spokojeni se vstřícným postojem pana domácího, vše připraveno a odpovídalo nabídce.
Tomáš
April 2016
Marislov is very friendly and helpful. The appartement was amazing. Would deffinately recommend.
Roel
August 2016
Type de logement
Logement entier
---
Type de propriété
---
Capacité d'accueil
4
---
Chambres
2
Ostrava
Klidné místo v zástavbě rodinných domů. Součástí podkroví se 2 apartmány je obývací pokoj s jídelnou a kuchyní a také balkonem. Možno využití zahrady s grilem. Centrum vzdálené 5km, letiště15km, ČEZ Arena(MS v hokeji) 200m, v blízkosti bus a tramvaj.
Vyborna lokalita pri stadione Cez arena. Myli pohostinny ludia. Velmy pekne dakujeme za prijemny pobyt a za pohostenie ktore nam poskytli. Pozdravujeme pana Mirka a jeho polovicku :-) S pozdravom Miro a Martin s Bratislavy.
miroslav
May 2015
The apartment is a wonderful space, very close to CEZ Arena though a bit of a hike to Ostrava center. Alena and her husband are wonderful hosts, hospitable almost to a fault, they made me feel like I was a part of the family. There was a bit of a language barrier as I speak no Czech, but we were always able to understand each other.
James
May 2015
In heart Budapest. No super clean, but normal for 1-2 day
Konstantin
May 2015
I enjoyed very much. I am little sad it was only one day but it was my first experience with Airbnb. If you will travel to Ostrava and want feel like you are home this is the way. WiFi, breakfast, missing cell phone charger, nothing was problem. I recommend!
Jan
June 2015
It was a very pleasant stay. The hosts were very accomodating and nice. I strongly recommend it.
Michal
July 2015
Type de logement
Chambre privée
---
Type de propriété
---
Capacité d'accueil
2
---
Chambres
1
Ostrava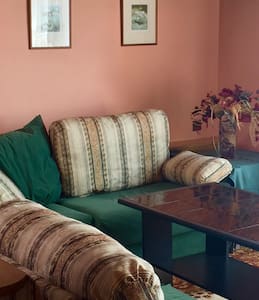 Rádi bychom Vás pozvali do zcela nového zrekonstruovaného podkrovního apartmánu v blízkosti velmi atraktivní kulturní oblasti Dolní Vítkovice. Festivalu Colors of Ostrava. Stodolní ulice, ojedinělého místa zábavy. Stejně tak centra města Ostravy.
Perfektní servis, s bytem jsem byl velmi spokojen a určitě navštívím znovu!
Filip
December 2015
Miroslav is very kind,friendly and helpfull. He helped me to find the easyer and faster connection to the city from Katowice airport. The flat is lovely! Lot of space, everything new, clean. Thank a lot!!
Cristina
August 2016
Our stay in Ostrava was great, the apartment was well appointed and felt nice. Martin was really nice and helped at every opportunity, he recommended a fantastic restaurant as well!
BENJAMIN
September 2016
Moc pěkný byt blízko centra Ostravy. Perfektní dopravní dostupnost. Zajímavá lokalita poblíž historického areálu ve Vítkovicích. Pan Sklář byl velmi ochotný, se vším nám pomohl a vysvětlil. Můžu rozhodně doporučit!
Jiri
October 2016
The host canceled this reservation 365 days before arrival. This is an automated posting.
Pavlina
Děkujeme za perfektní služby, apartmán je vybaven nadstandartně. Oceňuji také dobrou dopravní dostupnost a parkování zdarma v areálu budovy. Jediné, z čeho jsme byli rozpačití, je pouze částečně oddělená koupelna a toaleta s obytnou plochou.
Adéla
May 2016
Certainly what I expected, modern, bright and comfortable loft, nicely equipped with everything that one might need for a cosy stay. The location is perfect, very close to the city center of Ostrava but away of the busy traffic's noise. The host is very kind person and I recommend the place for visits of any kind in the dynamic city of Ostrava.
Hriska
May 2016
Byl jsem spokojený s hostitelem i ubytováním, čistota, cena, komunikace mi naprosto vyhovovala.
Vladimir
August 2016
Type de logement
Logement entier
---
Type de propriété
---
Capacité d'accueil
3
---
Chambres
1
Ostrava
Recently refurbished attic apartment that accomodates up to 3 persons and is situated near the city center. In a short distance from river Ostravice and Komensky's park, it provides privacy and allows you to relax in the house's garden.
The space is part of a tenament house built in 1911, which consists of 6 flats with long time tenants and one recently renovated attic apartement. Renovation of the apartement was done compeletly by myself. The apartement is comfortably furnished to suit needs of all kinds of guests. Furnishings combine modern perks with historic items, which have been preserved for decades in the house's attic. Theese items give the space a bit of nice historical feeling. It's situated on the second floor, in the attic. There are no other flats on this floor, so it's the most private part of the house. The house has adjacent private garden, which you can use at any time of the day. It is nice and quiet place, accessible only by tenants of the house. The whole area (including a parking place) is surrounded by a fence. On your arrival, you'll recieve house and apartement keys and remote control for the main gate. Personal meeting with guests is possible every day between 7:00 and 7:30 AM, and 4:30 thru 9:00 PM. Besides you can reach us on telephone.
The apartement is just a few meters from the main bike path, connecting Ostrava with the Beskydy mountains, offering terains for every kind of cyclist. Mining museum Landek Park, with a restaurant, tennis courts and many playgrounds for children is easily accesible by bike or car. The biggest park in Ostrava, Komenského sady, is just across the river. It's a great place for walking, running, roller skating, yoga or any other kind of excersise. If you're not interested in sports, picnic in the trees shadows is also very pleasant. New city hall with it's famous tower is located on the other side of Komenského sady. There's a viewing platform providing stunning views of Ostrava and surrounding villages, as well as Beskdy mountains on the horizon. Another place worth visiting is industrial area DOV or Dolní oblast Vítkovic. It is an area, where metal production was ceased not even 20 years ago. You can visit coffee shop on top of former blast furnace and then descend dows thru the blast furnace itself and learn about metal production. There are many other unique spaces in this area, which you can visit, including two interactive technical museums. Other mention worthy places are Silesian Ostrava Castle or ZOO Ostrava. There are also many shopping oportuinites. If you wish to visit Stodolní street, it is easily accesible by public transportation. There's a public transport stop right in fron of the house. Traveling time to city center is about 7 minutes by public transport, or about 3 miutes by car. If you wish to walk, it whouldn't take you more than half an hour. Train station Ostrava Hlavní nádraží is 4 minutes by public transport. Leoš Janáček's airport is about 20 kilomteres away form Ostrava. It can be reached by train, bus or car. The apartement is equipped with a small fridge, microwave owen, electric kettle and electric cooktop, iron. Other services for additional charge: - you can BBQ in the garden's pergola, with capacity for up to 8 persons. If you stay for a week or longer, you can use it without any additional charge. - we can provide bikes for you, if you decide to make a small trip on local bike paths.
Nádherné bydlení a úžasný pan domácí. Rychlá a vstřícná komunikace. Doporučuji!
Andrea
August 2015
The apartment is cozy and very clean, the charm is in the details... A bottle of wine, chilled water waiting for you in the fridge, clean towels, and very importantly, the friendly attitude of Tomaž. Even his daughter checked in with us to make sure we have everything we need. Very nice experience! I Highly recommend it!
Theresa
May 2016
Krásné ubytování v blízkosti centra Ostravy, skvěle zrekonstruovaný a opravdu vkusně zařízený apartmán. Velmi klidné prostředí. Tomáš je výborný hostitel, vždy velmi rychle odpověděl a poradil. Doporučuji! Perfect accomodation near the city centre of Ostrava, very nicely reconstructed and furnished apartment. Quiet place. Tomáš was a great host, responding quickly to my questions and giving good local tips. I recommend this!
Vladimír
July 2015
Hostitel nám vyšel vstříct ve všem, co jsme potřebovali. 24h check-in opravdu funguje a v případě služební cesty se nesmírně hodí. Byt byl připravený a provoněný. Velice příjemné prostředí. Děkujeme.
Pavla
May 2016
Opravdu překrásný apartmán, útulný a stylový. Škoda, že jsme tu mohli být jen jednu noc. Hositelé jsou všichni moc milí a ochotní. Rozhodně tu doporučuju strávit nějaký čas!
Dita
May 2016
The place was fantastic! Really nice, cozy and clean. We enjoyed our stay very much and the host was very welcoming and helpful! Would highly recommend!
Zigmas & Ausra
September 2015
Do Ostravy jsem přijel s dvěma dětmi, abychom si užili expozic Dolních Vítkovic. Byli jsme naprosto nadšeni: ubytování je skvělé (byť trochu malé, ale pro tři lidi ideální). Skvělé spojení k Hlavnímu nádraží, odkud lze pohodlně dojet kamkoliv. Děti nadšením výskaly, že lepší bydlení přes Airbnb nezažily (i proto, že dostaly něco sladkého na přivítanou – a já si užil uvítací lahev vína) :) I came to Ostrava with two kids, mainly to enjoy technical exhibitions of Dolni Vitkovice. We were absolutely happy: the accommodation is amazing (although a bit small, but fine for three people). It's easy to get to the main railway station (Hlavni nadrazi), from where you can easily go anywhere. When we came the kids were happily jumping around the apartment stating we've never been to such a good Airbnb venue (I guess also because they got something sweet as a welcome snack, and I enjoyed a bottle of fine) :)
Vaclav
November 2015
Wonderful stay in a gorgeous apartment, made to feel very welcome! Great recommendation for dinner also! We loved Ostrava, thank you:)
Shonagh
October 2015
Type de logement
Logement entier
---
Type de propriété
---
Capacité d'accueil
3
---
Chambres
1
Ostrava
Fantastic apartment! Absolute gentleman to deal with very helpful and considerate and will be going again 100%! Brilliant! :)
Lewis
October 2016
Type de logement
Chambre privée
---
Type de propriété
---
Capacité d'accueil
3
---
Chambres
1
Ostrava
A room in a house in Orlova, 10 minutes from city center, but in the middle of nowhere (expect waking up by sheep from the neighbourhood :-) )
Type de logement
Chambre privée
---
Type de propriété
---
Capacité d'accueil
2
---
Chambres
1
Orlová