Saisissez les dates souhaitées pour connaître le prix total. Des frais supplémentaires s'appliquent et des taxes peuvent être ajoutées.
2 lofts
· Territoire de la capitale australienne
2 lofts
· Territoire de la capitale australienne
Cet été (juillet et août), vous pouvez essayer l'un de ces 100 logements les mieux notés, dans toutes les gammes de prix, pour découvrir Sonoma d'un point de vue local. Entrée dans les lieux 24h/24, réservation instantanée, mais aussi vin et petites spécialités locales à disposition… autant d'invitations à vous détendre et à profiter pleinement de votre voyage.
Situated in the picturesque rolling hills of the Yass District - on a small sheep and horse farm, this loft apartment provides pleasing space, comfort and function for a small family, possibly an outside dog and perhaps a horse (extra fee). Come and stay in Yass and enjoy the local fare.
A small working farm with friendly animals and possibility for short term horse accommodation in yards or a stable. On arrival
Elevated views, fresh air, Peace and quiet, refreshing There are daily buses to Canberra nearby - but as this is a small property located a five minute drive from Yass - a vehicle is recommended. Friendly ponies to pat A great array of local fare - wine and produce are available in and around Yass. There are great parks for the kids and there are fine restaurants and cafes for the parents.
Wow this place is perfect. Located just off the Hume Highway this brand new loft apartment is as good as any Meriton stay I've had. There are plenty of little extras provided such as choices of mueslis fruit coffee and chocolate. I started to relax as soon as o open the gate. There are chooks and other farm animals for kids to enjoy. The large upstairs bedroom overlooks the quiet and scenic country side. Looking forward to getting back there.
David
February 2016
Emma was great, lovely big space and well supplied. Thanks
Geoffrey
February 2016
Emma's Loft is superb. It's located in peaceful, scenic country with speccie views from all windows. The loft is cavernous. There is so much space, yet it is cozy. Very comfy bed and an excellent selection of breakfast treats. We would highly recommend this property to everyone.
Julie
October 2016
Emma was a splendid host. As the other reviews testify, the place and surroundings look way better in person. We were welcomed by the host family and provided tips on things to do around Yass. The loft house is straight out of a story book with the peaceful surroundings and friendly animals for company. The house is very well arranged. We would definitely return and recommend to fellow travellers!
Sanjay
October 2016
Enjoyed my second visit in two weeks. Love the place. Emma great host.
David
February 2016
The host canceled this reservation 6 days before arrival. This is an automated posting.
Laura
Easy stopover close to the highway with everything you would want. Highly recommend.
David
February 2016
We thoroughly enjoyed our stay at Emma's place. It was modern, spacious, spotlessly clean and with a beautiful tranquil outlook. Emma was friendly and helpful and we appreciated the treats. Thanks for having us Emma!
Jonathan
November 2016
Type de logement
Logement entier
---
Type de propriété
---
Capacité d'accueil
3
---
Chambres
1
Manton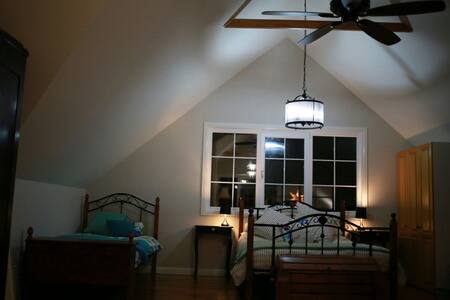 Please book and pay online, prices are as mentioned. Price quoted are for up to 8 hours hire.
Type de logement
Chambre partagée
---
Type de propriété
---
Capacité d'accueil
1
---
Chambres
1
Giralang