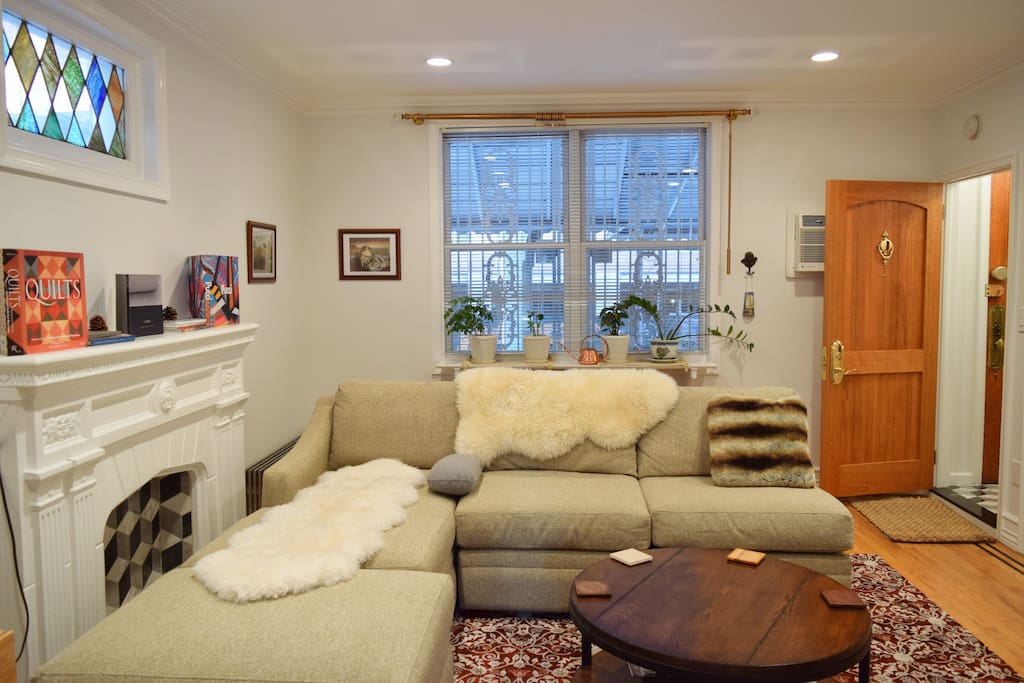 À propos de ce logement
You will stay in the ENTIRE PRIVATE 2ND FLOOR of my 3-floor single-family house in Astoria, Queens. It has 1 LARGE LIVING ROOM and 2 BEDROOMS. The listing comfortably fits 4 adults, but can fit up to 8 (w/ kids) if you prefer saving money over having more space. If you need more space consider booking the 3rd floor. You'll love all the outdoor space and the 1 minute walk to the metro. My place is good for business travelers, solo adventurers, and couples; but it is best for families (w/ kids)!!
---
Ce logement propose des équipements adaptés aux voyageurs d'affaires.
---
Type de logement : Logement entier
---
---
Voyageur supplémentaire : 19€ / nuit après 3 voyageurs
Réduction à la semaine : 5%
---
You will stay in the ENTIRE PRIVATE 2ND FLOOR of my 3-floor single-family house in Astoria, Queens. It has 1 LARGE LIVING ROOM and 2 BEDROOMS. The listing comfortably fits 4 adults, but can fit up to 8 (w/ kids) if you prefer saving money over having more space. If you need more space consider booking the 3rd floor. You'll love all the outdoor space and the 1 minute walk to the metro. My place is good for business travelers, solo adventurers, and couples; but it is best for families (w/ kids)!!
HIGHLIGHTS
Location & Transportation:
- 10 minutes to Central Park & 5th Avenue; 15 min to Times Square; 20 min to Empire State Building & Union Square, 25 min to SoHo; 30 min to China Town/Little Italy; 40 min to 9/11 Memorial/Ground Zero/Freedom Tower; 45 min to Financial District (Wall Street, New York Stock Exchange, Staten Island Ferry & Battery Park).
- 1 minute walking to the "Broadway" stop on N and Q metro/subway line.
- Walking-distance to great restaurants, bars, and grocery stores.
- Parking: FREE street-side & FREE private garage.
- Long Island City and Astoria are two of the best social hubs in NYC.
Safe & Legal:
- 100% completely LEGAL listing (one of the very few on AirBnB in NYC).
- Villa Astoria is incorporated in the State of New York.
- Arlo video surveillance used as security system.
Amenities:
- Internet and WiFi
- Air conditioning, hot water, and heating
- Sheets and towels, as well as toiletries (tissue, soap, toothpaste, etc.)
- New contemporary designer furniture
- Amazing lighting: skylight and lots of natural light
- Netflix and other TV services
Other:
- Front yard garden, porch, backyard.
- Newly renovated floors and walls.
- Kitchen utilities: dishwasher, microwave, pots, pans, cups, plates, etc.
- Refrigerator in kitchen and mini-fridge in bedroom.
- Tons of storage space (closets, cupboards, drawers).
- Awesome sunsets from bedroom and kitchen windows.
- The nicest hosts in the world, and multi-lingual!
- Our home is famous!!! It was the set for many TV and Hollywood films, most recognizably UK actor Russell Brand's romantic comedy "ARTHUR".
BREATHING ROOM
A newly renovated home located in the booming Long Island City/Astoria district! Best way to get a feel for the home is honestly to watch a few scenes from the movie "Arthur" featuring Russell Brand - in our photos we have captions showing at what minute our home appears in the film. It has 3 floors, of which the 2nd floor is exclusively available to smaller groups - anywhere from a solo guest or a business traveler looking for lots of space, up to 6 guests who might be a mix of kids and family couples. The 2nd floor has its own locked entrance, so it is fully private, and has it's own bathroom but no kitchen. This is a very family-oriented and business-friendly environment, so we strive to make the space safe and meet all the needs of different age groups and activities.
SOLO GUESTS (Only 1 person):
In the case of a solo guest or business traveler, you will have a bedroom with a luxury queen-sized bed with lots of drawers and storage spaces, as well as a large living room area to lounge in - or where you can setup a comfortable work environment. You have a fully-equipped kitchen and a full-bathroom so you will have everything needed to simulate life in NYC.
+1 GUESTS (reservations of 2 to 6 people):
In the case of up to 6 guest, for instance, the storage closets contain 2 very high quality air-mattresses with memory foam toppings, which when assembled, each one will create extremely comfortable queen-sized beds. With the vacant space in the closets, luggage can be stored to relieve congestion and allow for more circulation. The sofa in the living-room is also queen-sized, which combined with the 2 queen-sized air mattresses and the queen-sized bed in the room, make a total of 4 queen-sized beds available on the 3rd floor.
+6 GUESTS (reservations of 6 to 8 people):
We have tested the scenarios, and technically 8 people can sleep between all these 4 queen-sized beds without blocking any passage ways - please refer to the photos to see how this is possible. Of course, that means 2 people sleeps on each bed, which is typically only comfortable if the pair is younger siblings or children, or a romantic couple. So it depends on who the guests are and the relationship between those sharing a bed. We originally suggested 6 guests sleep in the space because we also imagine a family/friends scenario, where parents (2) sleep in one bed, 2 of their children sleep on another, and maybe an aunt and uncle (or two other adults in the group) join the vacation and prefer separate beds each, which totals to 6 people over 4 queen-sized beds. We only encourage you to use the space for 8 people if it is your preference, in cases such as 2 parents with 6 children, or if you do not mind sharing and prefer to be very close.
7-10 GUESTS:
If your group consists of all adults, large people, has more than the average amount of luggage, prefers more privacy, and/or prefers more space, we consider opening the 2nd floor in addition to booking the 3rd floor. It has it's own locked entrance as well, TV, sofa-beds, chairs, air conditioning, and heating, but differs in that it has only a half bathroom, and no kitchen. You will connect to the third floor using a set of internal stairs, so some groups may prefer to use the 2nd floor just for sleeping on air mattresses, to store luggage and leave it open, as a working space, or to hold furniture from upstairs which you may not use during your trip. We are happy to provide the service of customizing the arrangement to best fulfill your groups exact needs.
COMMONS
Please look at our photos to see descriptions about each separate space, but the basic idea is that you are booking a fully-private living space with all general amenities. The 1st floor is where we live and it is a separate entrance, so the only spaces you might share with us are the outdoor front yard and the backyard, which either of us occasionally use.
OUTDOORS
Exiting the 3rd and 2nd floors you have access to the porch, where you can smoke, take a breath, or just hang out. If you like flowers and plants, you can spend time in our front yard, or go to the backyard where we have outdoor furniture to enjoy the weather. The backyard is the place to BBQ, or in the near future, have a pool area for the kids on a hot summer day - or both? :)
BETWEEN SHARED/PRIVATE
The 2nd floor, which we open on a case-by-case basis (described above) is the only place where we might physically encounter each other. We can certainly seal it off so that it is fully private to your party. However, in certain cases, we prefer to work out an arrangement with limited access to this floor only when we require access to a storage room. However, we are flexible and will accommodate your preference. Regardless, to avoid confusion, we should talk about this arrangement in detail in the message thread.
WE ARE HERE FOR YOU!
You should consider the fact that we live downstairs in the 1st floor a blessing - because you have your own private apartment, but we are always close by if you need help or questions answered. Before booking, it is best to give us all the details on your needs, such as the type of guests in your group (family and/or friends, young and/or old, small and/or big), and what amenities you absolutely need.
Occasionally, when there is down time, we can take a tour of the neighborhood or chat. We are very friendly people who enjoy making sure that you have the best stay in NYC.
Honestly, the best way to understand what our street feels like is to watch Russell Brand's film "Arthur". Yes, it is usually pretty calm area, but there is an above ground subway just like in the movie, and it can be loud. However, for many it is actually part of the charm and the real New York feel, and is literally just like in the movie we were featured in. However, we are sound-proofing the entire place using the services of Acoustical Surfaces Inc., to make it better for guests so you can tell your friends you were in the real New York without dealing with real New York problems :).
So while it can be loud, having the train so close is a great thing, because you get to the very center of Manhattan faster than from most places in central Manhattan. Plus, we are around the corner from Broadway where you can get so much amazing food, and see how social and multi-cultural this part of New York is. We are basically right in between the two hottest new neighborhoods in the city - posh and luxurious Long Island City and the hip young and family-friendly Astoria.
Long Island City is truly fantastic and people are rushing to live there, especially with its amazing views of the Manhattan Skyline from the Eleventh Street Basin. Astoria is the new young fun place, that is very family-oriented as well. Since it is traditionally Greek, you seriously will not find better Mediterranean food than in this area. Check-out the nearby Socrates Park for amazing views, and Bohemian Beer Hall for a family-festive beer experience.
Check out our Guidebook to learn more of the inside spots we go to that will make you feel like a New Yorker in no-time!
As we mentioned, we are on the same street as the "Broadway" stop on the N or Q line. It takes 10 minutes from there to arrive to the entrance of Central Park on 5th Avenue.
Alternatively, you can rent a car and park it on the street or inside our garage.
DIRTY CLOTHES?
Accidents happen, and weather can be unpredictable, so we understand that sometimes you might need extra things from us. Luckily, we have some extra clothes in case you didn't prepare for the weather, umbrellas to protect from the rain, laundry machines to wash and dry dirty clothes, and a hair dryer for those who need it.
---
Ne convient pas aux animaux
L'entrée dans les lieux se fait entre 08:00 et 23:00
1. IDENTIFICATION
The guest who booked (and every guest included in the reservation) is required to submit a copy of an official form of their identification (for example, passport). This should be sent ideally in the AirBnB message thread, but can also be sent via another form of communication (email or SMS). If we do not receive a copy of valid ID for each guest, we have the right to refuse entry onto the property, and you agree we have the right to cancel this reservation without penalty to us (the host) if you refuse to provide us such form of identification, beforehand digitally. Also, without receiving a copy of the ID(s), we will not release any further information about the listing as you prepare for your trip.
2. BACKGROUND CHECK & CONDUCT
Your form(s) of identification may (or may not be) used for background checks on each guest in your reservation. We need to ensure, upon discovery, that you and your guests are not associated with or involved in any of the following:
i. a criminal background or record,
ii. active warrants,
iii. a criminal investigation (e.g. as drug-trafficking or fugitive search),
iv. a terrorist-watch list,
v. any other red-flagged activity (e.g. organized-crime or prostitution) that indicate you might incite the presence of law enforcement on our property.
Thus, if we find any evidence supporting that you are associated/involved with any of the points above, you agree that we have the right to deny you a reservation request or cancel your existing reservation before or during your stay at no penalty to us (the host), and accept that we may mention such evidence in our exit review. We also need to reduce the risk that you will cause physical harm to your fellow guests, to hosts and related staff, or to neighbors. Therefore, if you commit any heinous or egregious physical acts during your stay, you agree that we have the right to deny you a reservation request or cancel your existing reservation before or during your stay at no penalty to us (the host), and accept that we may mention such evidence in our exit review.
3. ACCESS
Guests will be provided a key to enter their apartment, and an additional key(s) for the gate into the house. We only provide 1 set of keys unless otherwise requested with a lot of anticipation, and if we feel comfortable doing so. We understand that people may also accidentally lock themselves out of the property, and we will do what we can to make sure you can re-enter your booked space. However, it is not our obligation to solve this problem immediately, so please make sure you do not lock yourself out, especially at late hours. Keys shall not be copied and must be returned upon check-out, and damaged keys will be considered as part of a deduction from the security deposit.
4. CHECK-IN/CHECK-OUT
In the occasion either of the hosts is not available to physically check-in/check-out the guest, one - or a combination - of the following will be done: 1). A 3rd party (person or service) will be sent on our behalf to conduct check-in and check-out, 2). Digital check-in and check-out will be conducted by a service (and/or the hosts) using smart-lock technologies, as well digital communications (such as Sky-pe or FaceTime). Guests are required to go through the physical and/or digital check-in and check-out process to assure that they depart according to their reservation, and that there are no items which are damaged or missing. This ensures that the guest receives their full security deposit. Failure to conduct the check-in or check-out according to agreed upon times may result in deductions from the security deposit - so please beware not to ignore this responsibility.
5. PARKING
We provide our guests with parking in our garage upon request. It is a spacious garage, but does not usually accommodate anything larger than a mini-van or Dodge Caravan. Normal 4 by 4 or station wagons fit fine. Guests who arrive with a car - and will need to park in our garage - will be provided a key for the garage door, which must be used to both open the door for the garage and close it when not in use. We must stress that it is absolutely important to close the garage door when you leave, or when the garage is not being accessed, in order to avoid animals (a neighbor dog or cat, or rats/mice) from crawling into the space. The key must be returned upon check-out. If you would prefer, you can also park in the street where space is available. However, we are not responsible for any fines, tickets, or towing of your car, so be attentive to the rules of street-side parking.
6. SECURITY
Regarding safety, once a guest checks in, it is their responsibility to lock doors which they open, or those which provide access to their booked space. If a guest leaves a door open, and this leads to trespassing or facilitates some other delinquent behavior, we will take all necessary actions including contacting AirBnB, cancelling the reservation, involving authorities, or legal action against the guest(s). Guests acknowledge that we have our own security system in-place, which we monitor frequently. In accordance with privacy principles, there is no surveillance in private spaces. However, common spaces are recorded and broadcasted into our systems, and by booking with us you acknowledge that we can review footage in case of an emergency and that this can be presented to AirBnB, or local authorities, if necessary.
7. VISITORS
Only the number of guests reserved at the time of the booking are allowed into the property - so if you book for 5 guests, only 5 guests will be permitted to enter. Furthermore, prior to arriving to the booked space, we will require at least the names of each guest. Unless we decide otherwise, a guest's slot in the reservation is not transferrable to any other guest, at all - either that guest arrives and fills their spot, or the spot remains empty. We only make exceptions if the replacement guest is a family member, has similar needs as the guest which will not be arriving, or is otherwise more convenient to receive in the listing. However, the decision to make exceptions is at our discretion. Additionally, typically we do not allow visitors onto our premises who are not the guests on the reservation - if we do, it is discretionary, but not obligatory. If we see you invite guests not part of the reservation to the space, we may ask you to ask them to leave, or we might request this directly if you do not raise the issue. Please understand that our requests are non-negotiable, and may involve law enforcement if contested.
8. DISTURBANCES
While we fully acknowledge that there is regular city noise and a subway which passes above ground - that can occasionally be very loud - we ask you not to contribute to the noise with any hoping around or stomping on floors. We have wooden floors, therefore the acoustics are poor, and sound travels through to the floor below. Please be conscientious of your contributions, as well as the fact that we cannot do anything about outside street noises, from the subway in front, dogs barking, young people out late, traffic, honking cabs, ambulances, or any other such disturbances typical of a major city.
---
Strictes
Si vous annulez jusqu'à 7 jours avant le voyage, vous recevez un remboursement à hauteur de 50 % et les frais de service vous sont remboursés intégralement.
---
Détecteur de monoxyde de carbone
---
Séjour de 3 nuits minimum