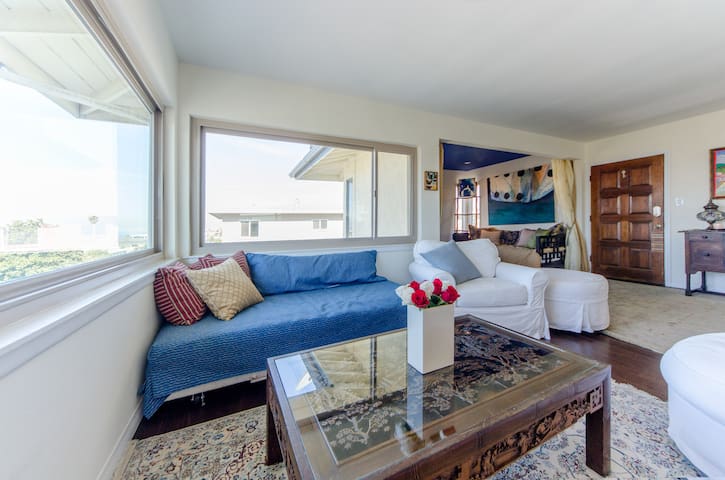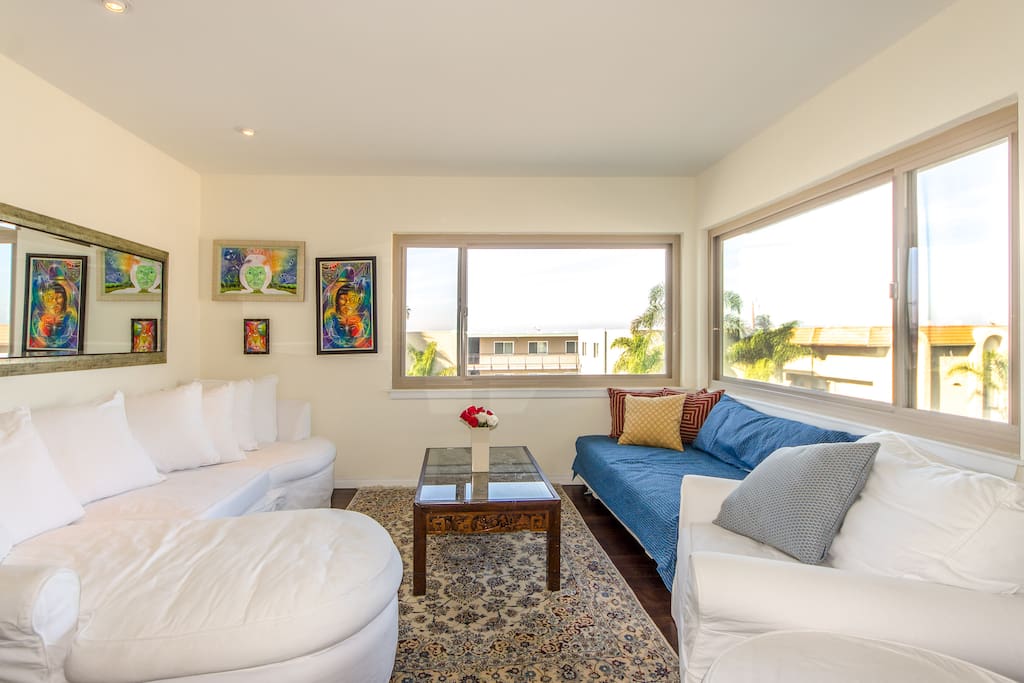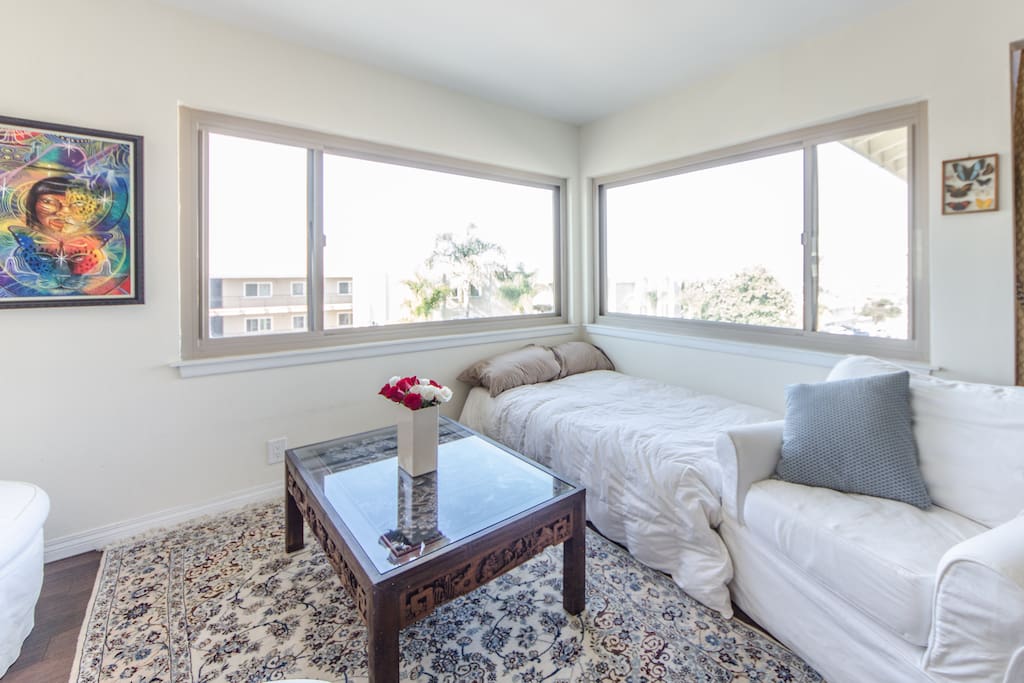 À propos de ce logement
Stunning view of the Ocean and the South Bay from my 1 bedroom 1 bath apartment. 1 block to beach, 4 blocks to Riviera Village. Queen bed, 2 daybeds. 65 inch TV. WiFi. 2 parking spaces. Light & airy, quiet neighborhood. Art from around the world. My apartment is really best for 2 people. Sometimes I allow 2 adults and their child. It is really too small for 4 adults.
---
Arrivée :
À partir de 15:00
Animal sur place :
Chien(s)
Type de logement :
Logement entier
---
---
Voyageur supplémentaire :
38€ / nuit après 2 voyageurs
---
Stunning view of the Ocean and the South Bay from my 1 bedroom 1 bath apartment. 1 block to beach, 4 blocks to Riviera Village. Queen bed, 2 daybeds. 65 inch TV. WiFi. 2 parking spaces. Light & airy, quiet neighborhood. Art from around the world. My apartment is really best for 2 people. Sometimes I allow 2 adults and their child. It is really too small for 4 adults.
This apartment has a really great energy. From the moment you walk in, it is peaceful and calm. It is a mixture of modern and antiques coupled with art and rugs I have collected from my adventures around the world. It has a spectacular view of the ocean and at night the twinkling lights of the South Bay.
WiFi, 65 inch flat screen TV has all the premium movie channels including: HBO, Showtime, Cinemax, STARZ, Netflix, Amazon Prime etc. Also, many foreign channels as well.
FYI: There are 30 stairs to climb to apartment.
I require 24 hours prior notice for a booking.
Stars homes? Venice Beach? The Hollywood Sign? Breathtaking hikes? Off the beaten path look at the city of lost angels? ...but, LA traffic is just too daunting for you ...I can be your driver and tour guide for an additional fee. Weekends only.
Schedule permitting, I will be present to check guests. It seems most guests have a full vacation schedule, in that case, I am a phone call away. If a guest needs anything, restaurant recommendations, things to do and explore, I will be available, otherwise, the place is all yours. I also have a very detailed guidebook that I wrote on things to do in the area, recommended breakfast, lunch, dinner and happy hour spots. I can email you the booklet prior to check-in if you would like to make reservations.
**PLEASE NOTE**
You need to have a few things to be able to rent my home:
1. A profile picture
2. A government issued ID - either a passport or Driver's License
3. An online ID -- which is an an account with (website hidden) or Link-ed - In
4. A verified phone number
5. A verified email address
I have traveled all over the world and the South Bay is still by far the most beautiful place I have ever been. My favorite thing to do is to not get in my car at all. Restaurants, shops, pubs, wine bars, grocery stores, Trader Joe's, the beach ... everything is walking or biking distance. I love not battling LA traffic and having everything I need within a couple blocks. Every night, groups gather down by the beach to watch the sunset. Sunsets in Redondo are fabulous!
Located just one block from a paved path, called The Strand, it runs from Torrance Beach in the south approximately twenty miles north to Santa Monica. It is ideal for a bike riding with lots of places to dine along the way.
Located just 9 miles from LAX. There is a bus stop a few blocks away that takes you to the airport.
Palos Verdes is 1 miles away. Palos Verdes is home to Terranea Resort, which offers spectacular views of the Pacific. Terrenea is a great place to grab a cocktail at sunset or have a casual dinner outside at Nelson's.
Hermosa Beach is 4 miles away. Hermosa Beach pier is at the end of Pier Avenue, which is one of the beach community's main shopping, eating and partying areas.
Manhattan Beach is 6 miles away. Manhattan Beach is a hotspot for beach volleyball and surfing. Every August, the city hosts the Manhattan Beach Open Volleyball tournament and the International Surf Festival. Manhattan Beach has attracted professional athletes and actors to take up residence there since the 1990s.
Marina Del Rey is 15 miles away. Fisherman's Village offers a view of Marina del Rey's dominant feature, the Marina, the world's largest man-made small craft harbor with 19 marinas with capacity for 5,300 boats and is home port to approximately 6,500 boats. It is bordered on three sides by the city of Los Angeles – Pacific Palisades on the northwest, Brentwood on the north, West Los Angeles on the northeast, Mar Vista on the east, and Venice on the southeast.
Venice Beach is 16 miles away. Venice is known for its canals, beaches and circus-like Ocean Front Walk, a two-and-a-half-mile pedestrian-only promenade that features performers, fortune-tellers, artists, and vendors. Abbott Kinney Blvd is "the coolest street in America", according to Gentleman's Quarterly.
Santa Monica is 21 miles away. Santa Monica has three main shopping districts, Montana Avenue on the north side of the city, the Downtown District in the city's core, and Main Street on the south end of the city. Each of these districts has its own unique feel and personality. Montana Avenue is a stretch of luxury boutique stores, restaurants, and small offices that generally features more upscale shopping. The Main Street district offers an eclectic mix of clothing, restaurants, and other specialty retail.The Downtown District is the home of the Third Street Promenade, a major outdoor pedestrian-only shopping district that stretches for three blocks between Wilshire Blvd. and Broadway. Santa Monica Place, the indoor mall designed by Frank Gehry, is located at the south end of the Promenade. Palisades Park stretches out along the crumbling bluffs overlooking the Pacific and is a favorite walking area to view the ocean. Santa Monica is home to many Hollywood celebrities and executives and is a mixture of affluent single-family neighborhoods, renters, surfers, professionals, and students.
Culver City is 17 miles away. Since the 1920s, Culver City has been a significant center for motion picture and later television production, in part because it was the home of MGM Studios. It was also the headquarters for the Hughes Aircraft Company from (phone number hidden). National Public Radio West and Sony Pictures Entertainment now have headquarters in the city. The NFL Network studio is also based in Culver City.

The California Science Center is 20 miles away and houses the Space Shuttle Endeavor.
The Getty Museum is 22 miles away, and is an art museum in California housed on two campuses: the Getty Center and Getty Villa.
The Getty Center is in the Brentwood neighborhood and is the primary location of the Museum. The collection features Western art from the Middle Ages to the present. The Museum's second location, the Getty Villa, is in the Pacific Palisades neighborhood and displays art from "ancient Greece, Rome, and Etruria". The Getty Malibu is 26 miles away.
Playa Vista is 13 miles away. Playa Vista is adjoined on the northwest by Del Rey, on the north and east by Culver City, on the southeast by Westchester and on the west by Marina Del Rey.
It is a 19 mile drive to La Brea Tar Pits. The La Brea Tar Pits (or Rancho La Brea Tar Pits) are a group of tar pits around which Hancock Park was formed, in urban Los Angeles. Natural asphalt (also called asphaltum, bitumen, pitch or tar - brea in Spanish) has seeped up from the ground in this area for tens of thousands of years. The tar is often covered with dust, leaves, or water. Over many centuries, the bones of animals that were trapped in the tar were preserved. The George C. Page Museum is dedicated to researching the tar pits and displaying specimens from the animals that died there. The La Brea Tar Pits are a registered National Natural Landmark.
Long Beach is 13 miles away. Long Beach is where the action begins and the fun never ends. From the regal Queen Mary and spectacular Aquarium of the Pacific to stirring Broadway shows, live music venues and hundreds of exclusive dining destinations--all centrally located. Airport-close, a brief and pleasant cruise away from Catalina Island. The city is a dominant maritime center of the United States. The Port of Long Beach is the United States' second busiest container port and one of the world's largest shipping ports.
Catalina Island is a boat ride away and 22 miles across the sea. Catalina Island features fabulous land and water activities - including the new Zip Line and SeaTrek Undersea Adventure, romantic lodging for every taste and budget, a diversity of dining experiences, and extraordinary venues for weddings and group events.
Staples Center is 22 miles away. Staples Center is a large multi-purpose sports arena in Downtown Los Angeles. Adjacent to the L.A. Live development, it is located next to the Los Angeles Convention Center complex along Figueroa Street. Opening on Octob(PHONE NUMBER HIDDEN), it is one of the major sporting facilities in the Greater Los Angeles Area. The arena is home to the Los Angeles Lakers and the Los Angeles Clippers of the National Basketball Association (NBA), the Los Angeles Kings of the National Hockey League (NHL), and the Los Angeles Sparks of the Women's National Basketball Association (WNBA). The Los Angeles Avengers of the Arena Football League (AFL) and the Los Angeles D-Fenders of the NBA D-League were also tenants until both franchises were discontinued; the D-Fenders moved to the Lakers' practice facility at the Toyota Sports Center in El Segundo, California for the 2011–12 season. Staples Center is also host to over 250 events and nearly (phone number hidden) guests a year. It is the only arena in the NBA shared by two teams.
Studio City is 33 miles away. Studio City is a historic neighborhood within the city of Los Angeles, California, in the San Fernando Valley, known for the number of celebrities who have been seen or who reside there. Studio City is bordered on the north by Valley Village, on the east by Toluca Lake and Universal City, on the south by Hollywood Hills West, on the southwest by Beverly Crest and on the west by Sherman Oaks.
It is 28 miles to Sherman Oaks. Sherman Oaks is a neighborhood in the San Fernando Valley. A number of celebrities live in Sherman Oaks. There is many shops, restaurants and movie theaters along the main street Ventura Blvd.
Hollywood is 22 miles away. It is prominent for its place as the home of the entertainment industry, including several of its historic studios. Its name has come to represent the motion picture industry of the United States. Street limits of the Hollywood neighborhood are: north, Hollywood Boulevard from La Brea Avenue to the east boundary of Wattles Garden Park and Franklin Avenue between Bonita and Western avenues; east, Western Avenue; south, Melrose Avenue, and west, La Brea Avenue or the West Hollywood city line. Also, Hollywood is home to the famous
Anaheim, the home to TCL Chinese Theatre is a cinema on the historic Hollywood Walk of Fame at 6925 Hollywood Boulevard in Hollywood, California. Originally Grauman's Chinese Theatre.
Griffith Observatory is a 30 mile drive. Griffith Observatory is a facility sitting on the south-facing slope of Mount Hollywood in Los Angeles' Griffith Park. It commands a view of the Los Angeles Basin, including Downtown Los Angeles to the southeast, Hollywood to the south, and the Pacific Ocean to the southwest. The observatory is a popular tourist attraction with an extensive array of space and science-related displays.
Anaheim, the home of Disneyland and Downtown Disney, is 33 miles away. Downtown Disney (officially the Downtown Disney District) is an outdoor shopping, dining, and entertainment area, also known as a "shoppertainment center", located at the Disneyland Resort in Anaheim, California, United States. It was constructed during the Disneyland Resort expansion which also included the construction of Disney California Adventure, and opened on January 12, 2001.
The Nixon Presidential Library is 40 miles away. The Richard Nixon Presidential Library and Museum is the presidential library and final resting place of Richard Milhous Nixon, the 37th President of the United States. Located in Yorba Linda, California, the library is one of thirteen administered by the National Archives and Records Administration. From its original dedication in 1990 until becoming a federal facility on July 11, 2007, the library and museum was operated by the private Richard Nixon Foundation and was known as the Richard Nixon Library & Birthplace. The 9-acre (3.6 ha) campus is located at 18001 Yorba Linda Boulevard in Yorba Linda, California and incorporates the National Historic Landmarked Richard Nixon Birthplace where Nixon was born in 1913 and spent his childhood. The facility is now jointly operated by NARA and the Richard Nixon Foundation.
The Reagan Presidential Library is 59 miles away. The Ronald Reagan Presidential Library and Center for Public Affairs is the presidential library and final resting place of Ronald Wilson Reagan, the 40th President of the United States. Designed by Hugh Stubbins and Associates, the library is located in Simi Valley. The library may be accessed by driving to the Olsen Road exit of State Route 23, which connects to the nearby Ronald Reagan Freeway, State Route 118. The Reagan Library is the largest of the thirteen federally operated presidential libraries. The street address, 40 Presidential Drive, is numbered in honor of Reagan's place as the 40th President. The Reagan Library is open daily from 10am - 5pm, with the exception of a few holidays (Thanksgiving Day, Christmas Day and New Year's Day). Parking is free, as is access to the grounds surrounding the library, but there is an admission fee for entry into the library and special exhibits.

Ojai is a beautiful community 94 miles north. The town is known mostly for its hotels and services catering to tourism, recreation including strong hiking, and spiritual retreats, as well as for a strong farmers' market on Sundays and an abundance of local organic agriculture. It also has an abundance of small businesses specializing in local and ecologically friendly art, design, and home improvement—such as galleries and a solar power company—as chain stores (other than a few gas stations) are forbidden by Ojai city law to encourage local small business development and keep the town unique. The city's self-styled nickname is "The Shangri-La of Southern California", referring to the similarities between the health-and-spirituality-focused region and the mystical sanctuary of James Hilton's novel Lost Horizon.[
Santa Barbara is 106 miles away. Santa Barbara's climate is often described as Mediterranean, and the city has been promoted as the "American Riviera".
The San Diego Zoo Safari Park is 111 miles away. The San Diego Zoo Safari Park, known as the San Diego Wild Animal Park until 2010, is an 1,800 acre zoo in the San Pasqual Valley area of San Diego, California, near Escondido. It is one of the largest tourist attractions in San Diego CountyLEGOLAND is 92 miles away. LEGOLAND California Resort features more than 60 rides, shows and attraction.
San Diego is 120 miles away.
Tourism is a major industry owing to the city's climate, its beaches, and numerous tourist attractions such as Balboa Park, Belmont amusement park, San Diego Zoo, San Diego Zoo Safari Park, and SeaWorld San Diego. San Diego's Spanish and Mexican heritage is reflected in the many historic sites across the city, such as Mission San Diego de Alcala and Old Town San Diego State Historic Park. Annual events in San Diego include Comic-Con, the Farmers Insurance Open golf tournament, San Diego Pride, the San Diego Black Film Festival, and Street Scene Music Festival. Also, the local craft brewing industry attracts an increasing number of visitors for "beer tours" and the annual San Diego Beer Week in November; San Diego has been called "America's Craft Beer Capital."
Redondo Beach has its own public transit. Also, there are buses that go directly to LAX from Redondo. The bus stop is a few blocks from the apartment. Uber from LAX starts at $16.
I spent a lot of time and thought creating this space and I want to share it. Art from all over the world decorate the walls. Fabulous place for a getaway.
---
Ne convient pas aux animaux
L'entrée dans les lieux se fait après 15:00
No smoking ANYWHERE on the premises (And this includes the yard and patio).
NO SMOKING IN THE HOME OR ON THE PREMISES. If you want to smoke, you have to go off the premises. A $(PHONE NUMBER HIDDEN)itation fee will be charged if we receive any complaints from our neighbors or any evidence of smoking.
No pets. No parties. This is a quiet, peaceful apartment. Muy Tranquilo. This is my home and not suitable for any type of gathering or party.
Please no sand in the house. Please take off your shoes before entering.
You need to have a few things to be able to rent it:
1. A profile picture
2. A government issued ID - either a passport or Driver's License
3. An online ID -- which is an an account with (website hidden) or Link-ed - In
4. A verified phone number
---
---
Séjour de 3 nuits minimum
Redondo Beach, Californie, États-Unis
·
Membre depuis juillet 2013
After traveling all over the world solo, I still believe the South Bay is the most beautiful place I have ever been. I am proud to say I grew up here and can answer any questions about the area. I really think they must put something in the water because the locals are world class - fun, funny, intelligent and laid back-- a perfect combination in my book! I am really excited to use Airbnb in foreign countries and looking forward to hosting world travelers and locals in my humble beach side abode.

When I go on a travel adventure, the one thing I require is to come home to clean, safe place with a comfortable bed and a spotless bathroom.

Thailand is one of my favorite places. My trip to Myanmar was epic. And climbing an active volcano in Nicaragua was one of the most difficult things I have ever done!

I work in media and love my job.

I can't live without yoga, hiking, the ocean, my family, my kooky and amazing friends and travel adventures.

My motto: When in doubt, plunge ahead idiotically.


Taux de réponse :
100%
Délai de réponse :
Moins d'une heure
Découvrez d'autres options à Redondo Beach et dans ses environs
Plus de logements à Redondo Beach :