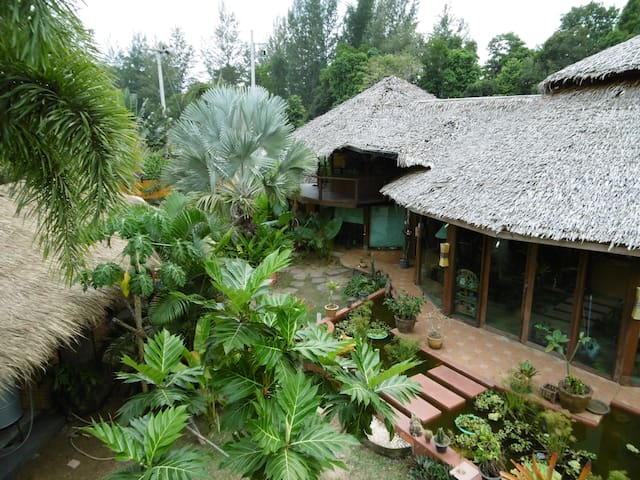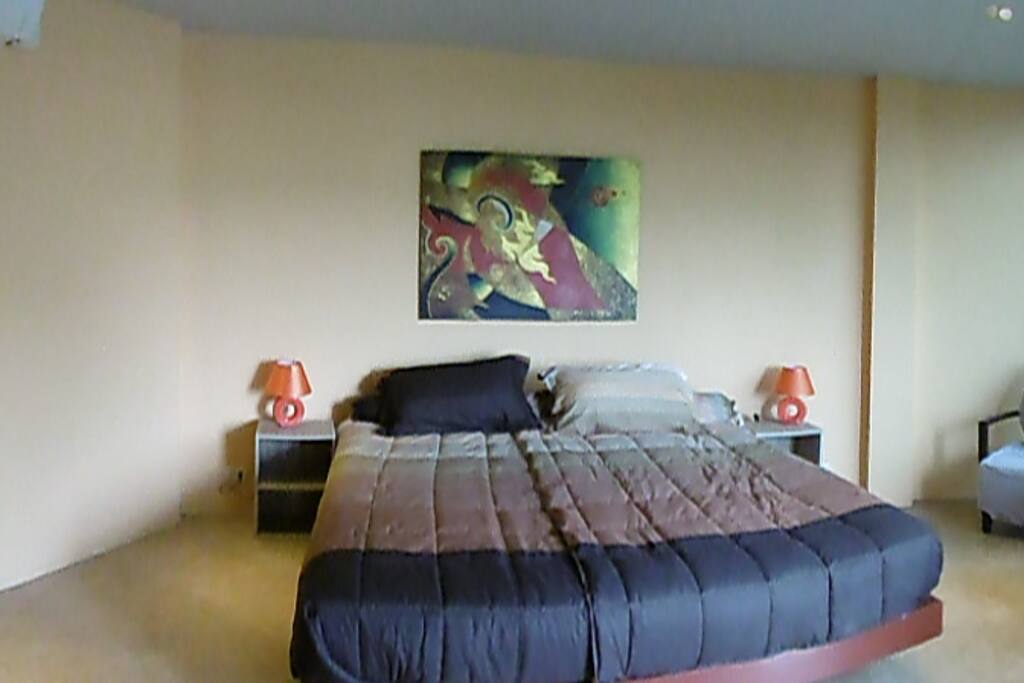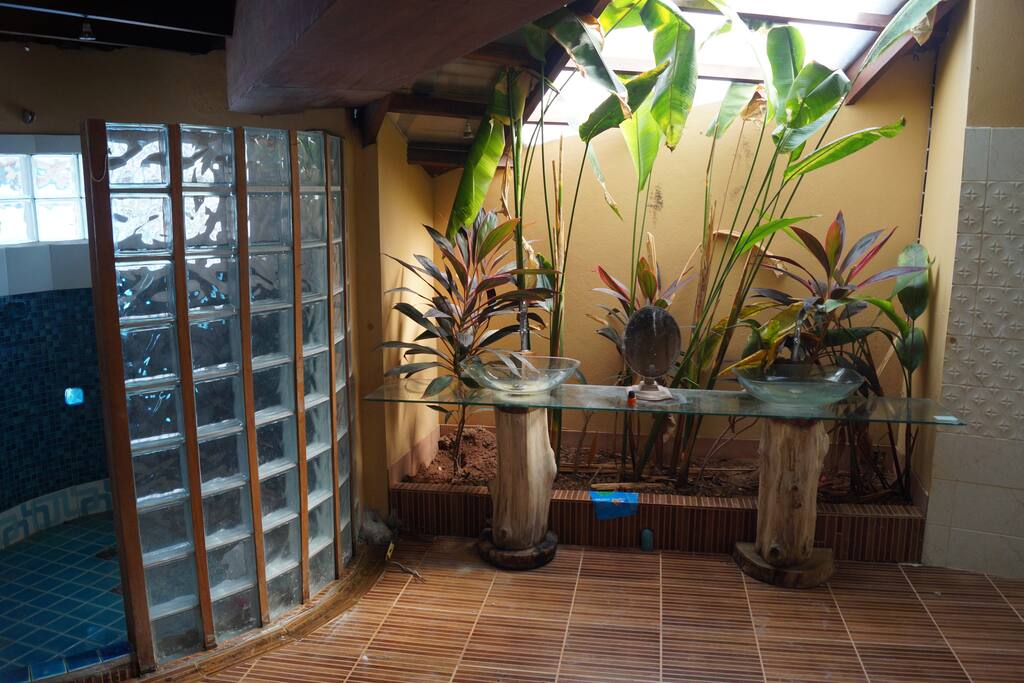 Nous sommes à proximité immédiate de la plage de sable blanc des palmiers naturels Bang Niang - Khuk Khak. La plage de Khuk Khak et la plage de Bang Niang se trouvent à 2 minutes en voiture et la plage de Khao Lak se trouve à 5 minutes. En raison des caractéristiques naturelles
We are in the immediate vicinity of the white sand beach of Bang Niang - Khuk Khak natural palm trees.The Khuk Khak Beach and Bang Niang Beach are in a 2 minute drive and Khao Lak Beach is 5 minutes away.
Due to the natural characteristics


Voyageur supplémentaire Sans frais
Communiquez toujours via Airbnb
Pour protéger votre paiement, ne transférez jamais d'argent et n'établissez pas de contact en dehors du site ou de l'application Airbnb.
Very nice place where you feel instantly at home and very RELAXED! Close to one of the best beaches in the area and not too far from the center of Bang Niang.
---
If you are looking for a place close to nature away from the tourists, this is it! We wasn´t sure what to expect when we first arrived other than that the place is a bit away from "everything". However, this is one of the best things with Relax. In between the beach and the town with nothing to disturb other than the sound of the jungle. We hired high quality comfortable bicycles from Relax and have been biking around every day. Our initial plan was to stay for a week, but we extended our trip with one more. Tunde really makes sure you are comfortable and if you need anything you can just let her know and she will sort it out. Much appreciated and we hope to return soon!
---
We spent 4 nights at the Relax Resort in Khao Lak and I have mixed feelings what to write here because I got begged from the owner - father and son - to wright a good review. The Relax Resort is certainly an architectural interesting place to stay and the garden is very beautiful. What I really liked that it is a little away from the big street and it`s surrounded by beautiful nature. If you are lucky you will get the one room with a terrasse and nature view. I booked it because of the nice pictures and good reviews. What I didnt know is that there is one not so nice room without a terrasse and no privacy because people walking along right next to your windows. If you want privacy you have to close thick curtains and switch on the light. Another problem was that you cant get an exchange of air because the door opens to the reception. We had been really disappointed and also didnt feel comfortable. But two days long they didnt changed our room. After two days and mentioning that we will not be able to wright a nice review we got another room. It was a lot nicer, had a balcony and they upgraded us without charging anything. The first room was cheaper what we didnt know. I didnt book it because I wanted a cheap room but because of good reviews and nice photos. I would recommend to ask before which room you get. There are beautiful rooms available. The breakfast was on an average level compared with other B&Bs in Thailand. Best is to have your own rented car or a motorbike if you are not fraid to get hit by a car. The next beach we found is a 7 minutes drive, beautiful. The Relax Resort ask for 100 TBaht one way if they drive you. There is a nice restaurant on the beach called Lay Restaurant. I dont want to damage the reputition of the Relax Resort, but since that stay I know the value of honest reviews instead of beeing nice and wright something polite. I mean it honest: I would recommend to ask before which room you get, than its perfect. And there are really beautiful rooms available.
---
Die Unterkunft liegt sehr idyllisch an einer Lagune u man kann mit den Fahrrädern ganz schnell an den Strand radeln.Der Garten ist ein Traum u die Zimmer sind sehr großzügig u geschmackvoll eingerichtet. Tunde ist sehr um das Wohl ihrer Gäste bemüht. Sie gibt viele Vorschläge an möglichen Aktivitäten u hilft bei der Planung u Durchführung. Es macht einfach Spaß dort zu relaxen. Wir haben uns sehr wohl gefühlt!!!
---
พวกเรา 2 ครอบครัว ผู้ใหญ่ 4 คน เด็ก 3 คน ได้การต้อนรับจากเจ้าของบ้านเป็นอย่างดี บรรยากาศรอบๆบ้านดีมาก ด้านหน้าเป็นบึงน้ำ ช่วงเช้าอากาศดี บ้านห่างจากหาดคึกคักแค่ 5 นาที พวกเรามีโปรแกรมไปเกาะตาชัย บ้านพักห่างจากท่าเรือทับละมุ 18 กิโลเมตร หรือ 20 นาที พวกเราได้รับการช่วยเหลือเมื่อร้องขอ คุณ Tunde และครอบครัวของเธอ จะสอบถามและตั้งใจฟังคำขอของเรา เธอไปจ่ายตลาดในตอนเช้าตรู่ เพื่อเตรียมอาหารเช้าให้กับแขกที่มาพัก อาหารเช้าแบบบุฟเฟ่ต์เป็นแบบอเมริกัน ชา กาแฟ น้ำผลไม้ปั่น นมเปรี้ยว แฮม ไข่ดาว ไส้กรอก ผลไม้ และข้าวเหนียวห่อใบตองปิ้ง ห้องพักสะดวกสบาย ผ้าปูที่นอนและผ้าห่มอย่างดี ห้องน้ำสะอาดและกว้างขวางมาก มีเครื่องซักผ้า และคนงานชาวพม่า ก็ยินดีช่วยเหลือทุกอย่างที่ร้องขอ แต่เสียดายที่ไม่ได้ใช้บริการสระว่ายน้ำ เพราะช่วงเย็นฝนตก สรุปแล้ว มีความสุข ประทับใจ และปลอดภัย เหมือนมาพักบ้านเพื่อนหรือญาติ **ลูกชายเจ้าของบ้าน น่ารัก และหล่อ
---
we stayed our last wonderful 4 nights in beautiful Khao lak by Tunde in her family's beautiful special resort. Tunde is a truly wonderful person who is always willing to help with a big smile and care. she arrange for us taxi transfers in any time, and when my husband got bitten by a creature in the waterfall and it won't stop bleeding.. she calmed us down, explained to us what it is and took care of it- thank you Tunde! The place/resort itself is just beautiful! I think they have only 4-5 rooms and in the middle a lovely garden and small swimming pool. the room is very spices with balcony all made with wood an local materials. makes you fill you don't wont to leave the room. in the garden you can find the breakfast area where water, coffee/ tee, ice, bread and jams are always available free of charge. the location is about 1-1.5 km from the beach front. but thats part of the magic, because its a bit isolated, you feel very local and its very different from the hotel and resort areas that are build one next to each other (also the stars at night are amazing!). you can also get for free motorbike or bike (for us the bikes were to small, so we rented our own for longer trips). the beach was great and the Lay restaurant next to it is very recommended. 5 km north there are 2 most beautiful beaches : white sand beach and coconut beach- very recommended! we really had a wonderful time by Tunde, thank you so much for everything! we will definitely come back again :))
---
Découvrez d'autres options à Khao lak et dans ses environs
Plus de logements à Khao lak :