Architect designed private loft (600 sqft), on a quiet cul de sac in a residential neighborhood. Separate from the main house, provides privacy and parking. Light filled, high ceilings, overlooking garden. 15 min walk to stadium, 25 min to downtown.
This loft is ideal for one person or couples looking for a beautifully designed, light filled space. The loft will offer you complete privacy in a serene setting. The back has a large panoramic window overlooking the garden and trees. It's like staying in a treehouse. Park in the driveway and walk to the Big House (15 minutes)! It's a convenient location to downtown, central campus, and U of M athletic campus. Shopping and dining is within 25 minutes walking distance, and very easy access to I-94 and DTW International airport. Feel free to contact me with any questions. Reserve this wonderful loft for game day, work trip, graduation, or your next visit to Ann Arbor!
The loft is in a quite residential neighborhood on the Old Westside. The closest coffee shop, "Argus Farm Stop" located on Liberty and 2nd Street is about 20 minutes walk.
Beautiful loft with a European feel. Very clean and comfy. Safe and quiet neighborhood. Seemless check in/check out. No parking issues. Overall highly recommended!
Paulina
2016-07-05T00:00:00Z
My daughter and I loved every square inch of the thoughtfully designed Treehouse. Architectural aesthetic is present in the living space and in the details; faucets, lighting, hardware, etc. The loft looks out into the trees giving it a refined sense of privacy and quiet. A short walk to the University bus by the stadium. This was my first experience with Airbnb and that makes Jorg a really tough act to follow.
Stacey
2015-11-27T00:00:00Z
Great stay. Loved the loft.
Morgan
2016-10-17T00:00:00Z
Outstanding stay. Honestly, Jorg is one of the nicest people I've probably ever met. Very welcoming, wanted to make sure I had everything I needed throughout my stay. And then the apartment itself is just wonderful. It's newly built within the last year, decorated nicely, includes all that you need for your stay (including gourmet coffee, soda, and a "welcome!" bar of chocolate). The kitchenette had plates and cookware, the bathroom had plenty of towels and great water pressure, and the bed was super comfy. My favorite part was how they built the apartment over the garage - it literally felt like I was staying in a tree house. With the fall colors, it was absolutely beautiful. And it felt incredibly private. Perfect place for one or two people. When I'm in the area again, I will want to stay here - can't imagine staying anywhere else.
Briandy
2015-10-27T00:00:00Z
I called my wife after checking in and the first words out of my mouth were: "Jorg is the nicest human I have ever met." His home is immaculately clean, with thoughtful extras like fresh, white robes. The simple, monochrome, sustainable design elements compliment the gorgeous foliage and create an IKEA treehouse vibe. My wife's response to seeing the pictures I took, "Rent that isht for Thanksgiving, NOW!" Thanks Jorg, for the hospitality and peaceful retreat.
Aaron
2016-05-04T00:00:00Z
Always a great experience at Jorg's place. My only regret is that I haven't been traveling to Ann Arbor for the past 3 months. Another kind gift, as well. Well done.
gregg
2016-07-29T00:00:00Z
Jörg was such a gracious host and ensured that our stay in Ann Arbor was pleasant and convenient. The loft was beautiful and clean and we felt at home from the first moment that we stepped inside. Jörg made sure we felt comfortable coming to him with any questions or concerns, and he even suggested activities and restaurants for us, knowing that it was our first time in Ann Arbor. I would absolutely recommend Jörg's loft as a place to stay for anyone seeking a peaceful and relaxing experience. Thank you for everything, Jörg!
Lori
2016-06-09T00:00:00Z
Clean, quiet, and comfortable!
Molly
2015-10-04T00:00:00Z
Type de logement
Logement entier
---
Type de propriété
Loft
---
Capacité d'accueil
2
---
Chambres
Ann Arbor, Michigan, États-Unis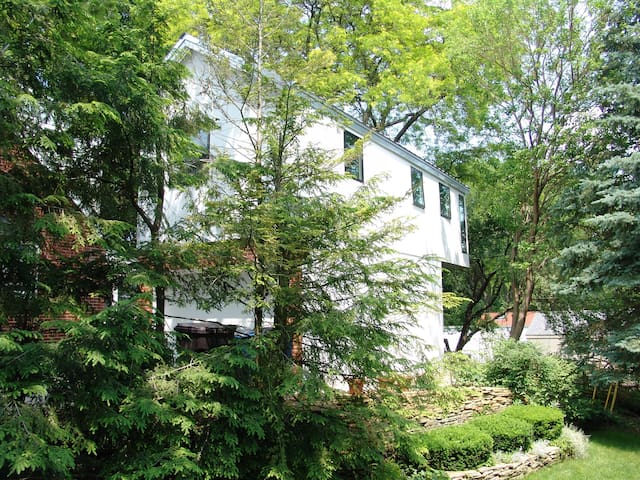 Exceptionally beautiful, Tribeca-style loft located downtown Ann Arbor, a beloved building circa 1881. This art-filled loft has an open-plan living/dining/kitchen, 21 windows, 20-foot ceiling, exposed brick. Private roof deck offers panoramic views of downtown skyline. Two en-suite bedrooms with queen beds. Upstairs den off deck with a fold-down queen bed. Four large flat-screen televisions. Perfect for game-days, holidays, or a getaway weekend. Or pick up your feet and watch the world go by.
Exceptionally beautiful, 2,500 sq ft, Tribeca-style loft located in the heart of Ann Arbor and housed in an iconic and beloved historic building circa 1881. This elegant, art-filled space has an open-plan on the first floor from living room to dining area to gourmet kitchen. Organic textures and neutral tones create a seamless flow. Pools of light stream through 21 windows with city views, a dramatic 20-foot ceiling, turret nook, and stretches of exposed brick. Clean lines make for an altogether sophisticated, cool aesthetic. A stunning private roof deck with seating offers panoramic views of skyline vistas, the world-class Literati Bookstore with its "poetry wall", and the best restaurants, bars, and coffee shops in Ann Arbor. On the first floor, tucked behind the living area, there are two full bathrooms, and two en-suite bedrooms with queen-sized beds, "The Map Room," and "The Master Puzzler." Each room infuses glamor with a touch of whimsy. On the private second floor, the deck and den offer North, South, West exposures along with a fold-down queen bed. This den/third bedroom is everybody's favorite paradise retreat.
The Big House is a mile walk away. There are four large flat-screen televisions, one directly off the pergola-covered rooftop deck. You can watch the game while you enjoy the view, take in Autumn air, and hear the stadium roar from the deck. For the Athlete, the area provides excellent running paths including the Arboretum, community bike rentals directly on the street below, seasonal kayaking or picnicking on the banks of the Huron River, and a wonderful pilates studio right next door. Large nearby parks for your pickup football games. For the Art Lover, The Turret contains original paintings, mosaics, collages by national and international artists as well as furniture by Saarinen and Mies van der Rohe. It is a short walk to the University of Michigan Art Museum or The Michigan Theatre with its old-fashioned Barton organ and marvelous film program. There are seven independent bookstores in a three to four block radius. The Turret is the home to a film producer and alum who encourages everyone to attend the exceptional performing arts at Hill Auditorium, the Ark, Power Center, or enjoy a show by the phenomenal students in the University of Michigan's Musical Theatre Department. For the Family Foodie, there are two ovens, including a Wolf range, and a Parisian-style, zinc wine bar island. Kerrytown, The People's Coop, The Tea Haus, and Zingerman's are a few steps for those who want to source the best and freshest ingredients. Area farmers share their organic, farm-to-table bounty twice a week at the Ann Arbor Farmer's Market. But if you don't feel like cooking, we welcome personal chefs in the professional kitchen. The cow weather vane on The Turret honors the history of the building's first two occupants. Two doors down there is a placard commemorating the original site of the University of Michigan first graduation. Rumor has it, if enough people touch it on the day of a game, Harbaugh's men win. Try it and see!
This is a beautiful and warm home. The host is very responsive as we. It's a great overall place, smack in the middle of Ann Arbor. Great access to restaurants, and walking distance to Michigan Stadium.
Jay
2016-10-23T00:00:00Z
Type de logement
Logement entier
---
Type de propriété
Loft
---
Capacité d'accueil
6
---
Chambres
Ann Arbor, Michigan, États-Unis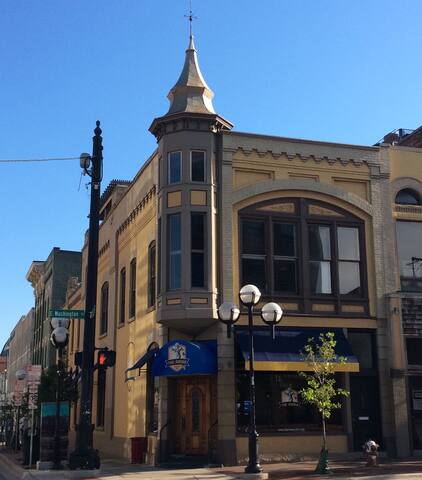 Spacious contemporary loft for up to 4 adults and 2 children in the heart of undiscovered Ypsilanti. Enjoy the gourmet kitchen, high ceilings, large dining room, two luxurious baths, 2000 sq ft--great for a family getaway! Steps from restaurants, bars, brew pubs, shops, Depot Town, Riverside Park Festivals and public transit. Walking distance to Eastern Michigan University, minutes by car from Ann Arbor, University of Michigan, and Michigan Stadium.
This loft is our getaway, and we would love to share it with you. We mix contemporary and antique art and furniture, provide high-end appliances--range, dishwasher, refrigerator, washer, dryer--and invite you to browse our dozens of art books! The space has 17-12' high ceilings, exposed brick, and intriguing remnants of past decor. This is a true loft--one big room, 22 x 80, with one of the enclosed baths dividing the master bedroom with queen-sized bed from the rest. The living room doubles as the second bedroom, with a Design Within Reach "Twilight" sleeper sofa that easily converts into one or two XL twin beds. Aerobeds are provided on request for up to two children. Also in the living room, a 40" flat-screen TV with limited cable, a DVD player and a small collection of titles, and access to Netflix and Amazon Prime. The high-end kitchen is equipped for the serious cook and up to twelve diners. Breakfast basics, including your choice of machine drip, pour-over, or espresso coffee, are provided. We can stock the kitchen to order for an extra charge. Organic, gluten-free, vegan, no problem. Downstairs is our art-music-space, 22 North. It's a family enterprise, housing our audio services business in the back and an art gallery in the front. The gallery shows emerging and established artists in our region--we've been told there's nothing like it in the area. Please let us know if you'd like to host an event here during your stay.
Downtown Ypsilanti is an undiscovered treasure. Beautifully preserved historic architecture abounds, and a new entrepreneurial energy prevails. Chic coffee shops and boutiques, hip and classic restaurants and bars (and the nighttime activity you might expect) surround our loft. Behind the block is a lovely stretch of the Huron River and Riverside Park. Walk down elegant Huron and Cross Streets or through the park and across the pedestrian bridge to arrive at Depot Town.
The space is very beautiful. I enjoy converted warehouse spaces because of how luxurious and spacious it feels and this one was definitely one of the most luxurious places I've seen. Also if you like to cook the kitchen is sooo lovely. I think the stove is excellent for cooking food at the perfect temperature. Two bathrooms is also great. The mattress in the bedroom area was quite comfortable as well as the pull out bed in the living room area, though note it is definitely a twin size. All in all the host was very helpful and the space was definitely one of my favorites. I definitely will patron this space again in the future.
Elisa
2015-08-22T00:00:00Z
Nan's loft was wonderful--- perfect for a lovely weekend getaway! We enjoyed the well- stocked kitchen and perusing the vibrant book collection in the living room. We hope to return soon!
Hannah
2016-01-10T00:00:00Z
The loft is a wonderful space with a lot more room in it than the pictures represent. The space is very comfortable, clean, and full of amenities. The location is in a great area for nightlife and dining in Ypsilanti; this is great for accessibility, but not so great for the street noise. If you are bothered by city noises at night you may want to reconsider this location. It was a self check in for my group and I had no problem accessing the loft, a code was given upon request and I was given a brief description of where to park (street and distant lot parking). There was a lot more information provided in the house hand book once we checked in. Nan was very easy to communicate with and answered all my questions in a timely manor. It was a breeze to stay here and everyone in my party would return if in the area again.
Allison
2016-07-25T00:00:00Z
Nan was WONDERFUL!! This place is absolutely amazing. It is a wonderful space that is welcoming. Wonderful kitchen and everything that one would need to make a great meal.
Wes
2016-01-31T00:00:00Z
I LOVED this loft! Nan made sure to keep in contact with me prior to my arrival, emailing me last minute details the day of my arrival. Upon arrival, I entered, and was very happy with the space. It was later in the evening, and the bar next door was going strong, but we didn't mind, as we were looking for music to turn on anyway (we never found a stereo, but there is a blue tooth speaker in the kitchen! Though we couldn't get it to work, the next person probably will, as I'm not all that technically inclined!) The ear plugs were a nice touch though! The bed was very comfy for my daughter and I, and the boys slept in the living room with more than enough comfort. Nan left an amazing Detroit Blend coffee, as well as staples in the gourmet for our use (though we went shopping, and probably left her with lots more than we came with!). Nan's daughter was just a text message away when I had questions upon check out, which was quite pleasant. I certainly plan to stay in this wonderful loft again when I visit my Alma mater, EMU. Thank you for a wonderful home stay; it is much appreciated.
Rayona
2016-01-16T00:00:00Z
Nan's Loft is outside Ann Arbor with easy accessibility to all surrounding areas, and within walking distance to Ypsilanti's Depot Town. We enjoyed Beezy's, Cultivate Coffee and Tap House, and the new ice cream store, Go, in Ypsi. The loft is a large and beautiful artsy space with many amenities, and Nan was available to us by phone or text if we needed her. The loft is safe and secure, but not quiet at night, with a bar a few doors away and some street noise. Nan does provide 2 types of earplugs, which my husband and I made use of after the first night. I am very particular about cleanliness, and had a couple of problems with the loft, but I would stay there again when I am in the area.
Peggy
2016-09-19T00:00:00Z
What a great place to stay! So convenient and clean! Our home away from home!
Kristine
2015-10-11T00:00:00Z
we were made very welcome by our host and had a wonderful stay. The loft home is large and spacious and care was given to the details in making our stay so comfortable. We hope to visit in the future again.
Marcia
2015-07-19T00:00:00Z
Type de logement
Logement entier
---
Type de propriété
Loft
---
Capacité d'accueil
6
---
Chambres
Ypsilanti, Michigan, États-Unis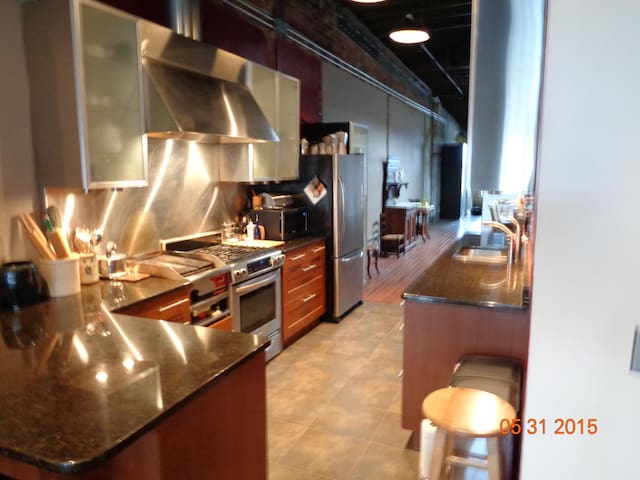 Shared room in a student apartment near U of M campus.
Type de logement
Chambre partagée
---
Type de propriété
Loft
---
Capacité d'accueil
1
---
Chambres
Ann Arbor, Michigan, États-Unis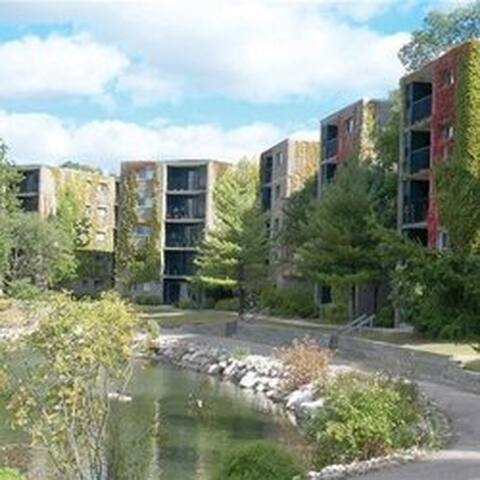 Cozy, Beautiful, Light-filled Loft in Canton! Gym, Pool, Washer, Dryer, and amenities provided! Coldstone Creamery across the street, Bar below. 8 minutes to hundreds of restaurants and more entertainment! Only 20 minutes from the airport! Set in a very quiet area, away from the the hustle and bustle of a city, but also close enough to main attractions. 5 minutes to Ford Rd with hundreds of bars, restaurants, and activities in Canton! Only 20 mins to Ann Arbor or Detroit! EVERYONE WELCOME HERE!
There is a bar below the loft! They do Karaoke on Thursdays (noise can be heard on this night, sometimes Friday and Saturday, but only if somebody rents the bar. Other days there is no loud noises), and have great food and drinks! . You'll love my place because of 10 foot ceilings and FILLED with natural light! Tall windows and patio door, as well as a Balcony that provides a gorgeous, peaceful view! Feel free to use the beautiful gym and pool, as well as the washer and dryer! In such a wonderful area! Park with fountain across the street, as well as 2 entry points (one into the building, one into the loft) to make sure you feel safe and secure. Elevator in the building, as well as a trash compactor. Oversized rooms and included Den. 42" TV with Amazon Firestick for free movies and shows! You will have access to everything in the loft, except the master closet. Great place for couples or business travelers! . My place is good for couples, solo adventurers, and business travelers.
Type de logement
Logement entier
---
Type de propriété
Loft
---
Capacité d'accueil
2
---
Chambres
Canton, Michigan, États-Unis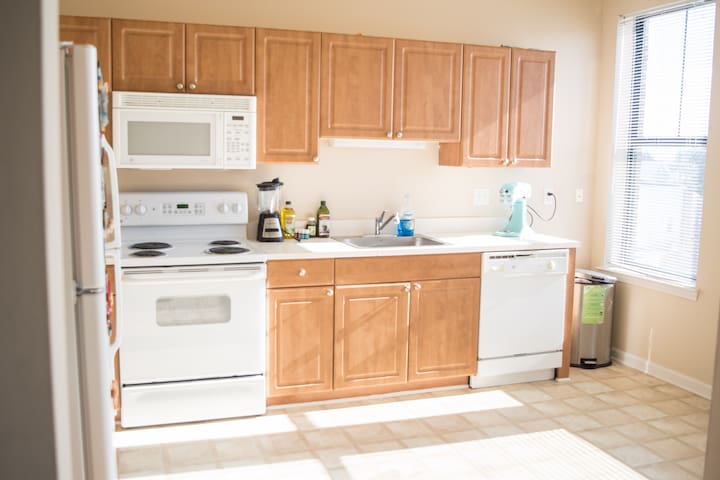 Exciting urban loft right off of Michigan Avenue. Convenient for travelers in town for meetings or visiting the area. Guests will enjoy the this location as it is only 7 miles to DTW Airport, 24 miles to Detroit, 31 miles to Ann Arbor. Guests will enjoy the selection of business and shops in the area. Close proximity to restaurants, shopping, theater. Enjoy a night out with dinner and a movie, all within walking distance.
The loft is a unique environment with 12 foot ceilings with exposed rafters. You'll love the place because of the urban living environment and the proximity to restaurants and parks. This is a great place for couples and business guests.
Directly off of Michigan Avenue in a Historic Building.
Type de logement
Logement entier
---
Type de propriété
Loft
---
Capacité d'accueil
4
---
Chambres
Wayne, Michigan, États-Unis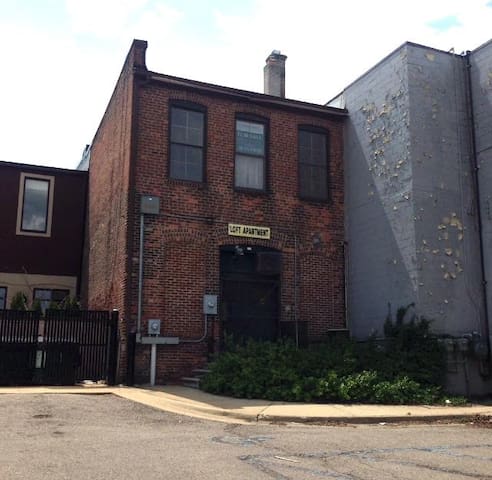 Dexter - Airbnb
:
Moyenne de

4.96

sur

5

étoiles sur les

118

commentaires des voyageurs
Saisissez les dates souhaitées pour connaître le prix total. Des frais supplémentaires s'appliquent et des taxes peuvent être ajoutées.