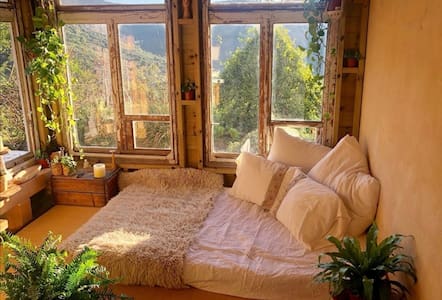 SUPERHOST
Suite entière · 2 voyageurs · 1 lit · 1,5 salle de bain
Airy small apartment, Galilee, 5 min from clil
Small cozy apartment, next to our (it have shear wall) but completely private. breathtaking view from the bed, the sun get into the bed at morning . small kitchen everything you need for tea or coffee or even small cooking דירת סטודיו נעימה ונקיה , צמודה לבית שלנו. עם כניסה נפרדת ופרטיות, שקטה צנועה ונעימה. כניסה פרטית מיטה לכיוון הנוף וקצת כמו לישון בחוץ מתאים למי שאוהב לקום עם השמש ששולחת קרנים לתוך המיטה שרותים ומקלחת פרטיים. גבול שמורת טבע, מיקום מעולה למטפסים, מרחק הליכה מצוקי גיתה.
Ce que disent les voyageurs :
"Nous sommes restés trois nuits et avons apprécié chaque instant. Cela valait la peine d'aller sur place pour découvrir l'endroit, le paysage à toutes les heures de la journée, le feu la nuit et la charmante famille des propriétaires. L'appartement est magnifique, pastoral et les propriétaires sont super! Vaut la peine, conduisez et amusez-vous! N'oubliez pas de visiter un repas végétarien dans la communauté voisine, de vous baigner dans la rivière Ziv et d'être sur la plage d'Azizib au coucher du soleil .. Mais le Zimmer était une expérience en soi."
We rent out a fully furnished, non-smoking cabin, perfect for couples. You will have your own private room with a bathroom, mini kitchen, internet and tv. We are located in the center of Eilat, next to the Red Sea. *1.2km from main bus station *1.6km from the airport *1.8km from the beach, boardwalk and shopping mall. *5km to Dolphin Reef Their are restaurants, a supermarket and shopping within walking distance, as well as a 24hr mini market across the street. Their is free parking in front of the entrance, or if you don't have a car we are close to a main road, so take the bus or catch a cab easily. We provide: *clean sheets and towels *dessert cooler (similar to air-conditioning) *cable TV *Wireless Internet (FREE) *snorkling gear and styrofoam cooler *kitchenette *washing machine *any advice about good restaurants, diving, kitesurfing and other fun activities in Eilat. **We can get you informations to local cruises on a yacht, water relaxation therapy, and diving with dolphins!!** Your hosts (and neighbors), a fun-loving Israeli and crafty Frenchman, speak English, French, Spanish and Hebrew. Their love of the ocean and it's many attractions brought them together back in 1981, and since then have raised a family and settled into the Eilat lifestyle. The kids have grown and flown away to other cool ocean locations, but their need to spoil and take care of others has not dwindled. So come and stay with us, in our warm and welcoming house :)
Ce que disent les voyageurs :
"Ce fut un réel plaisir de rester avec Billy & Jerome et jusqu'à présent, cela a été l'un de mes meilleurs séjours Airbnb. Tous deux m'ont réservé un accueil très chaleureux et convivial, l'endroit était facile à trouver. La cabine semble minuscule, mais a étonnamment tout ce dont vous avez besoin et encore plus (Jérôme avait l'habitude de construire des bateaux). Les supermarchés, boulangerie, restaurants sont à proximité et en 15 minutes à pied, vous êtes à la plage. L'un des points forts a certainement été le voyage vers le récif Dolphin, où Billy travaille. Merci encore de m'avoir accueilli et des conversations drôles, philosophiques et non pathétiques! :)"
Beautiful and spacious two room cabin built on a stone terrace overlooking an olive grove. The cabin in Klil, an ecological community in the Western Galilie, is surrounded with traditional stone verandas paved around it and pine trees. The 65 square meter two room space has a fully equipped kitchen, 24/7 hot water, great views outside all windows and an amazing terrace on a large olive grove.
Ce que disent les voyageurs :
"Danielles place est incroyable! C'est l'endroit idéal pour une belle escapade d'un week-end. L'espace est spacieux et propre. Elle était très à l'écoute et offrait d'excellentes recommandations de choses à faire et d'endroits où manger dans le coin. Le lit était également confortable et nous avons pu avoir une bonne nuit de sommeil. Nous avons eu le meilleur temps et nous y retournerions sans hésiter si nous prenons un autre voyage dans le nord. Je recommande fortement de rester ici!"