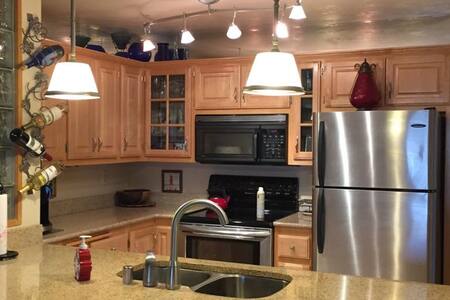 Appartement en résidence entier · 4 voyageurs · 2 lits · 2 salles de bain
Beautiful Lakefront Algoma Condo
Welcome to our cozy condo, a feast for your eyes! Algoma is the gateway to Door County. Come for a personal retreat or couple's time. Because we are the end unit, ours is the only condo with woods out your windows for birdwatching and privacy. Enjoy nearby hiking, fishing, golfing, kayaking, charter boats, wineries, shopping, galleries, restaurants, Lambeau Field--and quiet. Let this be your base for exploration of the area or your place of restoration.
Ce que disent les voyageurs :
"Le condo sur la plage était à environ 20 pieds de la plage avec une porte et une terrasse qui donnait sur l'herbe verte puis sur la plage. Nous avons adoré laisser notre porte ouverte pour entendre les vagues marteler le rivage. Le condo était très confortable et avait même des barres de crème glacée dans le congélateur."
Country ranch home with 1 bedroom availability right on the highway. We have a hot tub, a friendly Golden Retriever, a cat, fireplace, sunken living room, pool table, fitness equipment, great backyard, and more. I work from home so am here most days and my husband works until 5 pm. Weekends we may be on the go or we may be home but regardless we want you to feel comfortable and welcome in our home. We are a 30 minute drive from the 3 closest bigger towns of Manitowoc, Appleton, and Green Bay.