Two bedrooms with a king size bed each and general bathroom. Washer and dryer. Hair dryer and iron. Private and quiet neighborhood. Easy access to freeway.
Charmig quiet neighborhood. Skylights, cathedral ceiling. Independent entrance. Washer and dryer in unit.
Friendly and quiet. Safe environment.
This adorable, quiet, natural light filled cottage was just perfect for my family's vacation. Between the 2 king sized beds and 2 couches, everyone found a place where they were comfortable. Haydee and Jesuini were warm and welcoming and brought pastries and fruit on the first day and nearby grocery stores and the full kitchen got us through the rest of the long weekend. I highly recommend staying here if you need a peaceful place to relax
Phoenix
2016-05-31T00:00:00Z
This was my first time doing this . If all the places have hosts as nice , helpful and welcoming as they were in will definitely be using this site again . The place was very clean and and comfortable. The neighborhood was beautiful and quiet. I felt very safe even coming back late at night . It was very easy to get around the highway was close and onto about a 15 to 20 min drive to downtown Seattle. I would definitely stay here again it felt like home away from home . Thank you for making our stay so comfortable
Diane
2016-05-10T00:00:00Z
First time doing this kind of stay and if every place is as great as this I would start to do this more often. At arrival the house was nice and clean, even had fresh flowers on the table. To my surprise the mattresses were memory foam cable TV included in both rooms toiletries and basic kitchen ware included host were very welcoming and very helpful to assist us with anything we needed. Will definitely be coming back here if I'm ever in town again.
Jeffrey
2016-03-16T00:00:00Z
I was so thrilled with this Airbnb. Just perfect.
Nancie
2016-12-31T00:00:00Z
The host canceled this reservation 11 days before arrival. This is an automated posting.
Gus
2015-12-01T00:00:00Z
The host canceled this reservation 11 days before arrival. This is an automated posting.
Tim
2016-01-10T00:00:00Z
There was fresh fruit and croissants awaiting our VERY late arrival. Our hosts sent wonderful descriptives of finding our way in the dark. The following day, my daughter in Bellingham came down to surprise us and Haydee permitted the extra guest with out hesitation or cost. Very accommodating! Would definitely recommend AND stay another time.
Cynthia
2016-08-23T00:00:00Z
Haydee's bungalow was a perfect place for a 1 night stay in Shoreline. The bungalow is essentially a little cottage behind the owners house and opens onto a beautiful back yard nicely landscaped with plants, fountains and ceramic tile patio. It was in a nice neighborhood and felt perfectly safe. We were welcomed with a basket of fresh fruit, pastries and a beautiful vase of flowers. The bedroom has a comfortable king size bed and is decorated in a French theme. Other parts of the bungalow have painted tiles and bright warm paint on the walls and it is bright with skylights. It was a great place to stay and I would consider staying again and recommend to others. Haydee was a very welcoming and gracious host.
Jim
2015-11-21T00:00:00Z
Type de logement
Logement entier
---
Type de propriété
Villa
---
Capacité d'accueil
4
---
Chambres
Shoreline, Washington, États-Unis
Rental house clean and tidy and convenient transportation. Adjacent to Highway 5, go out is the bus station, to the large, urban, supermarket is very convenient. Provide television, wireless network, furniture, bedding everything is fully equipped. There is a garage for easy parking.
Good order and convenient transportation, from downtown, large, Seattle community college, Shoreline community college are very close. Near the Chinese supermarket, Museum. Go out is the bus station. Drive a minute on I-5.
Type de logement
Chambre privée
---
Type de propriété
Villa
---
Capacité d'accueil
4
---
Chambres
Shoreline, Washington, États-Unis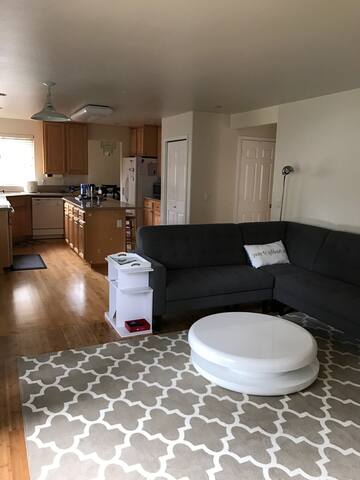 All new mattresses, bedding towels await and we are excited to share our home with you. We are a married couple occupying the top bedrooms and bathroom of a 2 story happy home. We have a friendly 2 year old volunteer service dog that stays upstairs with us when hosting.
Great two story home on a quiet street. Guests will have 2 private bedrooms and 1 private bathroom. Large bedroom boasts a California King and Queen size beds along with quaint sitting area, 2 closets and a fireplace. Small bedroom contains full size bed. 安静优美的邻居 方便交通 几家大型购物超市包括亚洲超市走路几分钟便可到达 走路三分钟到公交车站 坐公交一条线可达 派克市场 太空针塔 市中心房主热情好客 乐于分享
Great location to suits all needs. walking blocks either direction has a variety of restaurants including great BBQ, burgermaster, IHOP, Pho, Chinese, and even a local fruit market all within 10 minute walk. 6 not joking 6 grocery stores with 2 miles. North gate mall shopping is 1.1 miles away with Movie theatre steakhouse with other dining located on site. Go from our house on 102 to 85 turn right and find that Golden Gardens beach is only a 10 minute drive offer volleyball courts, fire pits, hiking trails and occasionally seals/dolphins swimming near the marina.
Ryan's wife(Moli) is a super nice girl. She welcomed us in person when we arrived. Her house is super clean and neat and I especially like the room with two large size beds! They also have a super friendly dog. Anyway, highly recommend if you want to have a relax time in Seattle for few days! Ryan的妻子(茉莉)是一个非常友好的人。当我们到达的时候她亲自站在门口迎接我们。他们夫妻二人的房子非常干净。我特别喜欢一房间里的两张大床!总之,强力推荐这个地方!
Zhuo
2017-04-03T00:00:00Z
Ryan and his wife and dog are awesome. They're really friendly and made me and my family feel welcomed and comfortable. They gave us privacy and gave us tips on where to go explore in Seattle. We were there just for the night but we highly recommend them. Communication was great.
Raul
2017-03-31T00:00:00Z
Type de logement
Chambre privée
---
Type de propriété
Villa
---
Capacité d'accueil
6
---
Chambres
Seattle, Washington, États-Unis
You'll be treated to "the sweet life" at our Tuscan style home & gardens. Romantic, charming spaces, fabulous views, 15 min to Woodinville Wine Districts, 20 min to Seattle. 5 min walk to nature preserve, beach, shopping, restaurants. VIVA ITALIA!
A tranquil retreat! Full, separate apartment on lower floor in a 5,000 sf home. PRIVATE entry to 1,100 sf first floor. The views, grounds, and architecture, with the addition of the very enjoyable host make for an incredibly relaxing stay- the Mediterranean grounds include mature palms, grapes, cypresses, lots of in season vegetables and fruits. Kitchen, full laundry facilities, lounge room with desk and couch plus two bedrooms and bath. Plenty of towels, blankets, pillows, internet/wifi.
The VIEWS! The privacy! The villa is on a hill overlooking Lake Washington and Juanita Bay- you can see all the way to Mt Rainier!!! Enjoy boats in the bay, eagles soaring overhead, yet still be a step away from town! 5 minute walk to Juanita Village & acclaimed Cafe Juanita, Starbucks, sushi, thai, mexican, pizza, banks. Private sandy community beach with fire pit and picnic area.
This is a BEAUTIFUL place to stay. We thoroughly enjoyed our stay - - the spectacular view of Mt. Rainer and the Juanita Bay and the friendly and welcoming hosts - - it was all perfect and exactly what we were hoping for. The apartment was outfitted with everything that we needed during our stay and had plenty of room to spread out in. Riley and Diane were kind, thoughtful hosts who have created a wonderful space for their guests. Very highly recommend this if you are visiting the Seattle/Greater Eastside area.
Meagan
2015-03-06T00:00:00Z
This listing is a gem! I highly recommend staying here. It's close to Seattle, but spaced enough that you're away from the madness and right in nature. The neighborhood sits on a mountain high enough to have a breathtaking view of Lake Washington with mountain peaks in the backdrop. Our Uber-eats driver said it's unlike anything she's seen living there. Riley went over and above to make sure we had everything we needed. When we arrived, he gave us a tour of the place and made us feel really welcomed. I can't say enough good things about this listing, it made our stay in Seattle very unique and memorable!
Tyler
2017-03-06T00:00:00Z
We stayed here for three nights and had a wonderful time. We really enjoyed the accommodations, it is beautiful, very clean and comfortable, even with two small children. Riley made us feel right at home and our children adored him! Although we were out and about during the day visiting with friends in Seattle, we enjoyed walking to nearby Juanita Beach in the evening and enjoying the breathtaking views from the rental. We cannot recommend this place enough and will surely return on our next trip!
Melissa
2015-06-27T00:00:00Z
We thoroughly enjoyed our stay. It was a very relaxing experience and the hosts (Riley and Diane) were exceptional. They were very respectful of our privacy and they made sure that we had all of the items necessary to make our stay as comfortable as possible. The view was fabulous!!! Mount Rainier in all its glory as well as Lake Washington. A postcard setting. We would definitely stay there again.
Chester
2015-06-24T00:00:00Z
Riley and his sweet wife were wonderful hosts! He checked in with us before arrival to make sure we knew how to get to the home and also asking if we needed anything upon our arrival, which was extra kind! The basement apartment has a separate entrance from the side of the house (does not feel at all like a basement) which is absolutely gorgeous. The landscape is lush and beautiful bringing you into the Villa Apt home that is even more beautiful than the pictures. Before opening the door you can't help but stop to take in the view before stepping inside. Luckily when you step inside there is an equally beautiful view through the living room and both bedroom windows! We even saw some eagles flying! One could really sit and watch the lake and mountains all day. The Apt is large, plenty of room, beautifully decorated and a wonderful place to call home away from home. The kitchen has all the essentials needed to have a lengthy stay. We took many walks down to Juanita Bay and the little city with plenty of coffee shops, even got a massage. On sunny days, the walk to Juanita bay and over the dock was breath taking. One can even walk all the way to Kirkland with a plethora of coffee shops and restaurants. Such a perfect location-- we were visiting friends in Woodenville, Redmond area but spent equally as much time in Downtown Seattle and Bellevue. We sure loved our stay and hope to be back real soon. I know we won't stay anywhere else. We didn't see each other often but in the times we did Riley and his wife became friends. Quality people with a quality place to stay. Make sure to ask for directions on the best way to get to the house. GPS takes you a significantly more difficult route. Not worth the extra time.
Melanie
2015-03-29T00:00:00Z
This place is AWESOME!!! I booked this beauty for my bridesmaids and they all love the stay. The place have great lake view and the beds are cozy. Riley is really nice host and shared a lot of wonderful stories.
Jintine
2016-05-23T00:00:00Z
Our stay with Riley and Diane was fantastic. They were timely and responsive leading up to our stay over Memorial Day weekend. We were greeted with bottle of chardonnay and a helpful hand as Riley helped us get settled and showed us around the property. As for the property and location, it could not have been better. The views were unparalleled and the house itself was very impressive. We will certainly stay with them again on our next trip to Seattle.
Ethan
2015-05-28T00:00:00Z
Awesome space! Everything you could possibly need! Views of Lake Washington, Comfortable beds, and very clean! Host was extremely friendly and helpful!
Daniel
2015-04-07T00:00:00Z
Type de logement
Logement entier
---
Type de propriété
Villa
---
Capacité d'accueil
4
---
Chambres
Kirkland, Washington, États-Unis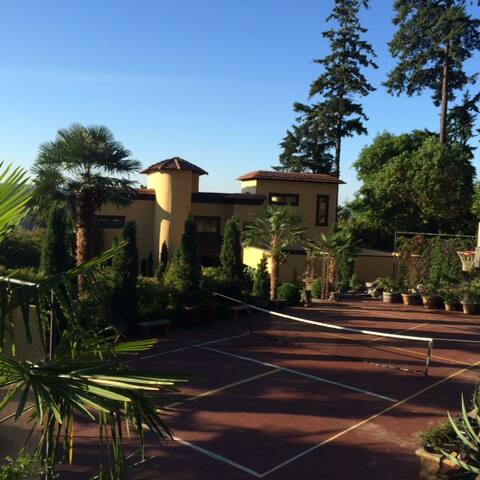 You'll love our home because it's homey, quiet & very comfortable. We live across a farm (within the city) where you can see the cows. We're very gracious, but we give our guests lots of privacy. Our home is so big that you will rarely see us, even though we are here. But we're just a text, a phone call or an e-mail away. My place is great for couples, solo adventurers, business travelers, families (w, kids), & big groups. We're close to shops, malls, churches, parks, & restaurants.
We live in a beautiful mansion with 5 bedrooms for rent, including one family suite. There are options available with a private bathroom. All appliances are high-spec. The owners live on-site.
Valentina is a hospitable host and has a beautiful home. We enjoyed our stay. She was very accommodating and made us feel at home. There is a lot of space and we felt comfortable and private. I would stay here again.
Jeff
2017-03-19T00:00:00Z
Valentina was an excellent host and has a wonderful mansion to stay in. This is well worth the cost and the stay! Thanks!
Thomas
2017-03-05T00:00:00Z
Valentina is very nice and very helpful. she made sure we felt comfortable and at home. her house is gorgeous and in a close range to Seattle and other shops and restaurant areas. We had a great stay there. if I am in the Seattle area I would love to stay there again.
Elena
2016-08-19T00:00:00Z
Valentina is super nice! We didn't actually meet but the communication was always convenient. The house is huge. The room is spacious too, as well as clean and quiet. The bathroom is also great! It was such a nice stay during the trip to Seattle. Highly recommended!
zhongjin
2017-03-26T00:00:00Z
It's a mansion! Host is extremely helpful. Love this place!
Michael
2016-08-10T00:00:00Z
The house is very big. Valentina is really kind and helpful that she gave us all the things we need. I chose this place because my friends who have a car live nearby and this was indeed very convenient for us.
Ariel
2016-12-25T00:00:00Z
Type de logement
Chambre privée
---
Type de propriété
Villa
---
Capacité d'accueil
4
---
Chambres
Bothell, Washington, États-Unis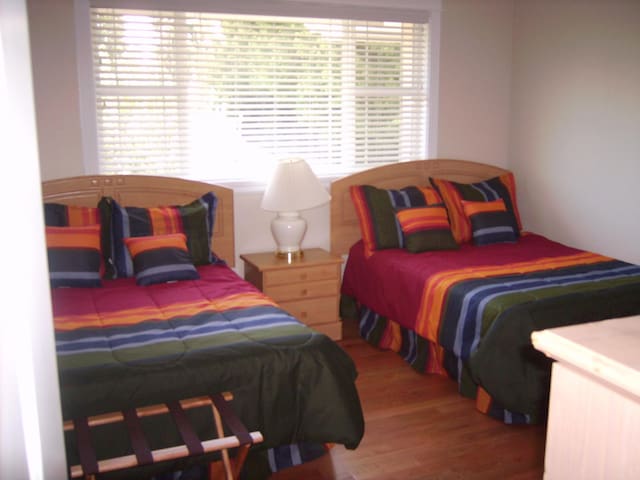 Vous allez adorer notre maison parce qu'il est intime, calme et très confortable. Nous vivons dans une ferme (dans la ville) où vous pouvez voir les vaches. Nous sommes très gracieux, mais nous donnons à nos clients beaucoup d'intimité. Notre maison est si grand que vous aurez rarement nous voir, même si nous sommes ici. Mais nous sommes juste un texte, un appel téléphonique ou un e-mail de suite. Ma place est idéal pour les couples, les aventuriers en solo, les voyageurs d'affaires, les familles (w, enfants), et de grands groupes. Nous sommes à proximité des commerces, des centres commerciaux, des églises, des parcs, et restaurants.
Nous vivons dans une belle maison avec 5 chambres à louer, dont une suite familiale. Il y a des options disponibles avec une salle de bains privative. Tous les appareils sont de haute spécification. Les propriétaires vivent sur place.
Valentina was a great communicator and very helpful coordinating our arrival. It's a beautiful house. She upgraded us just prior to our arrival and the room was great.
Rebecca
2016-09-17T00:00:00Z
The hosts were very helpful and welcoming, even upgrading our accommodations because a bigger room was available. It's an excellent location for visiting local wineries and breweries.
James
2016-08-28T00:00:00Z
She's very kind for your every requirements.
Leah
2016-09-13T00:00:00Z
Type de logement
Chambre privée
---
Type de propriété
Villa
---
Capacité d'accueil
4
---
Chambres
Bothell, Washington, États-Unis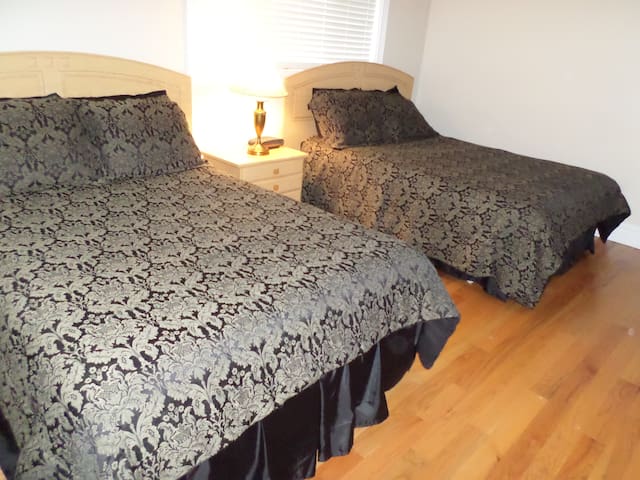 The Suite consists of two adjoining rooms, in beautiful mansion close to Seattle. You'll love my place because of the ambiance, and the safe neighborhood. My place is good for couples, solo adventurers, business travelers, families (with kids), and big groups. We are one and half blocks away from a Major bus route and there is parking. This room can accommodate up to 8 people on three double beds and one queen. Please check out the other rooms available too! Private bath inside suite.
We live in a beautiful mansion with 5 bedrooms for rent, including one family suite. There are options available with a private bathroom. All appliances are high-spec. The owners live on-site.
Valentina was a wonderful host with a beautiful home! The home had several different bedrooms that shared a common stairway, with a nice kitchen on the downstairs level. Inside our room "the library" we had a bathroom with a shower, 4 beds, a TV, accommodating all of our needs. Valentina was extremely attentive and responsive whenever we needed something. We would definitely stay here again!
Nick
2016-08-07T00:00:00Z
This was my first time using this service so i didn't really know what to expect. Valebtina and her husband set the bar pretty high. This house is set in the country side 30 minutes north of Seattle. It is very quiet and the house is kept very clean. Valentina is great and kept in contact with me the entire time. She was even able to accommodate my friend who showed up a day early. The only down side is of your not driving public transportation is a little ways away. Other than that great! I plan on staying there again once I go back
Jesse
2016-08-03T00:00:00Z
Very comfortable suite! The room gave a nice sense of privacy and it fit well with the group that came with me. Location was perfect because it was 5 minutes to most everything. Would recommend!
Danielle
2017-04-02T00:00:00Z
Type de logement
Chambre privée
---
Type de propriété
Villa
---
Capacité d'accueil
8
---
Chambres
Bothell, Washington, États-Unis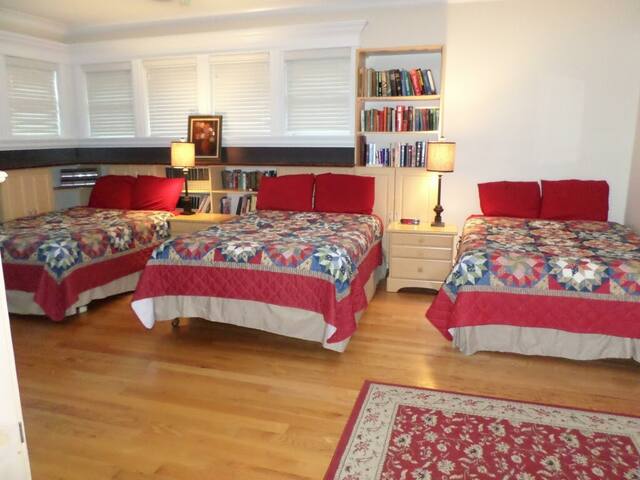 My place is close to The Park at Bothell Landing, Bothell Landing Park (Playground Parking). My place is good for couples, solo adventurers, business travelers, families (with kids), and big groups.
Type de logement
Chambre privée
---
Type de propriété
Villa
---
Capacité d'accueil
2
---
Chambres
Bothell, Washington, États-Unis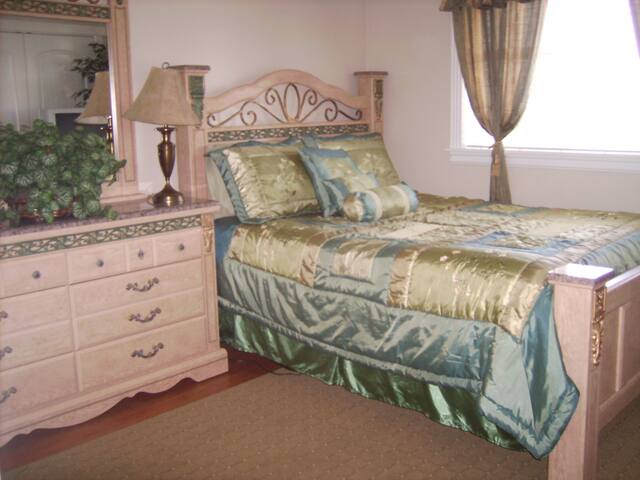 Saisissez les dates souhaitées pour connaître le prix total. Des frais supplémentaires s'appliquent et des taxes peuvent être ajoutées.