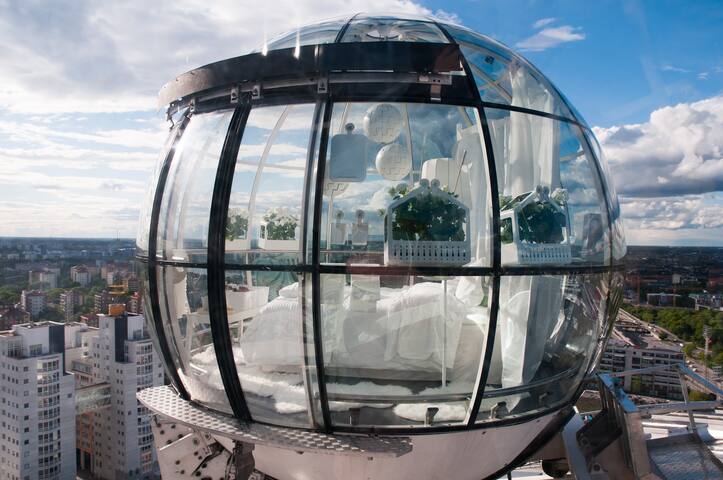 Logement entier
2 voyageurs
1 chambre
1 lit
À propos de ce logement
---
Type de logement : Logement entier
Type de lit : Vrai lit
Capacité d'accueil : 2
Chambres : 1
Salles de bain : 1
Lit : 1
Arrivée : Après 18:00
Départ : 08:00
---
Équipements
Petit déjeuner
Le petit déjeuner est inclus
Cuisine
Cuisine
Espace où les voyageurs peuvent cuisiner
Internet
Télévision
Équipements de base
Équipements de base
Serviettes, draps, savon et papier toilette
Chauffage
Climatisation
Lave-linge
Sèche-linge
Parking gratuit sur place
Parking gratuit dans la rue
Parking payant à l'extérieur
Wifi
Wifi
Accès permanent dans le logement
Télévision par câble
Petit déjeuner
Petit déjeuner
Le petit déjeuner est inclus
Animaux acceptés
Animaux acceptés
Les animaux d'assistance sont toujours autorisés
Pour familles/enfants
Adapté aux événements
Adapté aux événements
Le logement permet d'accueillir un groupe de 25 personnes ou plus
Logement fumeur
Accessible aux personnes à mobilité réduite
Accessible aux personnes à mobilité réduite
Accès facile au logement et logement pour voyageurs en fauteuil roulant
Ascenseur
Ascenseur
La maison ou le bâtiment dispose d'un ascenseur d'au moins 132 cm de profondeur avec une porte d'au moins 81 cm de largeur.
Cheminée
Interphone
Portier
Piscine
Jacuzzi
Salle de sport
Cintres
Fer à repasser
Sèche-cheveux
Espace de travail pour ordinateur
Espace de travail pour ordinateur
Une table ou un bureau pouvant accueillir un ordinateur portable, et une chaise pour travailler
Salon privé
Entrée privée
Entrée privée
Entrée par une rue différente ou un immeuble séparé
Entrée dans les lieux 24h/24
Entrée dans les lieux 24h/24
Boîte à clé sécurisée, système d'entrée sans clé, sonnette ou personne disponible
---
Description
Up for spending a night in a glass bubble, 130 meters above ground with a 360 view of beautiful Stockholm on a summer's night? Available on the 29th of June? Then this stay is for you.
SkyView, a 9 square meter glass gondola going 130 meters above ground to the top of Ericsson Globe, will be kitted out as a bedroom for you and your lucky guest for one night only. SkyView at Ericsson Globe provides a spectacular 360 degree view of the Swedish capital.
The SkyView glass gondolas are running 130 meters (425 feet) up to the apex of Ericsson Globe, with the help of 70 tonnes of iron rail. The SkyView gondola will be parked on top of Ericsson Globe the night of the 29th of June, just for you. There you'll sleep in a comfortable, spherical and all-glass bedroom.
Hot dogs will not be on the menu during your stay, but leave appetite for a three course meal smack in the center circle of the Tele2 Arena football pitch. Spotlights might not be on, we think candle lights will make it more romantic (and environmentally friendly). If it rains, the stadium roof will be put on to cover you. This state of the art arena was actually voted "Venue of the Year 2014" by Stadium Business Awards, so prepare yourself for a dinner venue you won't forget anytime soon.
After dinner, your own Stockholm guide will take you for a ride in one of the gondolas, pointing out some Stockholm landmarks over a glass of champagne so that you feel well oriented before it's time to brush your teeth and board the bedroom bubble and spend the night atop Ericsson Globe.
Ericsson Globe can comfortably seat 16,000 people. You'll get more facts and figures as we will start with a behind-the-scenes-tour of Stockholm Globe Arenas upon your arrival.
Tell us by 11.59pm on June 19th why you (and your lucky guest) would like to spend the night. It's OK if you don't live close by, we'll fly the winners in from anywhere in Sweden.
What are you waiting for?
---
• No guide will be present in the gondola during the night - it would be a little creepy.
• Bring binoculars fit for stargazing (though we can't guarantee clear skies - this is Sweden after all.)
• If you need to pee during the night, please call us on your walkie talkie and you'll be down in 10 minutes.
• Fear of heights? Probably not for you, then.
• Cellphone reception is excellent on top of Stockholm Globe Arenas, so call your mother.
• There are no neighbors. So if you feel like walking around in your old PJs, be our guests.
• If you are sensitive to light, bring your own curtains. This place is all windows and sun sets at 10:06 PM and rises at 03:36 AM - eye-masks will be provided.
Terms & Conditions:
Stay at SkyView at Ericsson Globe, Stockholm Globe Arenas, Stockholm, Sweden on 29th -30th June (alternatively 30th June– 1st July if weather conditions require)

NO PURCHASE OR PAYMENT NECESSARY TO ENTER OR WIN. A PURCHASE OR PAYMENT WILL NOT INCREASE YOUR CHANCES OF WINNING.

When you submit a submission for this Contest, you agree with the Official Rules below.

Sponsors. The Sponsors of this Contest ("Contest") are Airbnb Ireland, The Watermarque Building, South Lotts Road, Dublin 4, Ireland ("Airbnb") and Stockholm Globe Arenas AB, Globentorget 2, 121 27, Stockholm, Sweden ("Partner")

How to Enter. Participants who have reached the age of 18 at the time of participation may enter the Contest from 4th of June at 09:00 am Central European Time until 19th of June at 11:59 pm Central European Time by following the process below. Submissions must be received through the below process by the close of the Contest to be eligible.

Process: To participate in the Contest and to try to win the prize described below, you have to:
1. Sign in with an Airbnb account
2. Go to the "SkyView at Ericsson Globe" competition listing page
3. Click on the "Enter to Win" button
4. In the form provided, write a story of 100 words maximum – in English or Swedish – explaining why you should be the one to stay one night in the SkyView at Ericsson Globe, Stockholm Globe Arenas, Stockholm, Sweden (the "Submission").

The Submission must be sent from the participant's own Airbnb account to be verified and reviewed. Each participant can only participate once and you represent that you are more than 18 years old. Airbnb is not responsible for computer or network problems, problems with servers, problems with email accounts or the failure to receive any Submission for any reason whatsoever. By entering the Contest, participants agree, on behalf of themselves and if applicable any guest that as a winner they are permitted to share the prize with, that they may be contacted by Airbnb in relation to the Contest and agree to take part in any publicity that occurs as a result of the Contest and grant Airbnb and Partner and their agents the right to use their name and/or image and town/country of residence.

Eligibility. The Contest is only open to residents of Sweden. This means that you are not allowed to participate if you reside elsewhere. Directors, officers, employees, independent contractors and agents of Partner or Airbnb, or their subsidiaries or affiliates, and the members of their immediate families or households, are not eligible.

Winner Selection. 1 participant will be selected from the Submissions and will be nominated winner and best story writer of the Contest. The winner will be chosen entirely on merit, based on two judging criteria applied by a panel of judges at the following weight:

· 70% - Originality and creativity of the submitted story. Does it surprise and delight us?
· 30% - Spirit of the submission. How does your submission relate to SkyView, Ericsson Globe, Stockholm Globe Arenas, Stockholm, Sweden?

The panel of judges will be comprised of members of the marketing teams of Airbnb and Partner. The judges' decisions are final and binding. If substantially similar Submissions are submitted by different entrants, judges will select only the best version of that idea, as determined by the judges in their sole discretion.

Prohibited Content. Submissions/content must be the original work of the participant and not have been previously published, or entered in any other competition, and must not violate the rights of any other party, including but not limited to intellectual property rights or rights of privacy, publicity or other moral rights. Submissions must NOT contain: (a) advertising or commercial content for any party other than Airbnb or Partner; (b) content that endorses/promotes illegal or harmful activity; (c) violent, profane, vulgar, obscene, defamatory or otherwise objectionable material; (d) adult material; or (e) defamatory content. The Sponsors reserve the right to disqualify any participant who violates these prohibitions or any other provision of these Official Rules, or that the Sponsors deem inappropriate for any reason, in their sole discretion.

License. By submitting a submission, participants grant each of Airbnb and Partner a perpetual (or for the term of the protection granted by the relevant intellectual property rights), worldwide, irrevocable, royalty-free license to transform, edit, modify, reproduce, distribute, transmit, publish, broadcast, perform, display, translate or otherwise use the submitted story, in whole or in part, with or without modifications, in any form or medium (including but not limited to: internet, any printed medium distributed via press, billposting, point of sale advertising, flyers, leaflets…), whether now existing or later developed, for entertainment, promotional and/or advertising purposes and/or any other purpose. To the greatest extent permitted by law, participants agree not to invoke any so-called moral rights in relation to their submissions (including without limitation the right to be identified as the creator of the work and the right to object to derogatory treatment of the work). For the avoidance of doubt, the license referred to in this paragraph is a fully paid-up license. By entering, you guarantee that your entry is original as referred to above, and that you have all necessary rights to provide the entry and to grant to Airbnb the rights set out in these Official Rules, as well as the consent of any person identified, depicted or referred to in the entry. You will indemnify and hold Airbnb harmless for any breach of these provisions. Only the winner will receive a prize according to the next paragraph: 'Prize'.

Prize. The winner will receive, in recognition of their personal writing talent and as full and comprehensive consideration for the License described above, the following trip
- A night for one winner and one guest in a SkyView gondola, kitted out as a bedroom, including dinner the night of the stay and breakfast during the morning of the stay
Included in the prize:
o Sleep-over in a SkyView gondola at Ericsson Globe, Stockholm Globe Arenas, Stockholm, Sweden, either 29th – 30th June 2015 or 30th June – 1st July 2015 depending on weather conditions on the 29th of June;
o Dinner in the evening, breakfast in the morning;
o Return trip within Sweden to Stockholm, Sweden
NOT included in the prize:
o Transfers from the winner's home to/from their airport or train station, any meals (except for the meals which are expressly included in the prize description), any other expenses;
o Furniture and other items in the gondola are not part of the prize.

Participants represent that they are available to travel to Stockholm, Sweden to be there on 29th of June 2015. Participants must have a valid passport (or EU Identity Card) to redeem the prize. The total value of the prize is approximately 600 EUR (or the equivalent in local currency) plus return travel within Sweden to Stockholm. The Sponsors are allowed to ask for a written confirmation or proof of the place of residence and age of the winner and guest before awarding the prize. No substitution or transfer of the prize is permitted. The prize may not be redeemed for cash. If due to circumstances beyond Airbnb's or Partner's control, Airbnb or Partner are unable to provide the stated prize, Airbnb and Partner reserve the right to award, as substitute, a prize of equal or higher value.

Notification/Announcement of Winner. The winner will be selected on 22nd of June 2015 and will be notified by email / via the Airbnb message centre within 48 hours. The winner must confirm their acceptance of the Prize in writing within 72 hours of such notification. The Sponsors reserve the right to disqualify any winner who does not confirm acceptance of the Prize in accordance with these Official Rules, and reserves the right to select an alternative winner in such event. In the event of a dispute about the identity of a winner, the Sponsors will award the prize to the authorized account holder of the Airbnb account from which the winning entry was sent. The Sponsors may publicly announce the name of the winner within 30 days of the close of the Contest, including through social media channels such as Twitter (@airbnb) and Facebook

Prize Conditions. Save as may be required by any applicable mandatory laws, the prize is provided as-is with no express or implied warranty or guarantee. This Contest is subject to applicable local laws and regulations, including but not limited to tax laws. The winner is solely responsible for any taxes applicable to or resulting from the award of the prize, and the Sponsors will have no obligation for any taxes that may be payable. Sponsors may require the winner, and where applicable, the winner's guest, to sign and return an affidavit of eligibility, a liability release and a publicity release permitting the Sponsors to use the winner's name, image and winning Submission in promotional materials where permitted by law and subject to applicable rules. Refusal or inability to sign and return such forms within 72 hours of receipt may result in disqualification and awarding of prize to an alternate winner. The winner and guest represent they will behave as good citizens during their stay at Stockholm, Sweden and that they will cooperate with the security personnel that will be present at Stockholm on 29th June – 1st July.

General Liability Release. By entering this Contest, participants release the Sponsors and their agents from any liability whatsoever, on any theory, and waive all claims and causes of action arising from or related to this Contest and/or fulfillment and/or use of the Prize, to the extent permitted by applicable law. However, nothing in these Official Rules limits or excludes any person's or entity's liability for death or personal injury caused by their negligence or any other liability which may not as a matter of law be limited.

Data. By entering the Contest and submitting a Submission and any other personal information, participants are expressly consenting to the processing of their personal information by the Sponsors for the purpose of the Contest or any associated publicity by Airbnb or Partner. Airbnb's privacy policy will apply. Airbnb may share the Submissions with Partner and third party prize providers for Contest administration and prize fulfillment purposes.
Interpretation and Disputes. Participants agree: (a) to be bound by these Official Rules and all decisions of the judges, which are final and binding; (b) that any disputes shall be governed by the laws of Ireland (or by mandatory local laws, if applicable), and shall be resolved only in the courts in Ireland (or in mandatory local jurisdiction, if applicable), without resort to any form of class action or other form of collective action, to the extent permitted by applicable law; and (c) that they consent and waive any objection to the jurisdiction of said courts for any such disputes.
Miscellaneous. The Contest is void where prohibited. If any provision or part-provision of these Official Rules is held by a court of competent jurisdiction to be invalid, illegal or unenforceable, it shall be deemed modified to the minimum extent necessary to make it valid, legal and enforceable. If such modification is not possible, the relevant provision or part-provision shall be deemed deleted. Any modification to or deletion of a provision or part-provision under this clause shall not affect the validity and enforceability of the rest of these Official Rules. To the extent permitted by applicable law, the Sponsors may suspend, modify or terminate the Contest if they believe, in their sole discretion, that malfunction, error, disruption or damage is impairing or will impair the administration, security, fairness, integrity or proper conduct of the Contest, in which case the prizes will be awarded among the eligible entries received that were unaffected by the problem, if possible.
---
À propos de l'hôte, Skyview
Ericsson Globe, färdigställd 1989, är världens största sfäriska byggnad med plats för 16 000 besökare. Sedan 2010 leder en gondolbana två runda gondoler upp till byggnadens topp med hjälp av 70 ton räls. På toppen av Ericsson Globe befinner sig SkyView 130 meter över marken.